Q&A with Leslie Bari, the Co-founder and Executive Vice President of The Constitutional Walking Tour
Q: What does The Constitutional's School Field Trip Experience include?
A: The Constitutional Walking Tour hits all of the historic highlights on an outdoor walking journey through America's Birthplace which includes more than 20 of the most important sites such as the Liberty Bell, Independence Hall, Franklin Court, Carpenters' Hall and the President's House. The Constitutional guides you through the Independence National Historical Park area by connecting the buildings and places where the events of the American Revolution transpired.
Q: Is there a minimum group size that I need to qualify for group rates and book a private tour?
A: Group rates are offered for groups of 25 or more people.  That said, we offer tours for groups that are smaller than 25 people, and in those cases, there is a minimum flat fee.  Call 215.525.1776 or info@TheConstitutional.com for more details.
Q: Do you work with home school students and groups?
A: Yes. We have a long history of providing school field trips to homeschooled students.  Some homeschool parents have arranged for various families to attend together on a designated day to foster community and enjoy fellowship among homeschoolers. Some smaller groups of homeschoolers and their families have attended The Constitutional's public tours that occur daily from April-November. 
Q: How large are The Constitutional's tour groups?
A: We put up to about 40 people per tour guide. So, for example, if your group is composed of 40 people (students, teachers and chaperones), you'd have 1 guide. If your total group size is about 80 students and adults, we would assign 2 tour guides to your group, and so on.  If you would like to have a smaller group to guide ratio, those are available for an additional fee per guide, pending availability. Call 215.525.1776 or info@TheConstitutional.com for more details.
Q: We have a very large grade so how many students can you accommodate at one time?
A: We work well with very large groups, and we can accommodate student groups of 400 (which would be staffed by 10 tour guides). Sometimes groups this large will split in half, and half will take The Constitutional while the other half does another activity, then they'll swap activities after lunch, for example.
Q: Can I book The Constitutional's School Field Trip Experience at the last minute?
A: Sure – we do our best to accommodate last minute Field Trip requests, but it is best to book early to ensure that The Constitutional's School Field Trip Experience is available on the date and time of your choosing, and that we can find the best guides who match your school's needs.
Q: Can The Constitutional's School Field Trip Experience be customized?
A: Yes. The Constitutional's most popular field trip is the 75 minute guided tour, but many teachers were asking for longer tours, so we recently added the 2 and 3-hour options. In addition, if you don't see what you are looking for, just ask us and we can customize almost anything! We have sample itineraries on our Web site that provide a great overview to get you started. See our Field Trips Overview for further explanation and pricing on The Constitutional's custom tours.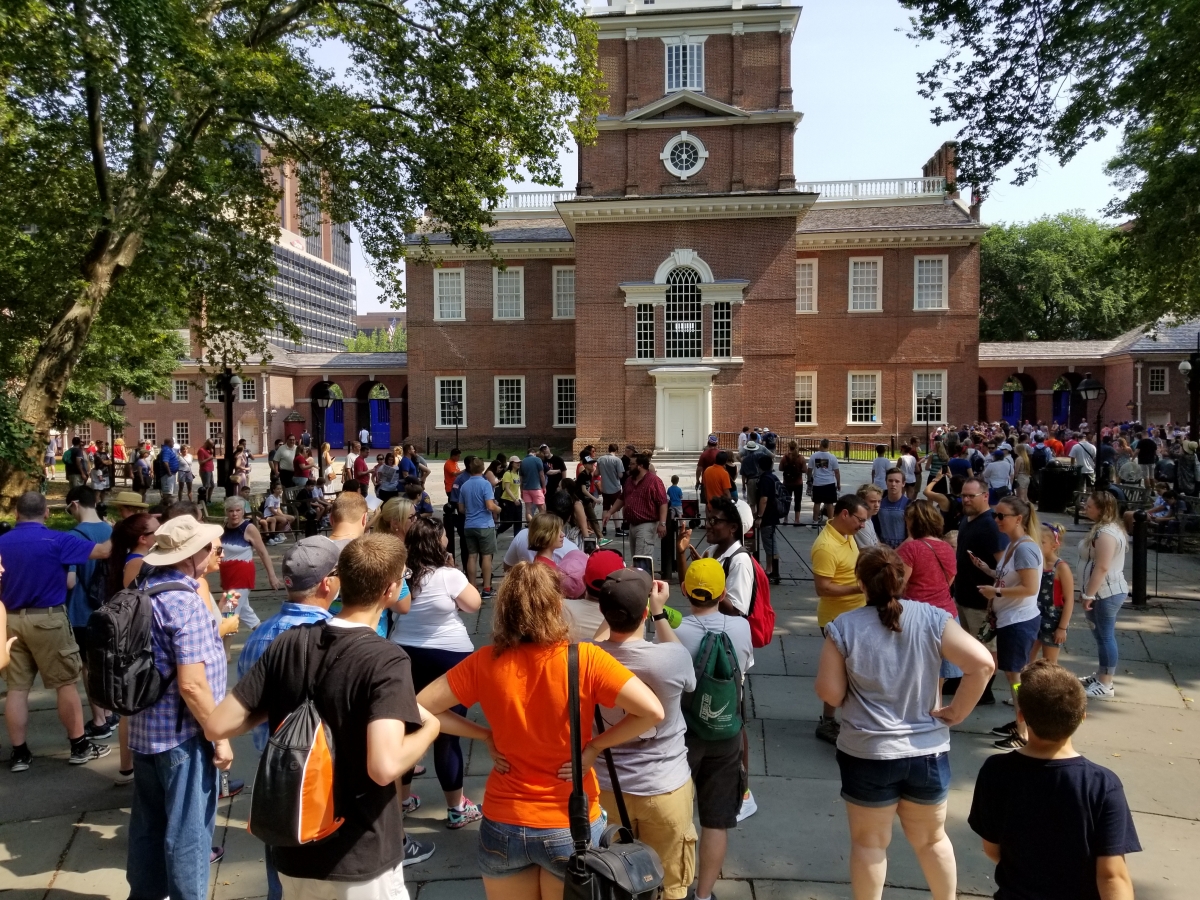 Q: Does The Constitutional go inside any of the sites on your standard 75 minute tour?
A. No. The Constitutional Walking Tour is an outdoor walking journey that provides a primary overview of the Independence National Historical Park area and visits more than 20 of the most historic sites in America's Birthplace. Often times, our school groups will complete The Constitutional and then go back to the sites that are of most interest to them (i.e., the Liberty Bell, Betsy Ross House, etc.). The security screening line for the Liberty Bell can sometimes be more than 45 minutes, and that is variable so we cannot plan to go inside the Liberty on our standard tour.  Also, based on customer requests, we do offer longer, custom tours for 2 or 3 hours that do go into some sites.  See our Field Trips Overview for further explanation and pricing on The Constitutional's custom tours.
Q. How can you help us plan a School Field Trip?
A. The Constitutional's Educational Sales Department really tries to help you in planning from beginning to end. We can help you plan your itinerary, and make suggestions on scheduling your day including details such as where to park the bus and where to have lunch, etc. In addition to our standard tour offerings, The Constitutional also offers our traditional Scavenger Hunt and Selfie Scavenger Hunt which are educational and interactive and lots of fun for students because they compete for prizes based on their knowledge.
Q: What inspired you to start The Constitutional Walking Tour?
A: My husband and I were inspired by The Freedom Trail in Boston to start The Constitutional Walking Tour of Philadelphia. I went to school in Boston, and my husband Jon used to do a lot of business in Boston in the late 1990s. Over time, we both marveled at how great The Freedom Trail was to organize Boston's historical sites, attractions and monuments along a branded walk experience.  In 2003, we launched The Constitutional Walking Tour in conjunction with the grand opening celebration of the National Constitution Center, which is where our tours start and end.
Q: What is your background?
A. I was a Child Study and Human Development major at Tufts. I also worked in the toy industry with Mattel and K'nex before starting The Constitutional.  My husband Jon has been an Adjunct Professor at Temple University's Fox School of Business where he has taught strategic planning since 2005.  Additionally, he was a Fellow of Temple University's Irwin L. Gross eBusiness Institute.  Together we have both been very involved with youth development at Legacy Youth Tennis and Education which has served thousands of kids annually through its National Junior Tennis and Learning (NJTL) program, where Jon has served on the Board since 2013.
Q: Who are The Constitutional's Tour Guides?
A: The Constitutional's Tour Guides are passionate Philadelphians who hail from prestigious academic institutions. In order to provide the optimal visitor experience, The Constitutional's knowledgeable and friendly tour guides have been specially trained by The Constitutional's "Independence Immersion" program, an intensive and fun curriculum focusing on Philadelphia history, American history and local tourist attractions, as well as best practices in public speaking, storytelling, customer service, hospitality and visitor experience. Our tour guides are energetic, articulate and entertaining storytellers who bring history to life. I think that Teach & Travel Magazine best summed it up with, "As the leading provider of school field trips, The Constitutional Walking Tour tells the dramatic story of the brave men and women who were responsible for creating America."
Q: What do you mean by The Constitutional Walking Tour's unique outdoor classroom?
A: We are really fortunate to call Independence National Historical Park our "outdoor classroom" where we are privileged every day to be able to educate America's students almost every day of the year about the brave men and women who founded America and allow our students to partake in a meaningful visitor experience that brings history to life. We call it the "power of place" in letting the students step back in time and walk in the Founding Fathers' footsteps to really immerse themselves in their social studies curriculum.
Q: Tell me about The Constitutional's Scavenger Hunt Offerings?
A: Scavenger hunts are a fun, interactive way to get your students interested in history and also reinforce what they learned on The Constitutional.  We offer two different types including The Constitutional's Traditional Scavenger Hunt and Selfie Scavenger Hunt.  At the conclusion of The Constitutional, we begin the Scavenger Hunt or Selfie Scavenger Hunt by breaking up your students into smaller groups (i.e., 4-8 students per group, plus 1 or more chaperones).  We provide a list of challenge questions or selfie photo suggestions, clues and a picture map, and then teams have 45-60 minutes to find as many answers as possible. At the end, groups meet up with their guide to review results and all participants receive prizes. The "Selfie" Scavenger hunt which has been very popular –groups have to take team selfies at various historical sites and monuments.
Q. What is the total amount of time needed for The Constitutional Walking Tour and Scavenger Hunt?
A. In total, around 2 and a half hours: approximately 75 minutes for The Constitutional and then approximately 75 minutes for the Scavenger Hunt. 
Q: What resources do you provide for teachers and educators?
A: We have developed a comprehensive "Teacher Resource Guide" written by teachers for teachers. It includes grade and age appropriate sections for Lower School, Middle School and High School. The Teacher Resource Guide will help you and your students get the most out of your field trip, including pre-trip and post-trip exercises and other activities for your students. The Teacher Resource Guide also provides other activities for you to consider doing on-site on the day of your tour.  Note that there will be an updated version of the Teacher Resource Guide available for the 2018-2019 school year.
Q: Do you have any Suggested Itineraries?
A. Yes. Whether you are staying a ½ day, full day or even overnight, we have developed Suggested Itineraries to help you plan the best field trip of Historic Philadelphia.
Q. Does taking The Constitutional Walking Tour on a field trip help meet any state curriculum requirements?
A. The Constitutional Walking Tour is also an excellent tool to help you meet state education requirements in a fun and interactive way. We have reviewed many state's requirements and offer the following guidance, and our Educational Standards' analysis can help you integrate The Constitutional into your curriculum.
Q: What happens if the forecast calls for rain on the date of my school's field trip taking The Constitutional Walking Tour?
A: The Constitutional is an all weather event, and our tours operate rain or shine. If the forecast calls for inclement weather, we suggest you inform your students and their parents to have the kids come properly prepared with various items such as umbrellas, rain jackets, ponchos, etc.  Neither revolutionary rain, nor liquid sunshine, nor snow, nor heat keeps our tour guides from proudly conducting The Constitutional Walking Tour. That said, in the event of lightning or dangerous conditions, we may adjust the tours accordingly by going into various sites or taking a rain delay while the storm passes. Generally speaking, we only shut down for weather related events if Independence National Historical Park temporarily closes or changes it operating hours due to extreme weather conditions.
Q: Is there an ideal time of year for a school field trip?
A: The most popular season for school field trips is in the Spring (April-June), followed by the Fall (September-November), and Winter (December-February).  We operate all year round for group tours with advance reservations. Fall is quickly gaining a lot of popularity for teachers and their students since there are less people visiting the Independence Park area at that time of year, and the Fall foliage is simply beautiful. Also, Winter time is a great time to visit since recent Decembers have been so warm, and teachers find that their students need to get outside more in those months. 
Q: Can I get Independence Hall tickets as part of The Constitutional's School Field Trip Experience?
A: Yes.  We can assist with getting access to Independence Hall for your school group in a few different ways. For an additional service fee, we can:
1) reserve your tickets to Independence Hall in advance;
2) pick up your tickets (that were reserved in advance) at the Independence Visitor Center on the day of your school's visit; or
3) in the case when advance tickets are sold out, we can have our staff arrive at the Independence Visitor Center when it opens on the day of your tour, and wait in line to see if we can get your group tickets that are only released that day on a first come, first served basis.
For more information, visit our Independence Hall Ticketing for Groups section on our Web site.
Q: Why are The Constitutional's School Field Trips so popular?
A: The Constitutional offers a fun and imaginative tour for children and adults alike.  Often times teachers and parents who attend The Constitutional will share with us memories of their meaningful field trip experiences to see Independence Park from when they were in school. Visiting Historic Philadelphia and taking The Constitutional Walking Tour create memories that will last a lifetime.
Q: Where do you suggest that our school kids have lunch when we visit Philadelphia?
A: There are so many wonderful choices in Philadelphia, in part depending upon the location of where you want to eat, whether you are brown-bagging it, or what price point you are looking for. A few suggestions are Reading Terminal Market and the newly updated Bourse Food Court. There are also many pizza and cheesesteak places nearby. Many groups that bring brown bag lunches enjoy a patriotic picnic and eat on the lawn of the National Constitution Center where The Constitutional Walking Tour starts and ends. Groups visiting the National Constitution Center in addition to taking The Constitutional Walking Tour can reserve the Constitution Center's lunchroom for a small fee.  Just let us know what your needs are, and we'll be happy to make some suggestions.
Q: What grades take The Constitutional's School Field Trips?
A: Although there is no grade or age requirement, The Constitutional Walking Tour is designed for students in Grades 2-12, as well as college and university students.
Q: How far away do your student groups come from?
A. Our student groups come from all over the country and the world.  While most of our school groups come from within a day's drive, some student groups stay overnight in Philadelphia.  We host student groups from near (Pennsylvania, New Jersey and Delaware) and far (Australia, Germany and China) to everywhere in between. We are the leading provider of school field trips to Historic Philadelphia. Philadelphia is within a day's drive of 40 percent of the U.S. population. The Constitutional Walking Tour is just a two-hour drive from New York City (and even less time by train!) and just two-and-a-half hours from Washington D.C. For more information, check out the Driving Times and Travel Distances from various East Coast cities.
Q: What is the most popular Field Trip experience?
A: All of our Field Trip Experiences are popular, but I would say the 75 minute tour is the most popular – you get to see 20 historic sites in a short period of time, all the while getting a great overview and some exercise too! Many groups also like to add a Scavenger Hunt onto their walking tour.
Q: Can we also add in a Bus Tour if we want to see sites such as the LOVE Statue or Rocky Statue?
A: Sure.  The Constitutional offers "Step On Guides" (tour guides) who can get onto your group's bus(es) and provide a full tour of the city. The Constitutional Bus Tour route and sites are posted on our Map online. Many groups combine The Constitutional Walking Tour with a The Constitutional's Philly By Bus tour to take photos at the LOVE Statue (LOVE Park) and the Rocky Steps at the Philadelphia Museum of Art, for example, or wherever else you think that your students would like to visit.
Q: What is The Constitutional's new Flat Stanley tour?
A: The Flat Stanley tour is our newest field trip offering for Fall 2018! If you're familiar with Flat Stanley and his namesake book series, you'll know Flat Stanley loves to go on adventures all over the world. We'd love your class to bring their Flat Stanley creations to Historic Philadelphia for some great photo opportunities! Check out The Constitutional's Flat Stanley Field Trips of Historic Philadelphia. This is the perfect way for younger classrooms to experience The Constitutional in a new and fun way!
Q: Can you tell me about The Constitutional's Yellow Fever Walking Tour?
A: Inspired in part by the real-life Yellow Fever Epidemic of 1793 and the gripping historical fictional account in the book "Fever 1793" by Laurie Halse Anderson, The Constitutional's Yellow Fever Tour features the stories, sites and circumstances of the Yellow Fever epidemic. Many school groups that have read this book feel that it is a great fit with their curriculum.
Q. How much does The Constitutional's Yellow Fever Tour cost?
A. The cost for a student group of 25 or more to take the Yellow Fever Tour is $13.00 per student and $16.00 per adult/chaperone.
Q. Do you provide grants to Title I schools?
A: Unfortunately no. As a small family business, we are not in the position to provide grants.  However, we can work with you and possibly provide some type of discount if you are able to arrange your field trip in the off season.  Additionally, many schools that we have worked with have come up with some creative fundraising initiatives including bake sales and car washes to raise funds for the cost of their field trip to take The Constitutional Walking Tour.  Additionally, we recommend that all teachers consider applying for a Target Field Trip Grant since Target agrees with us on the social impact of field trips, "Some of the best learning opportunities happen outside the classroom. We're bringing students once-in-a-lifetime learning experiences through field trips they'll never forget."
Q. Do AP US History classes take The Constitutional Walking Tour?
A. Yes. Various AP US History teachers have brought their students on The Constitutional Walking Tour to give them a chance to put history into perspective and provide incentive to have students learn the required amounts of history to take the test.  Some teachers have taken The Constitutional in the Fall to help set the stage for the AP US History course, while others have taken The Constitutional as an optional weekend trip or in the Spring as a reward after a year of hard work.