Related Posts:
Wawa in Historic Philadelphia
The largest Wawa in the world just opened for business across the street from America's Birthplace at Independence National Historical Park in Philadelphia.  At 11,500 square feet, this super Wawa is open 24 hours per day and offers all of the Convenience Store favorites that Philadelphians have grown to love, including Coffee, Hoagies, Soft Pretzels, surcharge-free ATMs, and so much more.
Even with its massive size, this new format Wawa has a coffee house vibe complete with a seating lounge and public restrooms.
The Wawa make your own Coffee Bar is a favorite. Soft Pretzels are made fresh everyday and available in single and double packs.  Hoagies and sandwiches can be cold (i.e., Italian or Oven-Roasted Turkey) or hot (i.e., Meatball and Cheesesteak). All Hoagies and sandwiches are made to order and come in 3 sizes: Junior (4-inch), Shorti (6-inch), and Classic (10-inch).
The Wawa in Historic Philadelphia is located in the historic Public Ledger building, which was designed in 1923 by Horace Trumbauer, an architect known for designing grand buildings and estates in and around Philly.
Wa-What?
Wawa is privately held company which was founded in 1803, shortly after the birth of America, as an iron foundry in New Jersey. In 1902, George Wood (the owner) began a small dairy processing plant in Wawa, Pennsylvania.
Wawa enjoyed mazing success in the milk business.  Over time, Wawa evolved and in 1964, Grahame Wood, George's grandson, opened the first Wawa Food Market. 
Wawa's original Dairy Farm was built on land located in a rural section of Pennsylvania called Wawa.  "Wawa" is a Native American word for the Canada Goose which has been commonly found in the Delaware Valley dating back over 100 years. That's why Wawa uses the goose as Wawa's corporate logo.
Today, Wawa is a chain of more than 800 convenience retail stores that are located in Pennsylvania, New Jersey, Delaware, Maryland, Virginia, Florida, and Washington, D.C.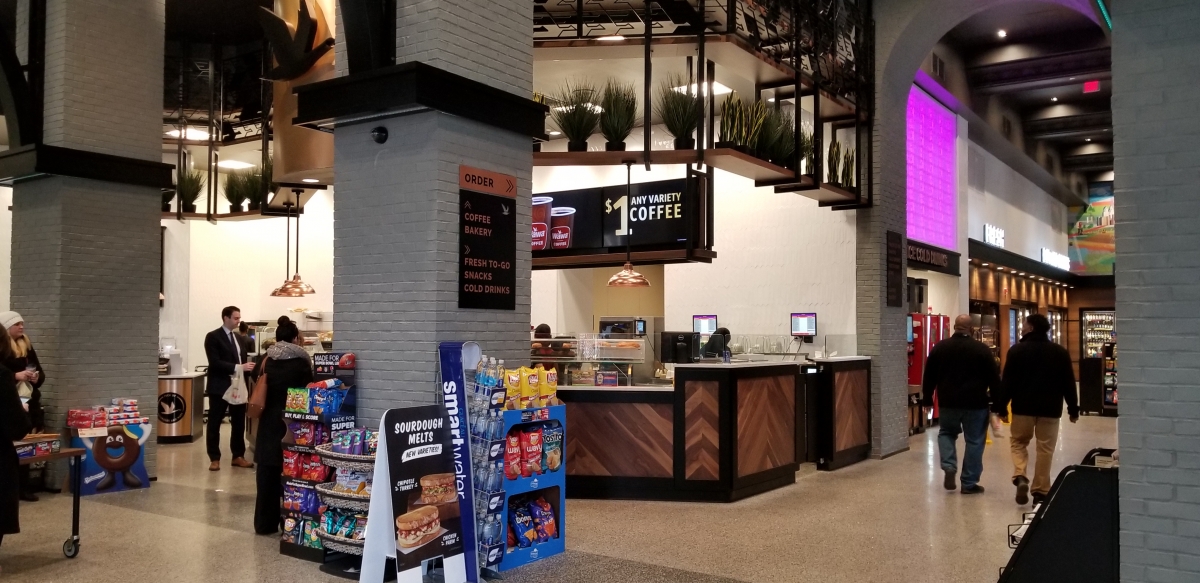 For those visiting Philadelphia and taking The Constitutional Walking Tour, you will see that this amazing Wawa is along The Constitutional's route between stops at Signers' Walk (the Founding Fathers' Walk of Fame) and Congress Hall (The former U.S. Capitol, site of two Presidential Inaugurations and site where the Bill of Rights was ratified). Wawa also sits in the shadow of the Liberty Bell and Independence Hall.
How to Get There
Wawa in Historic Philadelphia is conveniently located at 6th & Chestnut Streets. For guests of The Constitutional Walking Tour, Wawa is just a short 2 block walk from the National Constitution Center where The Constitutional's tours begin and end. From the Constitution Center, head North on 6th Street to Chestnut Street. 
Additional Information
Wawa
Store #8131
6th & Chestnut Streets
Philadelphia, PA 19106
267.299.6269