Related Post
Right next to historic Old City Philadelphia, Chinatown is one of Philadelphia's most unique neighborhoods.
The History
It was all the way back in the mid-19th century when Cantonese immigrants to Philadelphia began to settle in the area now known as Chinatown. As the years passed, Chinatown's population continued to grow and diversify.  Throughout the decades, development and other interests have threatened to change Chinatown's identity, but residents and businesses in the area have fought to preserve the neighborhood. Due to their hard work, Chinatown was able to retain its unique culture and remains among Philadelphia's most vibrant and exciting neighborhoods. 
Today many different cultures from nations across Asia including Korea, Thailand and Vietnam have a presence in Chinatown.  The neighborhood is filled with nightlife offerings but is perhaps best known for the many excellent restaurants the neighborhood is home to.
Chinatown's very first restaurant Mei-Hsian Lou opened all the way back in 1880 and today a plaque even commemorates the location of that historic restaurant at 913 Race Street.  Mei-Hsian Lou is no longer around today, but in its place countless other restaurants carry on their tradition.
What to See
Be sure to check out the "Friendship Arch," an authentic Chinese Gate located at the intersection of 10th and Arch Streets.  The traditional Qing Dynasty Styled gateway is beautiful.  Local artisans created the work of art using authentic tiles from China.  The tiles came as a gift came from Tianjin, the fourth largest city in China and Philadelphia's sister city. Designed in patterns typical of the Ming and Qing dynasties, it is the first authentic Chinese Gate to be constructed in America.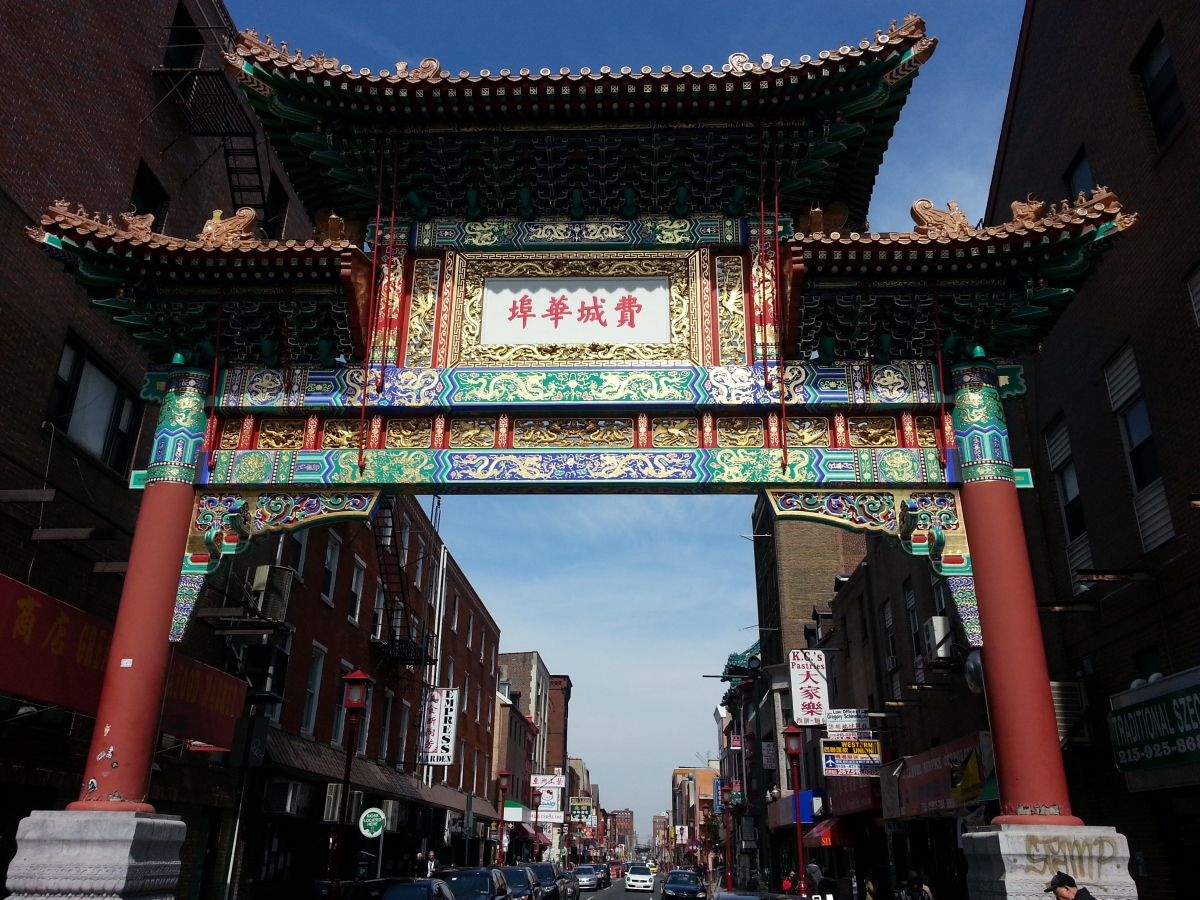 While there are plenty of great dining options in Chinatown, guests should first head to the
Nan Zhou Hand Drawn Noodle House
.  Not only are guests treated to amazing authentic food, but they get to also witness the spectacle of its preparation.  All of the noodles are made from fresh dough which customers can see made and stretched out to order. Chinatown also has a very active nightlife and a number of bars for tourists to enjoy.
Insider Tips
If you ever wanted to visit an authentic fortune cookie factory this may be your only chance. Lucky Chinese Cookie Factory is open to the public and while they do sell fortune cookies, make no mistake, this is an active factory.  Entering the building puts you face to face with enormous machinery fed with dough by employees to make piles and piles of cookies!
How to Get There
Guests of
The Constitutional Walking Tour
can easily walk to Chinatown as the neighborhood is just a few blocks west of the National Constitution Center, where our tour begins and ends. Walking four blocks down Arch St puts you right in the heart of Chinatown.
On
The Constitutional Bus Tour of Philadelphia
, Chinatown is one of the sites guests will learn about on the tour.  Tours can even be set up to end in Chinatown to accommodate those who wish to grab some great food after seeing the city.
Chinatown is also accessible by
Septa
as multiple bus routes and subway lines are within walking distance of the neighborhood or have direct access.
Chinatown also have no shortage of parking garages for those who are driving and while sparse, street parking is also available (just remember to pay the parking kiosks).
Hours
Varies depending on Business
Additional Information
1022 Race St. 
Philadelphia PA 19107
215.923.1550
Lucky Chinese Cookie Factory
155 N 9th St 
Philadelphia 19107
215.922.7288