Related Posts
The front door to one of Philadelphia's finest buildings gets a makeover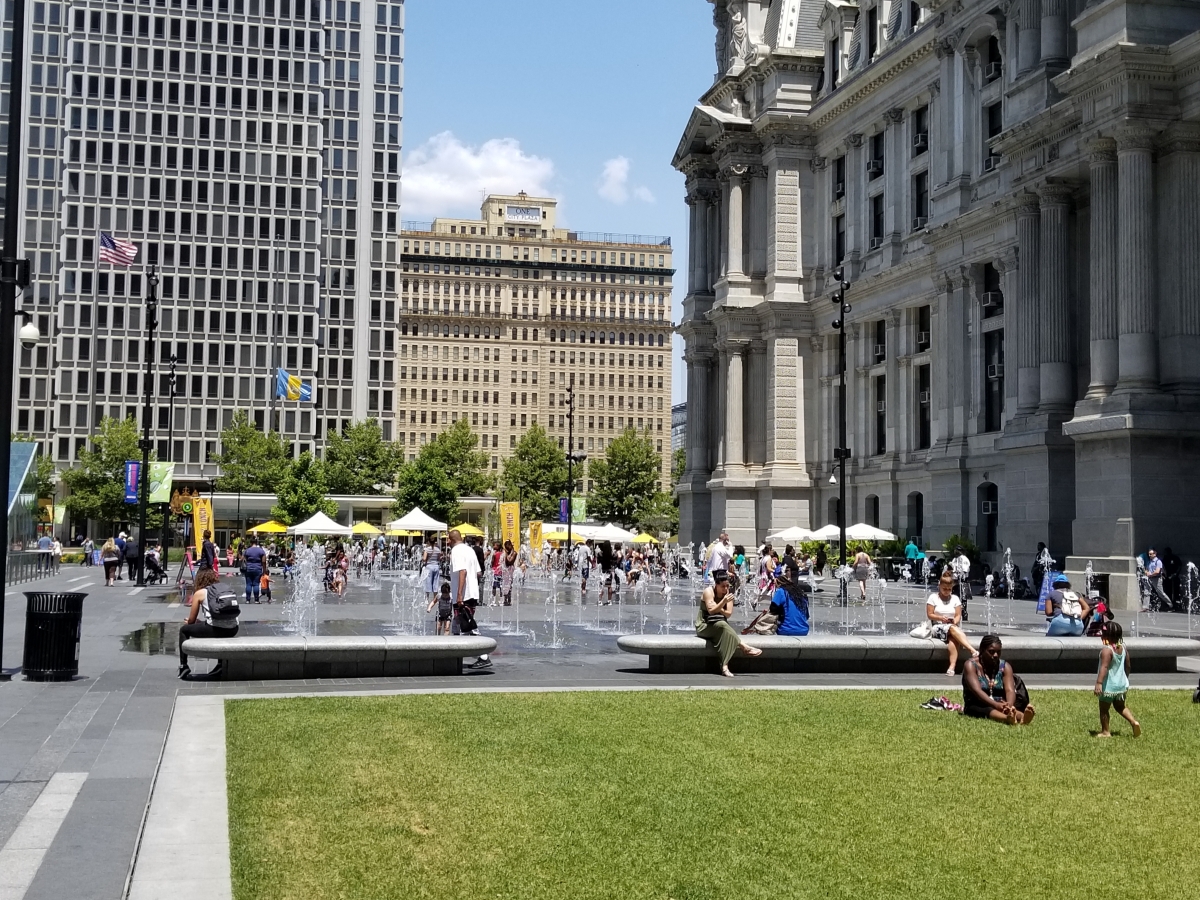 The History
Dilworth Park
was originally the location of Broad Street Station, an architectural masterpiece designed by Frank Furness in 1881, the station was at one time the largest passenger train terminal in the world.  The station was located across Broad Street from City Hall which started construction in 1871.  In the 1930s however, the nearby
Suburban Station
was constructed.  As opposed to the massive above ground train tressels and soot spewing coal engines that served Broad Street Station, the new station utilized more modern underground train tunnels and electric train cars.  As use for Broad Street Station declined it would eventually close and be torn down in 1953.  
In the 1970s the decision was made to reroute traffic around City Hall to create a public plaza directly next to City Hall.  The land where the Broad Street Station once stood and the former path of Broad Street would become Dilworth Plaza.  The Plaza was named after Richardson Dilworth, former mayor of Philadelphia from 1956 – 1962.  Dilworth governed Philadelphia during a time in which Center City Philadelphia had stagnated and population was dwindling.  Dilworth made it a point to live in Center City and encourage others to live, dine, and enjoy entertainment in Center City Philadelphia.  Throughout his tenure as mayor he spearheaded many efforts to revitalize Center City.
While Richardson Dilworth was a very inspiring individual, the plaza that bore his name was considerably less inspiring.  Made up a confusing series of staircases and multiple levels, the hard cold granite plaza was a not a place that attracted many visitors.  But Dilworth Plaza is now gone and in its place sits the brand new Dilworth Park (which reopened to the public in September 2014), and has already become a popular destination.
What to See
Dilworth Park has become a great place to enjoy an outdoor lunch on a beautiful day.  With ample amounts of tables and chairs, benches, and a lawn, there are many places to sit and eat.  There is also no need to pack a lunch as great food can be found right on the premises of Dilworth Park.  Iron Chef Jose Garces has opened a second location of his popular restaurant Rosa Blanca right in the park.  Rosa Blanca serves classic Cuban fare for breakfast, lunch, or diner.  Rosa Blanca also serves alcohol, making Dilworth Park one of a growing number of beautiful outdoor spaces in Philadelphia that allow you enjoy an alcoholic beverage outside on a nice day.
Other things to see and do at Dilworth Park could depend on what time of the year you arrive at the Park.  During the summer, a large portion of the park consists of a splash fountain encouraging kids and adults alike to cool off in the cold streams of water that will jet out of the ground.  In the winter, the same area of the park will become a large ice rink.  Whether you're splashing in the fountain or ice skating, the backdrop of Philadelphia's City Hall makes for a unique experience.  The Second Empire masterpiece designed by John McArthur Jr. and Thomas U. Walter was the tallest building in the world upon its completion in 1901 and its beauty dominates Dilworth Park at all times.  For all that you can do at Dilworth Park, perhaps it best serves as wonderful place to sit and admire Philadelphia's City Hall.
Insider Tips
Dilworth Park is more than a park.  It's a place where things happen.  The
Center City District
operates the park has organized for many events to take place within the park.  No matter what the time of year there will always be something happening at Dilworth Park.  Events include free movie screenings and live bands at lunch time.  
Dilworth Park will also be home to cutting edge designer pop-up markets.  Designers such as
Paula Hian
, Candace Wade and Frank Guialdo will sell clothing, jewelry and accessories in a pop-up market that appears on most Thursdays.  There will even be DJs broadcasting live from Dilworth Park to get everyone dancing. For a current list of upcoming events at Dilworth Park check out the
events page on their website
.
How to Get There
Dilworth Park is also a new gateway to the busiest subway concourse in the city.  Beneath Dilworth Park is where Philadelphia's two main subway lines, the
Market-Frankford El
and the
Broad Street Line
intersect.  The construction of the park included two grand glass covered staircases to enter the subway concourse below along with elevators that make the stations accessible to all Philadelphians for the first time.  Thus there is perhaps no better way to get to Dilworth Park than by using the aforementioned subway. Guests of
The Constitutional Walking Tour
can easily reach the Market-Frankford Line by walking one block south from The National Constitution Center, where all of our tours both begin and end.  Enter the station at 5th and Market Streets and take the line west to 15th street.  As you exit the subway you'll find yourself in the brand new Dilworth Park!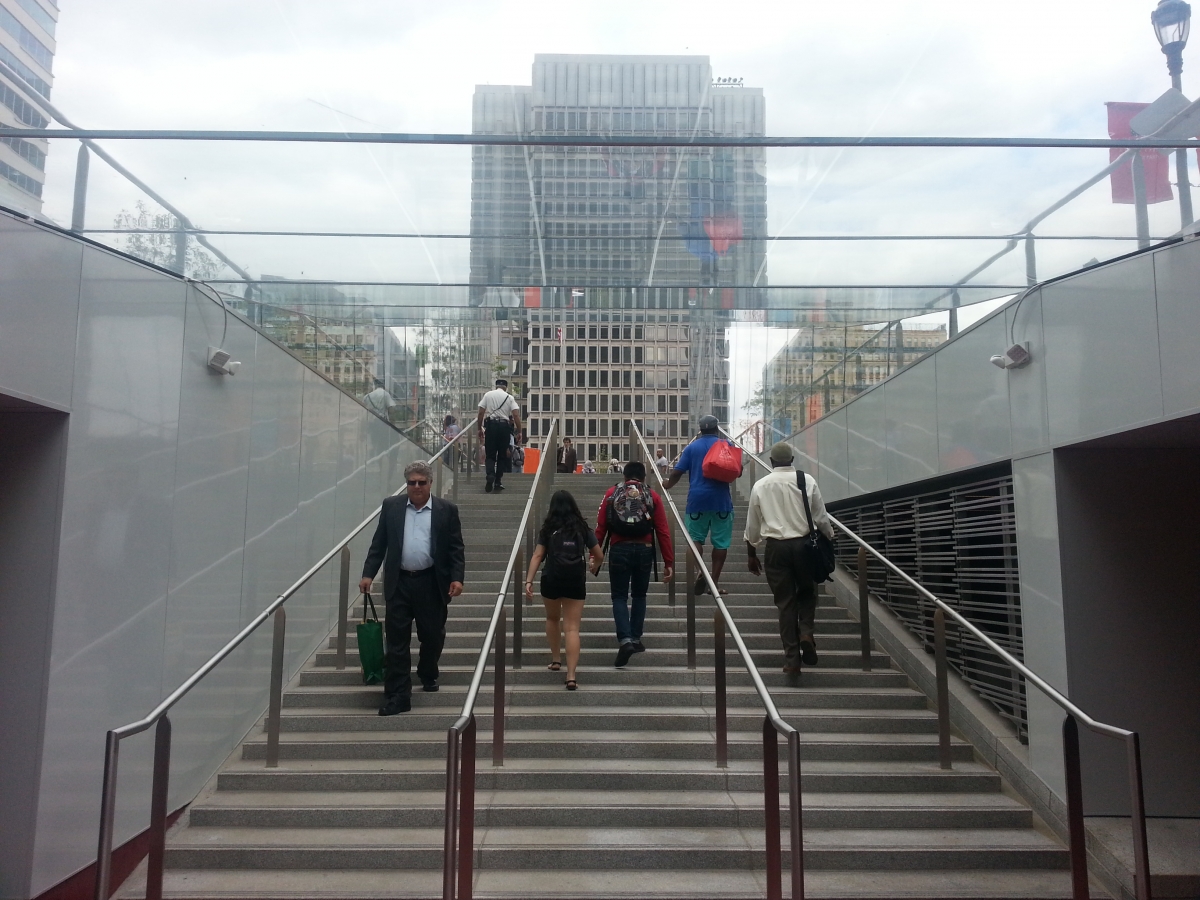 Dilworth Park
is also easily accessible by foot, guests of The Constitutional Walking Tour should walk west down Arch Street from the National Constitution Center, then make a left on Broad Street to reach the park.  While on street parking is scarce in the vicinity of the park, those who wish to drive can park in any one of the numerous parking garages near Dilworth Park.
Hours
365 days a year from 6:00am – 1:00am
Additional Information
Broad and Market Streets
Philadelphia, PA 19102
215.440.5500