Related Posts
Philadelphia's most popular beer garden is back and better than ever in 2015.
The History
In the 1960s, Philadelphia was looking to bring residents and tourists to the banks of the Delaware River for fun and recreation. For the previous three centuries, Philadelphia's largest river had primarily been a center for shipping and industry but now city planners envisioned a grand park along the Delaware River. The park was named "Penn's Landing" to pay tribute to the fact that the park would occupy the same land that William Penn had initially arrived on when he founded Philadelphia in 1682.Penn's Landing stretched across over a mile of the Delaware River bank. Over the years, Penn's Landing has hosted hundreds of concerts, events and celebrations. Penn's Landing has also long been the home of a very popular outdoor ice skating rink in the winter that allows guests to ice skate on the banks of the Delaware River in the shadow of the majestic Benjamin Franklin Bridge.
Despite all of the action going on at Penn's Landing, the huge size of the park meant that there were some sections of Penn's Landing that were being underutilized, especially when Penn's Landing wasn't hosting an event.  The City of Philadelphia and the
Delaware Riverfront Corporation
began developing ideas to bring more people to the waterfront and with the creation of the
Spruce Street Harbor Park
they found exactly what they were looking for. Spruce Street Harbor park was designed as a pop up beer garden that simultaneously provides the perfect space for a family afternoon in the park or an after work happy hour.  After opening in June 2014 Spruce Street Harbor Park became an immediate success that drew thousands to Philadelphia's waterfront. The Huffington Post even named Spruce Street Harbor Park one of the
best urban beaches in the world
! Spruce Street Harbor Park is back in 2015, and it's better than ever.
What to See
A big reason for Spruce Street Harbor Park's great success was its ability to attract people of all ages.  For families with children there are all kinds of activities to enjoy.  Spruce Street Harbor Park provides a number of free games to play including giant versions of chess, connect four, and Jenga.  You can also play Bocce, shuffleboard and ping pong, and if the weather isn't as nice there is an even an indoor arcade!  Kids can also cool off in one of the fountains or even go right into the Delaware River on a paddleboat, kayak, or canoe.  You can even take a remote controlled sailboat for a spin.
Adults will also have plenty to enjoy at Spruce Harbor Park as the many hammocks along the banks of the Delaware provide perhaps the most relaxing and unique place to enjoy a drink in the city.  The Barge Bar serves drinks every day from 11AM-11PM and even stays open until 1AM on Friday and Saturday night.  The Barge Bar serves a nice selection of craft beers and a rotating list of summer cocktails. They even serve a special brew that local brewery
Yards
made for Spruce Street Harbor Park named "Lazy Hammock IPA."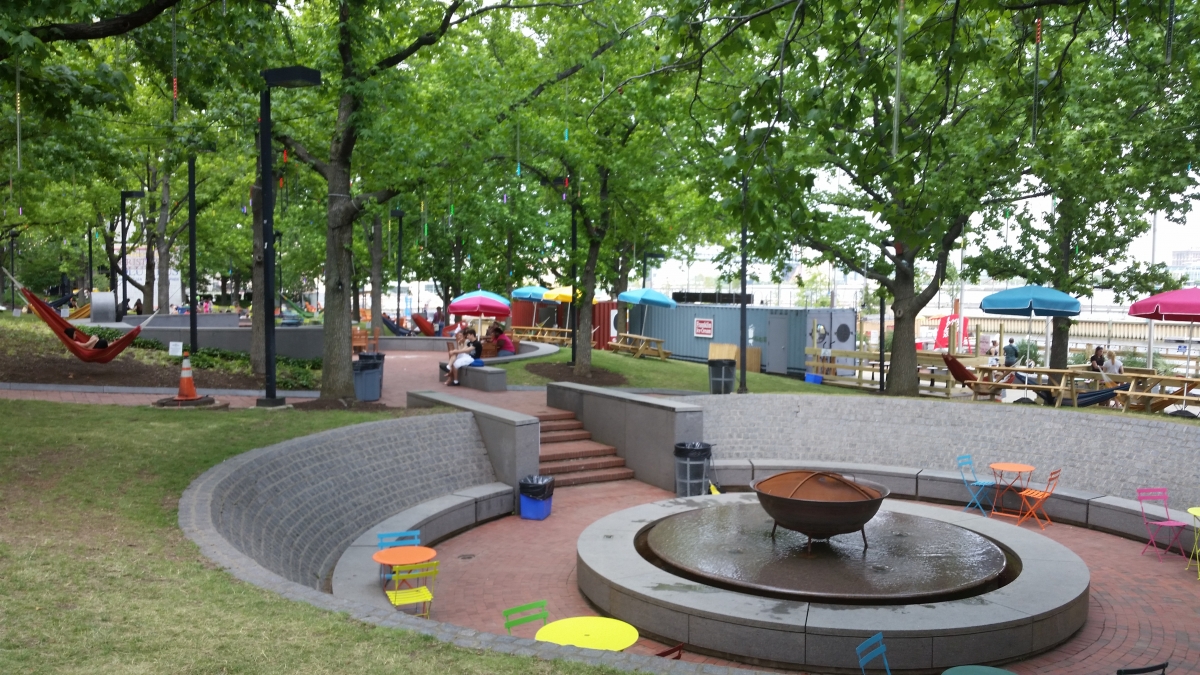 People of all ages can also enjoy the food and live performances at Spruce Street Harbor Park. On weekends there is live music and even circus performers.  The food at Spruce Street Harbor Park is also top notch and draws from some of the best chefs and restaurants in Philadelphia. Iron Chef
Jose Garces
' popular Chifa, a Chinese-Peruvian fusion restaurant has been recreated on a barge.
Federal Donuts
, famous for their fried chicken and donuts has created "Port FedNuts" where they are selling an exclusive chicken sandwich that you can only get in Spruce Street Harbor Park. Other restaurants that have a presence include Froman's on the Boardwalk and the
Distrito
Taco Truck. Even Philly's popular old fashioned soda fountain, the
Franklin Fountain
is at Spruce Street Harbor Park in the form of the S.S. Franklin Fountain where you can get the special Mighty Warship Ice Cream Sundae. There is also standard boardwalk fare like funnel cakes, French fries, hot dogs, and water ice.
Insider Tips
Just north of Spruce Street Harbor Park in Penn's Landing is the brand new
Blue Cross RiverRink Summerfest
.  Long known as the location of the popular WinterFest Ice Skating Rink, in 2015 the rink has been turned into a roller-skating rink for the very first time.  The rink will feature all brand new roller skates that are available for rent.  The rink even contains a plant covered island in the center of the roller rink which will help provide shade on hot summer days as well as provide seating for skaters looking to take a break from the action.
While rollerskating requires a ticket for admission, the rest of Summerfest is free to the public.  Other attractions at Summerfest include a large boathouse lodge decorated with all kinds of nautical themed stylings.  Food and drink is also available for purchase in the boathouse lodge which will be run by Iron Chef
Jose Garces' Garces Group
.  There will even be a naturalistic playscape and arcade for kids to enjoy.  Also, if you're insured by sponsor
Independence Blue Cross
, your admission to roller skating rink is free!
How to Get There
For guests of
The Constitutional Walking Tour
, getting to Spruce Street Harbor Park is an easy 15 – 20 minutes walk that takes you down some beautiful historic streets.  Starting at the
National Constitution Center
where all of tours begin and end, simply walk a few blocks down 5th street until you reach Spruce Street, make a left onto Spruce and follow it a few more blocks until reach Spruce Harbor Park on the banks of the Delaware River.  If you're intent on taking public transit, the
21 Bus runs
down Market Street directly to Penn's Landing and you could also use the
Market Frankford Line
to get to 2nd Street Station from which Spruce Street Harbor Park is a short walk away.  There is also a large parking lot directly to the South of Spruce Street Harbor Park on Columbus Boulevard that makes driving and parking very easy. 
Hours
Most vendors within Spruce Street Harbor Park have the following hours of operation:
Sunday - Thursday: 11:00AM - 11:00PM
Friday - Saturday: 11:00AM - 1:00AM
Additional Information
Columbus Blvd and Spruce Streets
Philadelphia, PA 19106
215.922.2326