Related Posts:
Franklin Square is a must see stop if you are looking for something fun to do on your trip to Independence National Historical Park. Franklin Square has something for everyone, including kids and all kids at heart. Come enjoy the playground, as well as the Philly themed entertainment and dining with a fun carousel, challenging miniature golf course and tasty snack bar.
Restored in 2006 from decades of decline and disrepair, Franklin Square is one of the five original city squares that William Penn created when he designed Philadelphia as the first planned city in America. Franklin Square was originally called North East Publick Square, but in 1825, Franklin Square was renamed in honor of, guess who, Benjamin Franklin.
In the center of Franklin Square is a beautiful fountain dating back to 1838, which is surrounded by Franklin Square's great visitor amenities.  Franklin Square is very popular among locals and visitors alike for various reasons including:
Franklin Square Playground
Open year round and so popular among local families, Franklin Square Playground is a destination in and of itself. Philadelphia Magazine named Franklin Square as one of the best Play Spaces to climb, swing, jump, hop, run and explore. The playground has two areas for younger kids and older kids. This is the closest playground to the Liberty Bell and Independence Park, just a 5 minute walk.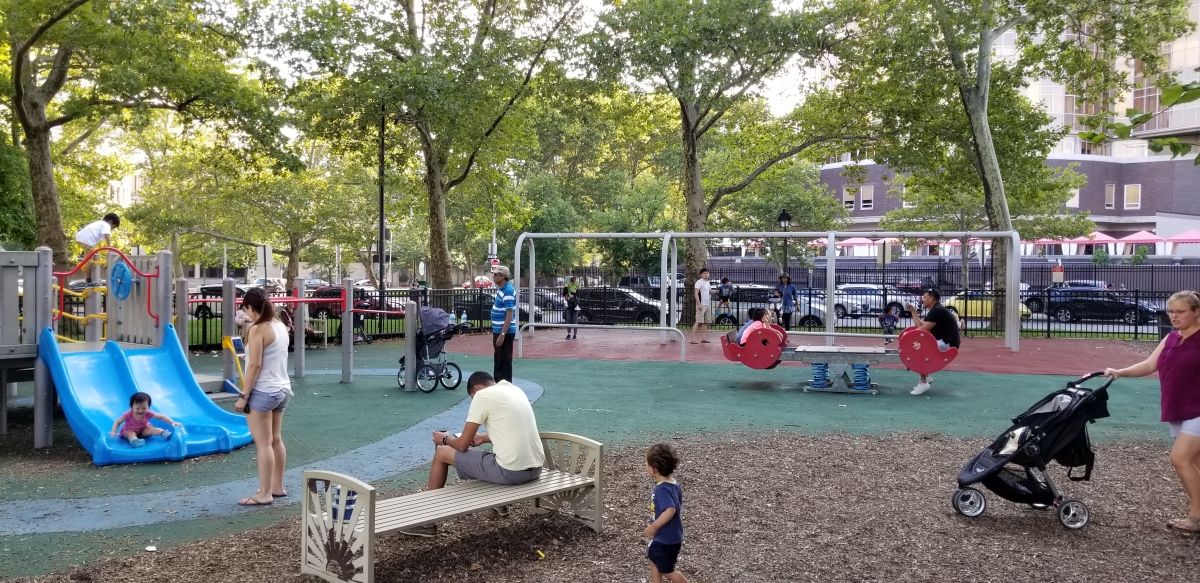 Philly Mini Golf
This is no ordinary miniature golf course. First, it is the only mini golf course in Center City Philadelphia. Second, it is a one of a kind 18 hole course featuring so many of Philly's amazing landmarks the Liberty Bell, Independence Hall, Boat House Row, Rocky Steps, LOVE Statue, Ben Franklin Bridge, Elfreth's Alley, Chinatown Friendship Gate and more. The golf is just the right challenge for beginners through advanced level players, and it brings history to life for kids in a really cool context.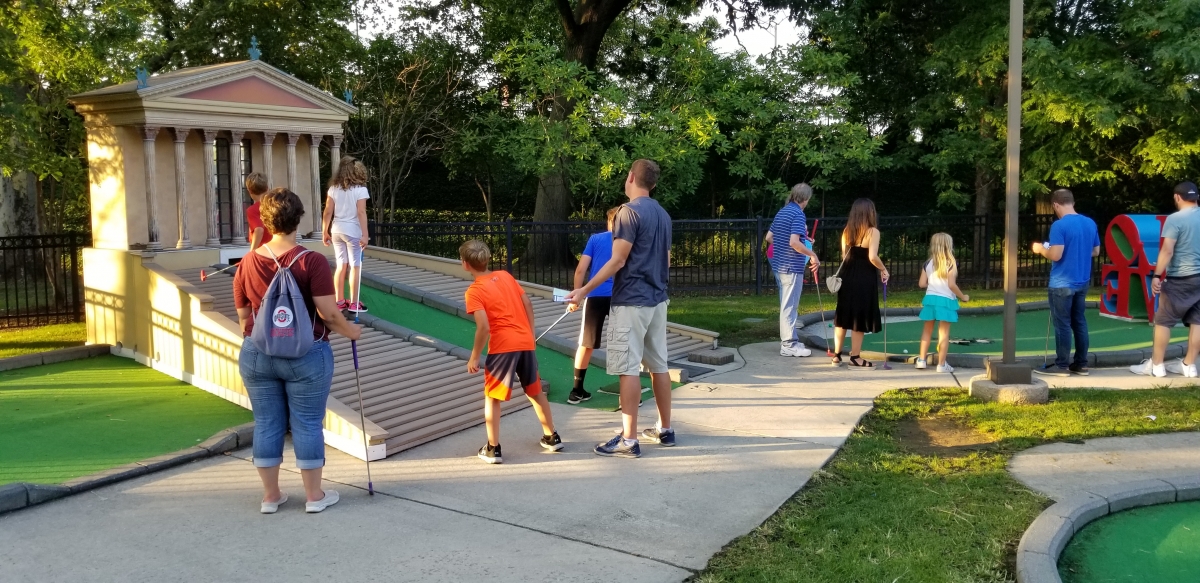 Parx Liberty Carousel
Sponsored by the Parx Casino, this is a classic carousel with a local Philly underdog, or shall we say, "underhorse" twist. Take a whirl on hometown racehorse heroes such as Smarty Jones (Kentucky Derby and the Preakness Stakes winner) and Afleet Alex (Belmont Stakes and Preakness Stakes winner), or try out a ride on an eagle, dragon or lion.
SquareBurger
In addition to some Philly favorites such as soft pretzels, you can enjoy the signature burgers, hot dogs and fries. Plus Square Burger is famous for its "Cake Shake" (milk shake) that is made with Philly's own TastyKake Butterscotch Krimpets.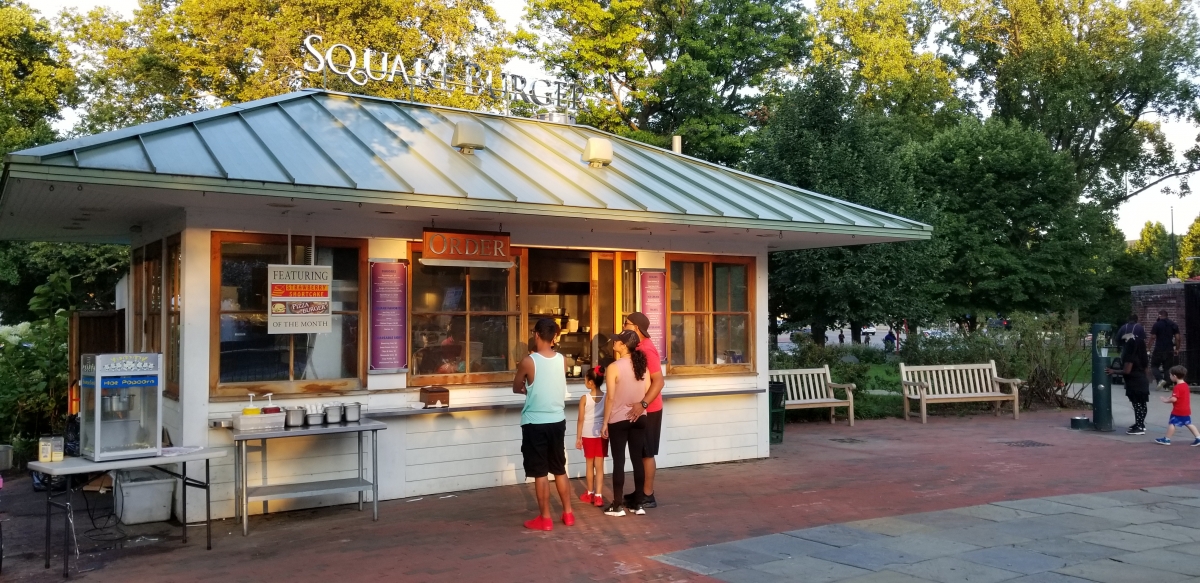 Insider Tips
If you are travelling with kids, Franklin Square is a great place to let your kids be kids and get their energy out. Total family fun zone -- run, play, ride, re-fuel here.
Franklin Square is really fun late afternoon (après tour) or as an evening activity after a long day of touring America's Birthplace.
Try to have lunch or a snack at Square Burger and enjoy a quick bite to eat while the kids are playing. While the Playground is open all year round, operating hours vary on the carousel and mini-golf, so check with the Franklin Square Web site on hours of operation when you are planning to visit.
Check out the Chinese Lantern Festival which runs May-June each year.  
Also, Franklin Square offers a great holiday season light show with its Electrical Spectacle featuring more than 50,000 lights, holiday music and a 12-foot tall kite honoring Benjamin Franklin's famous kite-and-key lightning experiment, soaring above Franklin Square's centerpiece fountain. Check the Franklin Square web site for more information.
How to Get There
Franklin Square is very conveniently located to the National Constitution Center where The Constitutional Walking Tour starts and ends. Franklin Square is one short block away from the Constitution Center. Head North on 6th Street towards Race, and the main entrance to Franklin Square is at the Northwest corner of 6th & Race.
Additional Information
Franklin Square
200 N. 6th Street
Philadelphia, PA 19106
215.629.4026