If Benjamin Franklin were alive today and tried Yards Brewing Company's beers, he would definitely update his famous quote of "Wine is constant proof that God loves us and loves to see us happy" to "Beer is constant proof that God loves us and loves to see us happy."
Best of Philly
In the 2018 Best of Philly awards from Philadelphia Magazine, Yards Brewing Company was named by the people as "Best Local Brewery", and by Philly Mag's editorial staff as "Best Brewpub." Now you can take a behind the scenes tour of Yards Brewing Company and see and taste for yourself what the Best of Philly has to offer.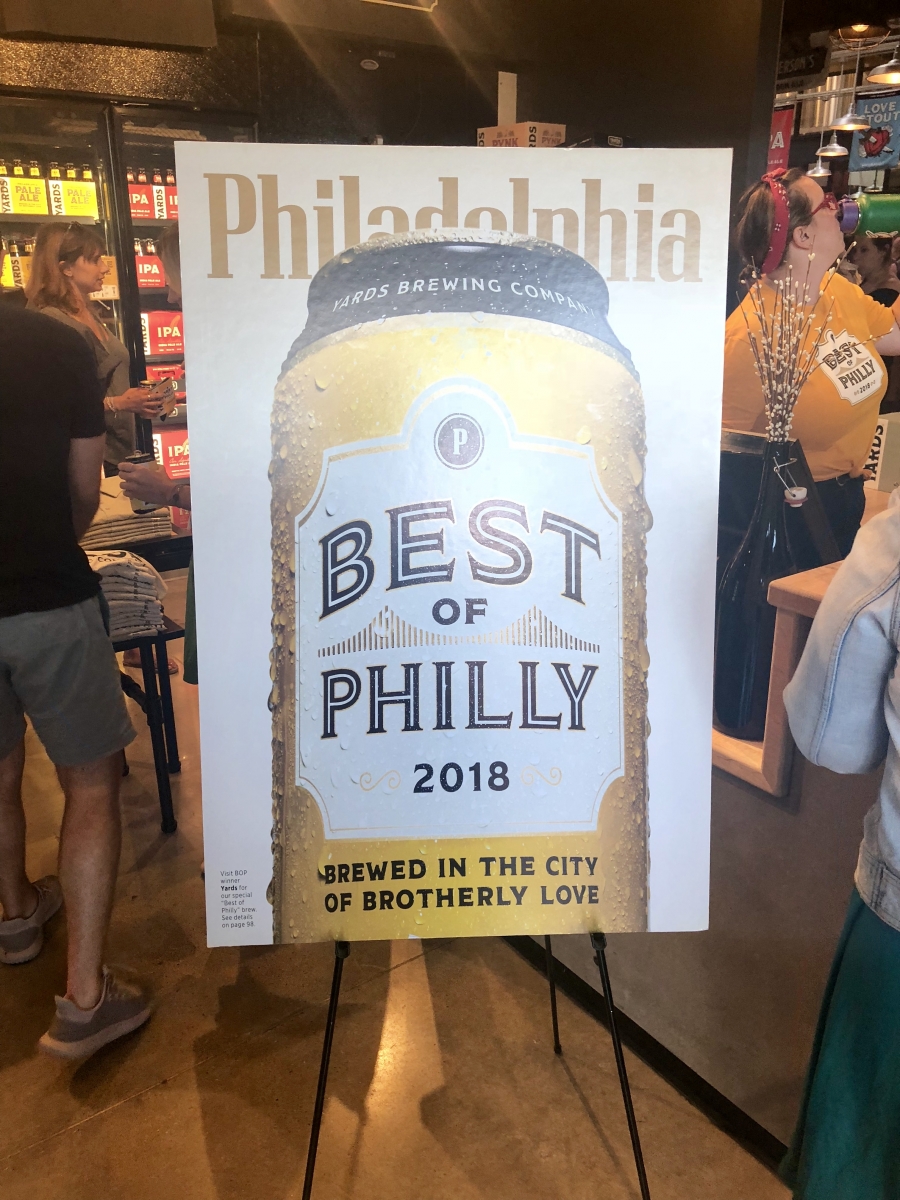 Yards' History
Since 1994, Yards has proudly brewed its beers in Philadelphia. The regional craft producer has grown from a garage-sized operation in Manayunk to a 38,000-square-foot facility on the Delaware River waterfront to a 70,000-square foot facility at 5th and Spring Garden Streets in NoLibs (Northern Liberties).
Yards' Beers
Yards Brewing Company is famous for its Philadelphia Pale Ale and Brawler ales, but Yards Brewing Company also offers various handcrafted beers, including eight perennial signature beers and several seasonal and limited releases. Plus, The Constitutional's favorites are the Ales of the Revolution line (surprise, surprise), inspired by recipes of George Washington, Thomas Jefferson and Benjamin Franklin, who are all starring characters on The Constitutional Walking Tour of Philadelphia.
The Philly-Boston rivalry is not limited to the Eagles and Patriots, Sixers and Celtics, Flyers and Bruins, or Phillies and Red Sox. Take that Sam Adams!  It's beer too! Yards rocks! Y-A-R-D-S, Go Yards!
Take the Brewery Tour
Check out what's brewing at Yards with a behind the scenes peak at how Philly's Beer is made with the Yards Brewery Tour on which you will learn about the history of Yards, its storied growth and the brewing process. Plus, you will enjoy beer samples along your tour and giveaways.
Guided brewery tours are available 7 days a week, and run about 40 minutes. Each tour is limited to 16 guests, and all guests must be 21+ years of age with a valid, unexpired ID. There are no children allowed on the tour.
The Brewery Tour Cost
Tours are $5.00 per person and include beer samples and a souvenir. As Franklin would say, Hip, Hip, Huzzah!
Tickets
You can reserve brewery tour tickets online up until midnight the day before.  You cannot reserve any tickets on the day of your visit. However, walk-ups are accepted the day of the tour on a first-come, first served basis, pending availability. Please book tours a day in advance to ensure availability on your desired date and time.
Brewery Tour Schedule
Monday-Friday: 2 tours per day at 1PM and 4PM
Saturday & Sunday: 12 tours per day, every half-hour from 11:30AM-5PM
Arrive no later than 15 minutes prior to your tour's starting time. Spots are not guaranteed for late arrivals.
No Open Toed Shoes & Safety
For your safety, no open toed shoes are allowed on the Yards Brewery Tour. No flip flops, no sandals, etc.  According to Yards, if you forget your closed toe shoes, they have a "few highly embarrassing and uncomfortable loaner pairs."
While on tour, there may be extended periods standing and guests may be exposed to extreme heat or cold.
Taproom Info
Thirsty and hungry for more? After your tour, be sure to visit the Yards Brewing Company Taproom which offers 20 taps of fresh, quality Yards' ales and a full beer-friendly dining menu crafted by Chef Jim Burke.  Taproom seating is first come, first served, and they do not take reservations. Guests must be 21+ unless accompanied by a parent or legal guardian (note though that children are not allowed on the brewery tour).
Insider Info
Take The Constitutional Walking Tour's at 2PM, finish by around 3:30PM, hop in an uber and head over to take the Yards Brewing Company Tour at 4PM.
Check out the Yards' full size reproduction of the Liberty Bell, which was designed and built by Yards Supply Partner, Timbar Packaging and Display. It took 181 hours to design and build it, and it weighs 123.5 pounds (which is about 6% of the weight of the actual Liberty Bell).  Plus, it is 100% recyclable.
Here's how Yards Brewing Company describes The Constitutional's favorite beers, Ales of the Revolution:
Washington's Porter
"Detailed in a letter from the General to his officers during the war, Washington's recipe employed molasses to aid fermentation and give rich caramel aroma to this robust, roasty ale. The recipe reflected his admiration for Philadelphia-style porters, especially those brewed by Robert Hare. Our Porter, inspired by Washington's, is dark, smooth and complex with just a hint of dried fruit in the finish."
Jefferson's Golden Ale
"This complex golden ale pays homage to our Founding Father and fellow brewer, Thomas Jefferson. We recreated his recipe, employing honey, rye and wheat, just like the beer brewed at Monticello during Jefferson's time."
Poor Richard's Spruce Ale
"Based on Benjamin Franklin's original recipe, this one-of-a-kind deep amber ale calls for barley, molasses and essence of spruce. Locally sourced organic blue spruce clippings are steeped in a kettle to create an ale as approachable and engaging as the man himself."
How to Get to Yards Brewing Company
Yards Brewing Company is conveniently located on Spring Garden Street between 5th and 6th Streets. For guests of The Constitutional Walking Tour, the walk or ride to Yards Brewing Company is a fairly easy one since it is just 0.5 mile away from the National Constitution Center where all of The Constitutional's tours begin and end. 
Additional Information
Yards Brewing Company
500 Spring Garden Street
Philadelphia, PA 19123
215.525.0175