Related Posts:
The Underground Railroad Ran Through Philadelphia
Within blocks of Independence Hall where the words "All men are created equal" and "We the People" were adopted, Philadelphia's Historic District also paradoxically encompassed a port where many Africans arrived by ship to be sold, separated and sent off to enslavement.  Additionally, this same general area (of what today is known as Center City) was home to the nation's largest neighborhood of free African Americans in the Seventh Ward (between Spruce and South Streets and 6th and 23rd Streets), as well as the first African Methodist Episcopal Church, which is also known as Mother Bethel A.M.E. Church.
The Quakers, who for centuries have held strong beliefs in the equality of all, would be some of the earliest critics of slavery in American society. In 1688, in the home of a German Quaker immigrant named Thönes Kunders, a group met to protest the existence of slavery in America.  Their written protest is considered the first against slavery in the entire new world, and from which the abolitionist movement was born.
William Still & Harriet Tubman
Since Philadelphia was the home of the William Still, who was known as the Father of the Underground Railroad, Philadelphia would play a very important role in the Underground Railroad for escaped slaves seeking their secure and safe passage to freedom.  Additionally, Quakers would also play a vital role in the Underground Railroad since the extensive network of clandestine routes and safe houses in Philadelphia were often within Quaker homes and Quaker Meeting Houses. Philadelphia was also the destination for Harriet Tubman who escaped slavery and then assisted members of her family in doing the same by coming to Philadelphia. 
Landmarks
1) Liberty Bell Center
526 Market Street (GPS address)
6th & Market Street
Philadelphia, PA 19106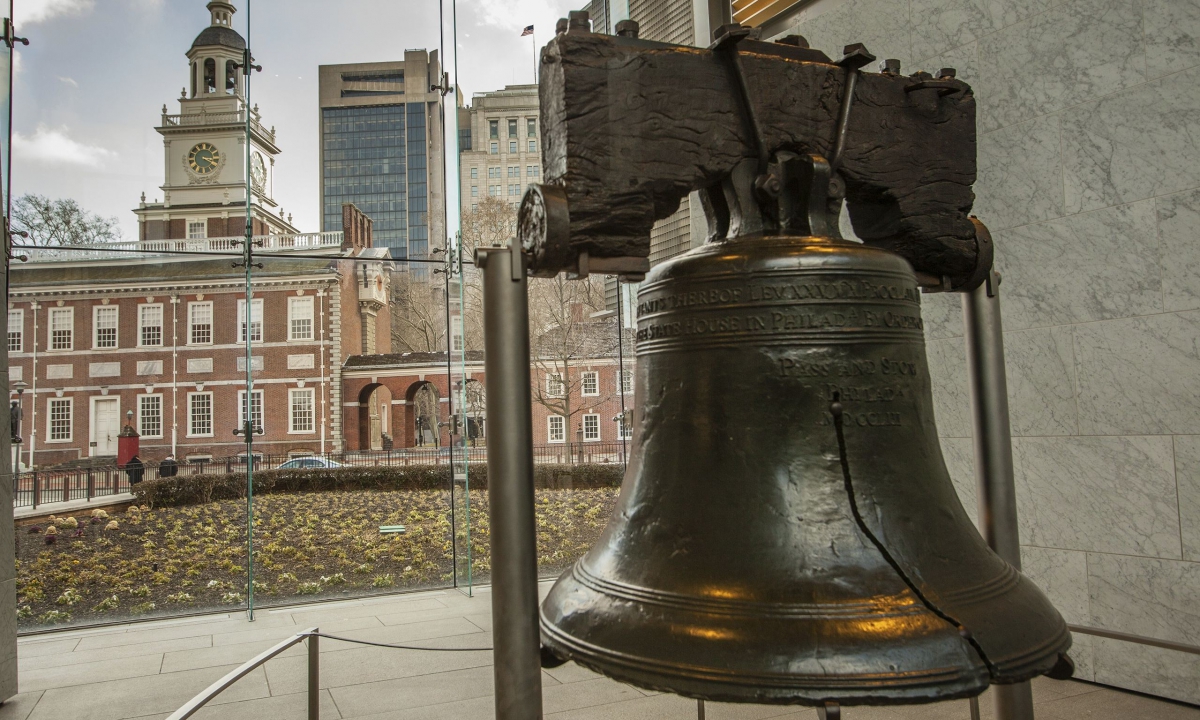 The Liberty Bell is the quintessential icon of American freedom, and it is one of the most visited historic sites in the United States. The Liberty Bell's inscription reads, "Proclaim Liberty throughout all the Land unto all the Inhabitants thereof," words from Leviticus, 25-10 of the Bible, as a result, this famously cracked Bell became a symbol of the abolitionist movement. The Liberty Bell is housed inside of the Liberty Bell Center which spans almost an entire city block on 6th Street between Market and Chestnut Streets. The Liberty Bell can be seen from both inside and outside of the Liberty Bell Center.  Inside the Liberty Bell Center are exhibits about the history of the Liberty Bell, including original artifacts, photos, x-rays of the crack, a great video, and of course, the Liberty Bell itself.
The President's House, the predecessor to the White House, is an open-air site that commemorates where President George Washington and President John Adams lived while they were in office, while Philadelphia was the Capital City of the United States from 1790-1800. The President's House served as the predecessor of The White House in Washington, D.C.
The President's House site also provides a lesson pertaining to a troubling time in American history with slavery.  President George Washington was a Southerner from Virginia who owned slaves, and some of the slaves lived at the President's House when President Washington served in office.  However, President John Adams, the second President of the United States, was a Northerner from Massachusetts, and he was an abolitionist - Adams did not own any slaves. It was here at the President's House that President George Washington enslaved nine Africans, and in 1796, one of Washington's slaves, Oney Judge, used the help of Philadelphia's community of free blacks to escape bondage.
According to the National Park Service, the President's House in the 1790s "was a mirror of the young republic, reflecting both the ideals and contradictions of the new nation." Standing in the shadows of Independence Hall (just one block away) where the words "All men are created equal" and "We the People" were adopted, the President's House embodied the fact that these revolutionary words did not apply to all who lived in the newly founded United States of America.
There are exhibits about the early American Presidency, the free African community in Philadelphia and the enslaved Africans who lived there. The site and exhibit, entitled "President's House: Freedom and Slavery in the Making of a New Nation" opened in December 2010.
3) Mother Bethel A.M.E. Church
419 S. 6th Street (6th & Lombard Streets)
Philadelphia, PA 19147
Founded by Richard Allen in 1794, Mother Bethel's church property is the oldest continuously owned piece of land by African Americans in this country.  Richard Allen, a former slave himself, was an influential leader of the early abolitionist movement in the United States. Allen originally preached at St. George's Methodist Episcopal Church, but was restricted to early morning services in which he and other black congregants were forced to worship in a separate area.  Allen, along with another Methodist preacher named Absalom Jones, decided to leave St. George's in 1787 and start their own church where African Americans would feel welcome.  That church would become known as Mother Bethel.  Allen and Jones would also form the Free African Society, a mutual aid society and abolitionist group. Richard Allen and his wife Sara also operated a station on the Underground Railroad for slaves escaping through Philadelphia. Over the years, Harriet Tubman, Lucretia Mott, Frederick Douglass and William Still spoke from Mother Bethel's pulpit.
The current church building that stands at 6th and Lombard was constructed in 1890 in the Romanesque style.  It is a National Historic Landmark and is not only a current house of worship, but also contains a museum detailing the amazing history of the church.  Mother Bethel was the very first African Methodist Episcopal Church (A.M.E.) in the world, and its founder Richard Allen would become the church's first Bishop.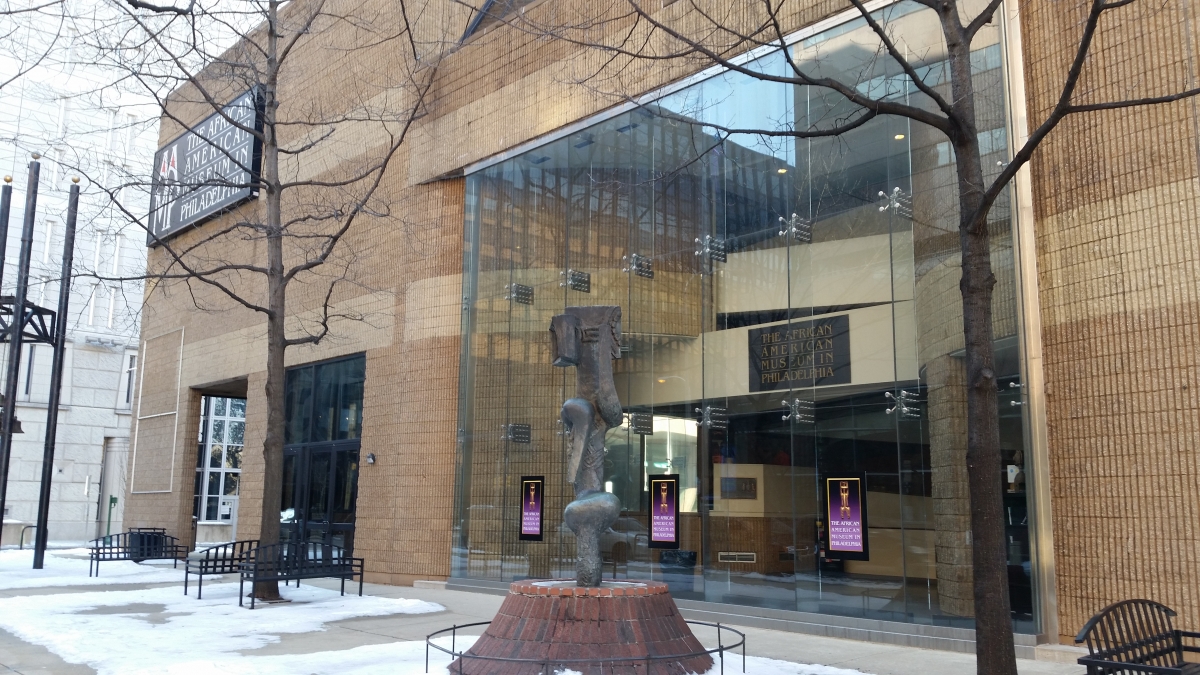 Founded in 1976 in celebration of the nation's Bicentennial, the African American Museum in Philadelphia (AAMP) is the first institution funded and built by a major municipality to preserve, interpret and exhibit the heritage of African Americans. Throughout its evolution, the museum has objectively interpreted and presented the achievements and aspirations of African Americans from pre-colonial times to the current day. The museum is committed to telling the story of African Americans in all its permutations: family life, the Civil Rights movement, arts and entertainment, sports, medicine, architecture, politics, religion, law and technology.
The country's first museum dedicated solely to African-American history has on permanent exhibit Audacious Freedom: African Americans in Philadelphia 1776-1876. The Audacious Freedom exhibit recounts the stories of and contributions made by people of African descent in Philadelphia during the tumultuous years following the founding of our nation. Through this exhibit, visitors will learn who the people were, how they lived and worked, and their unheralded impact on our nation. There is a narrated timeline and video portrayals of Bishop Richard Allen, Frances Ellen Watkins Harper, Octavius Catto and more trailblazers and activists.
St. George's United Methodist Church is America's oldest Methodist church building in continuous service since 1769. In 1784, Reverend Richard Allen and Reverend Absalom Jones became the first licensed African-American Methodist ministers, but the two led a walk-out when the leaders of St. George's restricted seating for its black members.  In 1787, the Allen and Jones co-founded the Free African Society, a nondenominational mutual aid society that assisted fugitive slaves and new migrants.
Historical Markers
6) Pennsylvania Hall
6th Street, South of Race Street
Built on this site in 1838 by the Pennsylvania Anti-Slavery Society as a meeting place for abolitionists, Pennsylvania Hall was burned to the ground by anti-Black rioters three days after it was first opened.
7) Philadelphia Female Anti-Slavery Society
5th & Arch Streets (at site which the U.S. Mint currently occupies)
Organized in 1833 by Quaker abolitionist Lucretia Mott, the Philadelphia Female Anti-Slavery Society, headquartered here, originally consisted of sixty women who sought to end slavery. After the Civil War, the Society supported the cause of the freed slaves.
8) Anthony Benezet (1713 -1784)
325 Chestnut Street
Philadelphia, PA 19106
Benezet was a French Quaker, and he was a leading abolitionist in the 18th Century whose writings influenced the antislavery movement worldwide and Federal abolition legislation. Benezet founded the Society for the Relief of Free Negroes Unlawfully Held in Bondage in 1775. As a teacher, Benezet educated blacks in his home, 1750-1770, and opened a secondary school for girls in 1754.  He lived here.
9) Cyrus Bustill (1732-1806)
Arch Street between 2nd & 3rd Streets
Born of White, Black, and Native American descent, Bustill bought his freedom, served in the Continental Army and became a baker of bread for Revolutionary troops. A Co-founder of the Free African Society, he later opened a school for Black children while living here.
10) London Coffee House
Front & Market Streets (Southwest corner)
Scene of political and commercial activity in the colonial period, the London Coffee House opened here in 1754. It served as a place to inspect Black slaves who recently arrived from Africa and to bid for their purchase at public auction.
11) Pennsylvania Abolition Society
Front Street, just below Chestnut Street
In 1775, the Pennsylvania Abolition Society was founded here as the Society for the Relief of Free Negroes Unlawfully Held in Bondage. In 1787, it became the Pennsylvania Abolition Society which sought social, educational, and employment opportunities for Blacks. From about 1785-1790, Benjamin Franklin served as the President of the Pennsylvania Abolition Society.
12) Liberation of Jane Johnson
211 S. Columbus Boulevard (between Walnut and Spruce Streets)
Philadelphia, PA 19106
In 1855, an enslaved woman and her two sons found freedom, aided by abolitionists William Still, Passmore Williamson, and other Underground Railroad activists. They escaped from their Southern owner while being transported through Philadelphia and later settled in Boston. The incident, which occurred nearby, and Williamson's subsequent imprisonment and famous trial attracted national attention, further intensifying the North-South conflict over slavery.
13) Free African Society
419 S. 6th Street (6th & Lombard Streets)
Philadelphia, PA 19147
(at Mother Bethel A.M.E. Church)
Established in 1787 under the leadership of Richard Allen and Absolom Jones, this organization fostered identity, leadership, and unity among Blacks and became the forerunner of the first African-American churches in this city.
14) Robert Mara Adger (1837-1910)
823 South Street
Philadelphia, PA 19147
Businessman, activist, bibliophile lived here. Director, Philadelphia Building & Loan Assn., pioneering Black firm. Amassed and donated a major collection of rare books, pamphlets on Blacks, antislavery. Founded Afro-American Historical Society.
15) William Whipper (1804?-1876)
919 Lombard Street
Philadelphia, PA 19147
Whipper was and African-American businessman who founded the American Moral Reform Society, for which he edited its journal from 1838-1839.  Whipper was active in the Underground Railroad and he aided hundreds of slaves passing through Columbia, Pennsylvania from 1847-60. Whipper was involved in the lumber business, and Whipper lived at this location when he resided in Philadelphia. 
16) Frances E. W. Harper
1006 Bainbridge Street
Philadelphia, PA 19147
An author, lecturer, and social activist, Harper lived here and devoted her life to championing the rights of slaves and free Blacks. She advocated education as a way of advancement for Black Americans.
17) William Still
244 S. 12th Street
Philadelphia, PA 19107
William Still is the Father of the Underground Railroad. Both of Still's parents and some of his older siblings had been born into slavery, but William was born a free man in New Jersey.  In 1844, Still moved to nearby Philadelphia and would soon after become involved in antislavery movement.  While working with the Pennsylvania Society for the Abolition of Slavery, Still would help a fugitive slave named, Peter, whom William would soon discover, was his own brother who had been separated from his family 40 years earlier.
This personal experience led to Still taking careful records of all of the slaves he helped escape to freedom so their stories would never be lost.  Still would eventually help hundreds of people escape slavery and his records which he published in a book titled "The Underground Railroad" at the urging of his children, remains one of the most important historical records of the Underground Railroad that exists. A wealthy coal merchant, Still also helped found the first Black YMCA. 
(1 mile from Historic District)
Founded in 1794 by fifteen men and three women from St. George's Church, and led by Reverend Harry Hosier. African Zoar Methodist Episcopal Church was active in the Underground Railroad and moved to 12th and Melon Streets in 1883. It is United Methodism's oldest Black congregation.
19) Belmont Mansion
2000 Belmont Mansion Drive, Fairmount Park 
Philadelphia, PA 19131
(About 6 miles from Historic District sites)
Belmont Mansion belonged to Judge Richard Peters, who purchased slaves in order to free them and hid fugitives in his attic. Experience 18th and 19th Century history through the events and lives of people associated with Belmont Mansion in Fairmount Park in Philadelphia, PA. The site's museum is dedicated to Colonial history and the 19th Century network of people and places which comprised the Underground Railroad. One such story involves Cornelia Wells, a freed African-American woman. Built in 1742, Belmont Mansion is one of the finest examples of Palladian architecture in the United States. The Belmont Mansion property became part of Fairmount Park in 1869.
20) Historic Fair Hill
2901 Germantown Avenue 
Philadelphia, PA 19133
(About 3.5 miles from Historic District sites)
Historic Fair Hill Burial Ground is a 300-year old Quaker burial ground, a site on the National Register of Historic Places. The land on which the burial ground is situated was willed by George Fox, the founder of Quakerism, in 1691, to American Quakers, for use as a stable, a Meetinghouse and burial ground. Historic Fair Hill was one of the first racially integrated cemeteries in Philadelphia. Amongst those buried are many prominent women's rights activists and abolitionists from the 18th and 19th Centuries, including Lucretia Mott, Robert Purvis, Harriet Forten Purvis, Edward Morris Davis, Sarah Pugh, and Edward Parrish, Mary Ann M'Clintock, Abby Kimber, and Anna T. Jeanes.
21) Johnson House
6306 Germantown Avenue 
Philadelphia, PA 19144
(About 11 miles from Historic District sites)
Built in 1768, the Johnson House Historic Site is Philadelphia's only accessible and intact stop on the Underground Railroad. The Johnson House looks much the same today as it did in 1768, and there secret hiding spots, including a trap door in the attic, that are visible today. During the 19th Century, and for several generations beyond the Johnson House was owned by a family of Quaker abolitionists (including Samuel and Jennet Johnson) who worked with other European Americans, and African Americans free and enslaved, to secure safe passage to freedom for escaped slaves along the extensive network of clandestine routes and safe houses known as the Underground Railroad. William Still visited the house and, and according to family legend, Harriet Tubman also visited the Johnson House.
22) Robert Purvis
1601 Mt. Vernon Street 
Philadelphia, PA 19130
(About 1.5 miles from Historic District)
An abolitionist, Purvis fought for the rights of Blacks through his lecturing, writing, and activity in antislavery societies. As an agent for the Underground Railroad, he built a secret area here at his house to hide slaves.  Purvis was the Co-founder of the American Anti-Slavery Society and President of the Pennsylvania Anti-Slavery Society, and he helped over 9,000 slaves escape.
23) William Lewis
2450 Strawberry Mansion Drive 
Philadelphia, PA 19132
(About 5 miles from Historic District)
Judge William Lewis built Strawberry Mansion and lived there following its completion.  Judge Lewis was a friend of George Washington, Alexander Hamilton and Benjamin Franklin, and he Lewis played a principal role in drafting and initiating the "Act for the Gradual Abolition of Slavery" in 1780.  This Act marked the first legal motion towards abolition in the United States.
Ready, Set, Explore & Learn
Guests taking The Constitutional Walking Tour of Philadelphia are in the perfect spot in the Historic District to start their own self-guided tour of the Underground Railroad in Philadelphia: History, Landmarks and Markers. The Constitutional also offers private tours featuring Black History based on the sites and information described above.
For tickets and information on The Constitutional, or to schedule a private tour about Black history, please click on the Buy Tickets button, call 215.525.1776 or email info@TheConstitutional.com .
Enjoy your tour!