Related Posts
Signers' Walk – The Founding Fathers' Walk of Fame
Signers' Walk provides a tribute to 56 members of the Second Continental Congress who risked their lives, reputations and fortunes by signing The Declaration of Independence.
Take note of the plaques from New Hampshire. If you were a fan of the NBC hit show The West Wing, which ran from 1999-2006, you may recognize the name Josiah Bartlett.
Dr. Josiah Bartlett, a physician from New Hampshire, was a member of the Second Continental Congress and a signer of The Declaration of Independence! According to The West Wing plotline, Dr. Bartlett is an ancestor of Martin Sheen's character, President Josiah Bartlett, or Jed Bartlett as he is also referred to on the show about the President of the United States.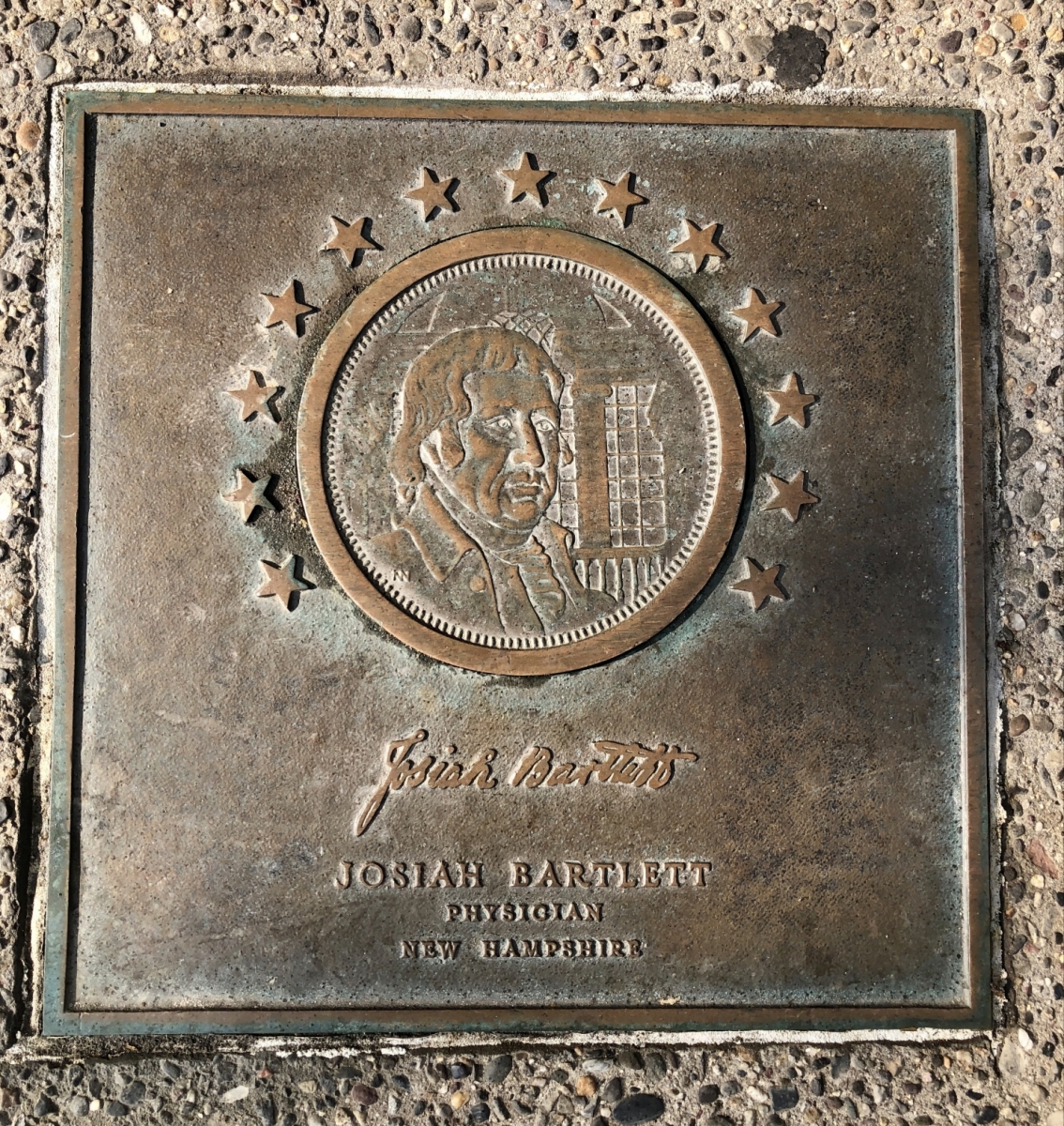 Insider Information
In addition to the TV fame, Dr. Bartlett, a Founding Father, is best known as the second person to sign The Declaration of Independence, after John Hancock. You can learn more about Dr. Bartlett by reading the National Constitution Center's blog entitled, "The real-life namesake of Martin Sheen's 'West Wing' president."
We visit Signers' Walk on The Constitutional Walking Tour of Philadelphia. Each plaque along Signers' Walk bears the Signers' likeness, signature, occupation and Colony. The plaques are organized by colony, from south to north, with the exception of Pennsylvania, which is at the very end at 6th and Chestnut. Highlights include the plaques of Richard Henry Lee, Thomas Jefferson, John Hancock, Samuel Adams, John Adams, and Benjamin Franklin.
How to Get There
Signers' Walk is located on the South side of Chestnut Street between 6th and 7th Street. It is a short walk from the National Constitution Center where The Constitutional Walking Tour starts and ends.
Additional Information
Signers' Walk
600 Block of Chestnut Street (between 6th and 7th Streets, South side)
Philadelphia, PA 19106