Related Posts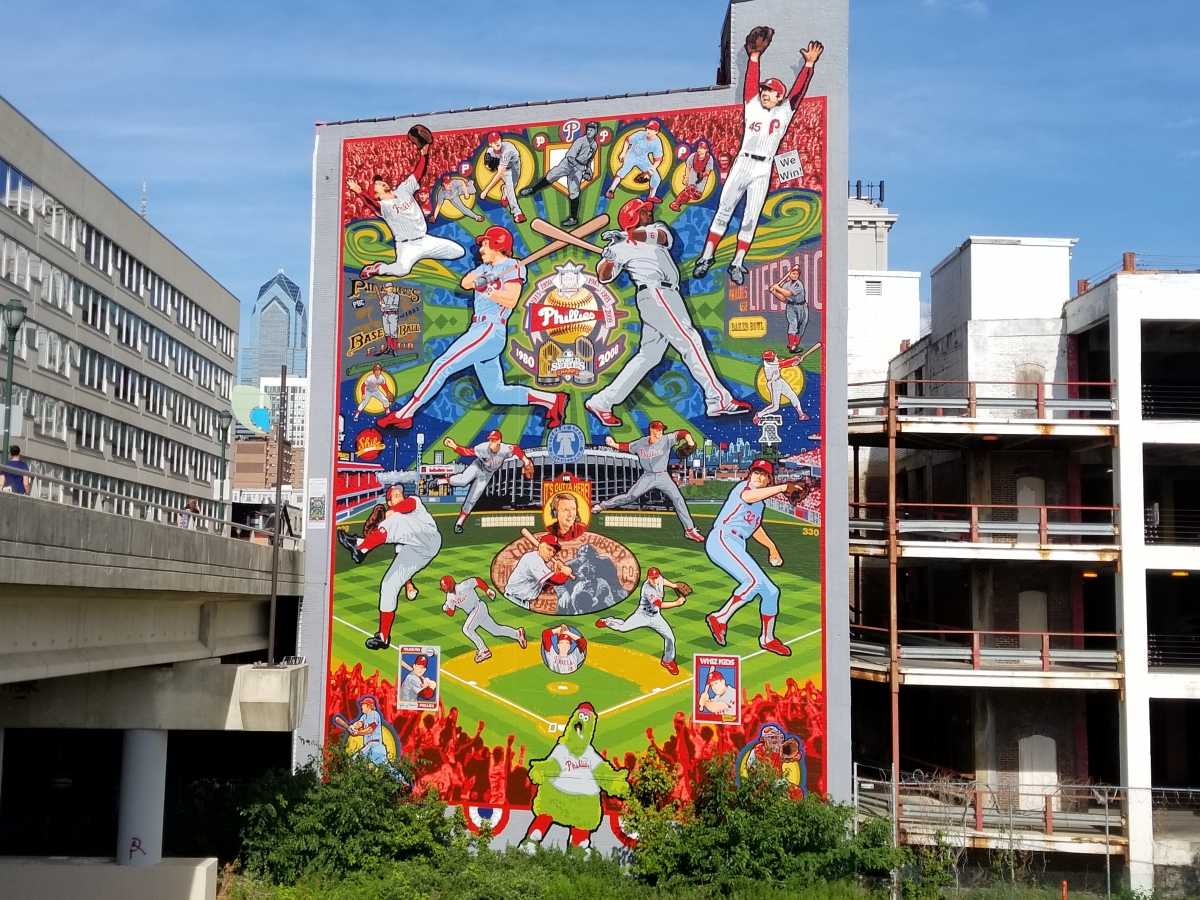 Game On!
Celebrating the history of the Philadelphia Phillies - the oldest, continuous, one-name, one-city franchise in all of professional sports - The City of Philadelphia's Mural Arts Program and the Phillies collaborated on this cool, 8 story high and 3,750 square-foot mural. 
Dedicated on August 1, 2015, the Phillies Mural proudly faces the Schuylkill River, the Schuylkill River Trail & Schuylkill Banks and Schuylkill Expressway (I-76).
The Fightin' Phils
Located on a 24th & Walnut Street building, the Phillies Mural features more than 30 well known players commemorating historical moments from the team's rich history, including the 1980 and 2008 World Series championships. Go Phils!
Seeing the Phillies Mural and More
For sports loving visitors of The Constitional Walking Tour, you can see the Phillies Mural if you take a quick Uber ride (about 10 minutes and $10) from Independence National Historical Park to 24th & Walnut Streets, and while there, you may also want to visit the Schuylkill River Trail, Cira Green and Penn Park.
Along The Constitional Walking Tour, we highlight another mural depicting the foliage and trees that are native to Philadelphia which helped inspire the naming of streets based on trees (i.e., Walnut, Locust, Spruce, Pine, and Chestnut Streets).
Phillies Mural Credits
Designed & Painted By: David McShane
Lead Assistant Artists: Anastasia Wong and Diana Gonzalez
Assistant Artists: Michelle Nugent, Charles Newman, T'jai Abdullah, Lucia Michel, Thomas Walton, John Zerbe
Project Manager: Kate Jacobi
Major Partner & Sponsor: The Phillies
Additional Sponsors: The 25th Century Foundation, The City of Philadelphia and The Karp Family
The Phillies Mural Design Key:
1) Brad Lidge; 2) Charlie Manuel; 3) Mitch Williams; 4) Cole Hamels; 5) Grover Cleveland Alexander; 6) Larry Bowa; 7) Darren Daulton; 8) Dallas Green; 9) Tug McGraw; 10) Ed Delahanty (on a program cover of a game at Recreation Park); 11) Mike Schmidt; 12) Ryan Howard; 13) Chuck Klein (in front of the outfield all at the Baker Bowl); 14) Tony Taylor; 15) Dick Allen; 16) Shibe Park (Connie Mack Stadium); 17) Jim Bunning; 18) Veterans Stadium; 19) Roy Halladay; 20) Citizens Bank Park; 21) Robin Roberts; 22) Harry Kalas; 23) Richie Ashburn; 24) Steve Carlton; 25) Jimmy Rollins; 26) Chase Utley; 27) Johnny Callison; 28) Curt Simmons; 29) Del Ennis; 30) Greg Luzinksi; 31) Carlos Ruiz; and 32) The Phillie Phanatic.
Additional Information
24th & Walnut Street Building