Related Posts
Athletic fields, tennis courts, elevated walkways and green spaces for the University of Pennsylvania and neighborhood communities to enjoy
Overview
$46.5 million project
24 acres
Groundbreaking: Fall 2009
Grand Opening: September 15, 2011
548 trees
Facilities
2, Turf fields with one field having a seasonal air structure for Winter-time training
1, Multi-purpose softball and baseball stadium
12, Outdoor tennis courts at Hamlin Tennis Center (in addition to 8 indoor courts at Hecht Tennis Center alongside Penn Park)
1, Natural grass playing field
1, Open space picnic grove
Public restrooms (very well maintained)
The University of Pennsylvania's Penn Park has 24 acres of athletic fields and open space located to the East of Penn's academic campus. Penn's Department of Recreation and Intercollegiate Athletics uses 2 synthetic turf athletic fields, the Dunning-Cohen Champions Field with a seasonal air structure and the James "Ace" Adams Field, a multi-purpose stadium for softball/baseball, the 12-court Hamlin Tennis Center, and South Field which is an informal, natural grass playing field.
In the Fall of 2009, Penn broke ground on Penn Park, the 24-acre signature project of the Penn Connects campus master plan. When it opened to the Penn community and the public in September 2011, Penn Park extended the campus from Franklin Field and the Palestra to the Schuylkill River, as well as increased campus green space by 20 percent.
There is a surface parking in the area of Penn Park closest to Lower Walnut Street. Raised landforms support a trail of pathways leading to pedestrian bridges that link Penn Park to Walnut Street, the River Fields across the Weave Bridge, and Penn's main campus, via the Goldie Paley Bridge adjacent to Franklin Field.
Background
From November 2009 to September 2011, Penn Park was created in part by replacing 14 acres of asphalt with a beautiful landscape which transformed the Eastern edge of Penn's campus, which for nearly a century before was an industrial zone. By 2011, those 14 acres were reclaimed and reshaped into four athletic fields, 12 tennis courts, and various walks and pathways that have enhanced the quality of life at Penn for students, faculty and staff that engage in athletic and recreation pursuits. There are also several acres of open space, including a picnic grove, that can be enjoyed by those looking for a natural respite with panoramic views of the city skyline. Since its opening, Penn Park has further catalyzed new and exciting developments as the gateway between Center City and West Philadelphia/University City.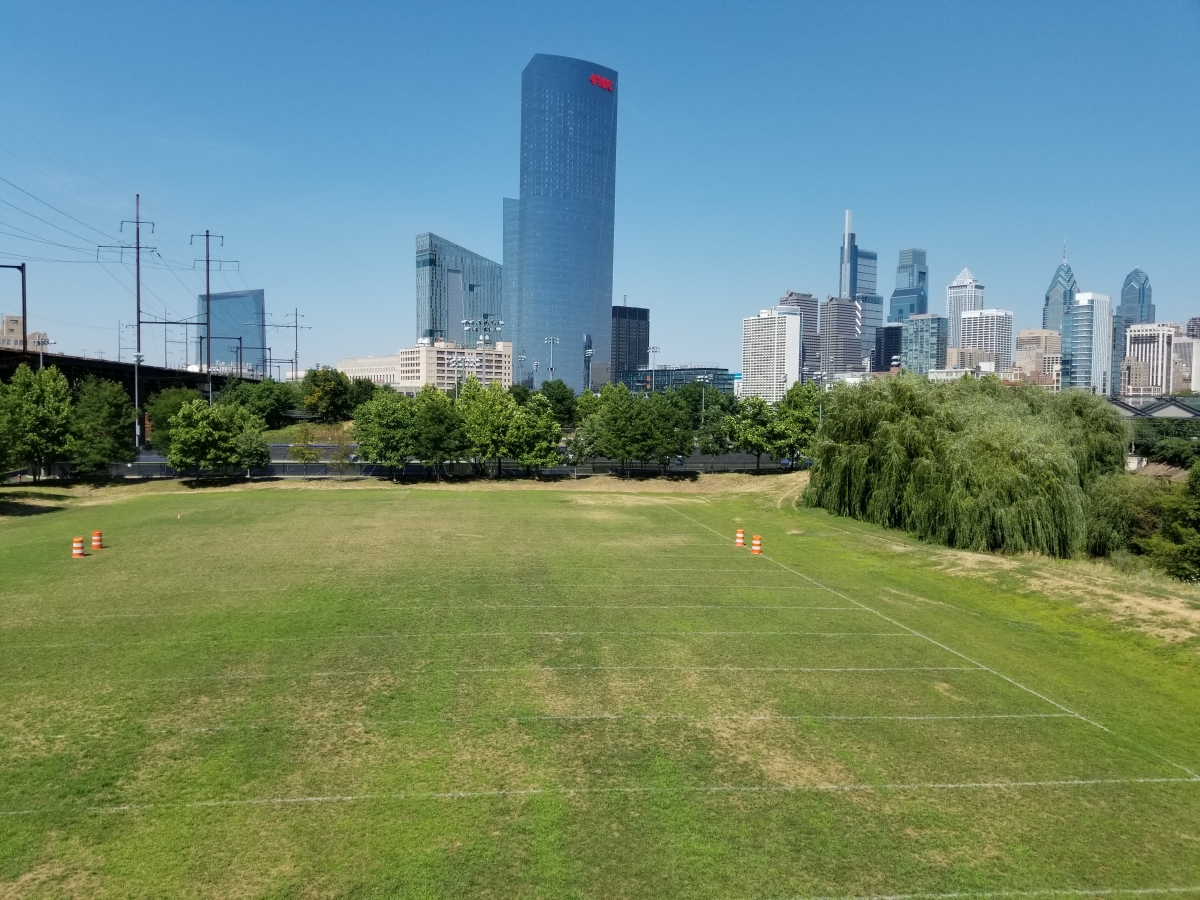 Sustainability
Penn Park has been playing a leading role in Penn's sustainability efforts. The Penn Park project represented the first time that Penn, by design, acquired land that will remain as open space, which has tremendous environmental benefits for our campus, region and the city.To that end, Penn Park represents a key component of the University's strategy to become the most environmentally sustainable urban campus in the country. In addition to Penn Park increasing the University's green space by 20 percent, Penn Park also added a sophisticated storm water cistern that collects and treats rain water for landscape irrigation and other campus purposes, and has reduced Penn's demand on conventional water supplies while diverting storm water runoff from the Schuylkill. By adding 548 new trees, and native flora and grasses, Penn Park has brought vegetation back to an urban landscape that has until recently known only asphalt.
Additional Information
Penn Park
3000 Walnut Street
Philadelphia, PA 19104