Related Posts
In 2019, Philadelphia's Thanksgiving Day Parade celebrates its 100th anniversary, and it will feature 23 marching bands from across America, 15 balloons, 16 floats, and 30 performances.
The First Thanksgiving parade in the United States was created and sponsored by Gimbel Brothers Department Store (Gimbel's) to start the holiday shopping season. From 1920 to 1986, Gimbel's produced the parade until the department store went out of business. Since that time, the parade has been produced by 6ABC (WPVI-TV), and today it is known as the 6ABC Dunkin' Thanksgiving Day Parade.
The Macy's Thanksgiving Day Parade, which started in 1924 in New York, may be better known across the United States, but the Gimbel's Thanksgiving Day parade (which started in 1920) pre-dated the Macy's Thanksgiving Day parade by four years. While Gimbel's no longer exists, the Philadelphia parade has been an annual holiday tradition in Philly since 1920 and continues today as the 6ABC Dunkin Thanksgiving Day Parade. The video below captures the history and some of the best memories over time of the nation's first Thanksgiving Day Parade.
In a window back in time, the video below features footage from the 1934 Gimbel's Thanksgiving Day Parade in Philadelphia, when the route went down Broad Street.
Santa Claus Ushered in the Christmas Holiday Season
When the Gimbel's Department Store was in existence at 8th & Market Streets, the parade would conclude with Santa Claus ceremoniously arriving at the Gimbel's. Santa would then climb up the ladder on a fire department hook and ladder and enter the Gimbel's toy department from a window.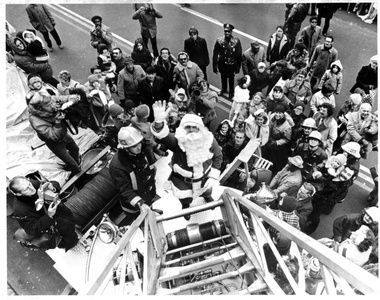 Make sure to check out The Constitutional's holiday tour schedule to see all of the historic sites in the Independence National Historical Park area, including the Liberty Bell and Independence Hall.