Related Posts
Birth: October 1, 1730
Death: February 28, 1781 (age 50)
Colony: New Jersey
Occupation: Lawyer, Politician
Significance: Signed The Declaration of Independence (at the age of 45)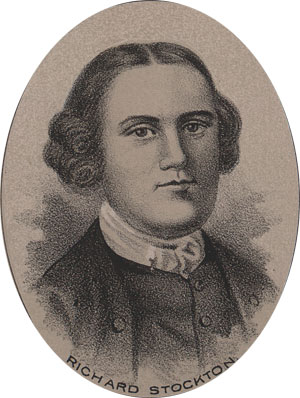 Richard Stockton was one of the Founding Fathers of the United States. Born in New Jersey to a prominent family, Stockton attended Princeton University and graduated in 1748. After college, Stockton studied law and opened a law practice. Stockton also served as a Trustee of Princeton University which was at the time called the College of New Jersey and located in Newark. Donations from the Stockton family enabled the college to move from Newark to Princeton. Stockton's law practice was very successful, and he became one of the most prominent lawyers in the American Colonies.
In 1776, Stockton was elected and served in the Second Continental Congress. Stockton voted for Independence, and he signed The Declaration of Independence. After signing The Declaration of Independence, Stockton remained in the Continental Congress and was sent North to inspect conditions at Fort Ticonderoga and other Northern war posts. On the way back to Philadelphia, Stockton was captured and held as a prisoner of war. The conditions of the military prisons that the British maintained around New York City were in terrible, and it is believed that over 12,000 prisoners of war died, mostly due to exposure to the cold. Stockton was able to survive, but his time as a prisoner caused a decline in his health from which he never truly recovered.
In order to secure his release from prison, Stockton signed a parole document which included a renunciation of his signing of the Declaration of Independence and a pledge to not meddle in the Revolutionary War effort and true to his word, Stockton resigned from the Continental Congress after his release. He died a few years later in 1781 at the age of 50.
Richard Stockton in Philadelphia
Stockton first came to Philadelphia in 1775 as a Delegate to the Second Continental Congress. While serving as a member of the Second Continental Congress, Stockton worked at Independence Hall, and he signed The Declaration of Independence.
A plaque commemorating Stockton for signing The Declaration of Independence can be found on Signers' Walk on the 600 block of Chestnut Street (between 5th and 6th Street). Signers' Garden pays tribute to the Founding Fathers, including those such as Stockton who signed The Declaration of Independence. Today,  Independence Hall, Signers' Walk and Signers' Garden are all stops visited along The Constitutional Walking Tour!