Related Posts
With Independence Hall as the Setting, President Richard M. Nixon Signed a Major Piece of Legislation in the Final Days of the 1972 Presidential Election
On October 20, 1972, President Richard M. Nixon, the 37th President of the United States, arrived in Philadelphia and signed into law a $30.2 billion dollar revenue sharing program in front of Independence Hall.
On October 21, 1972, The Philadelphia Inquirer reported that President Nixon proclaimed that the revenue sharing program would usher in "a new American Revolution" and noted the significance of signing the legislation in front of Independence Hall, the building where he remarked that "more of our nation's history was made than any other."
The program, which was designed to return Federal Government surpluses to the states and municipalities, was set to release $91 million back to the Commonwealth of Pennsylvania and $65 million to the City of Philadelphia, and billions more to states and cities across America. The program highlighted Nixon's belief that the growing size of the American Government was a problem, and funds would be better served in local governments where they could take control of their own needs and affairs.
Although ostensibly a "non-political" visit to Philadelphia, the law signing had all the trappings of a campaign event and Nixon hit strongly on the message that his new law was designed to stop the escalation of local taxes. The signing took place just weeks before the 1972 Presidential Election in which Nixon defeated Democratic Nominee George McGovern. After the signing, Nixon also took a two hour tour through neighboring Delaware and Chester counties where he stopped at three Republican campaign headquarters to shake hands with volunteers.
Protestors Greet President Nixon in Philadelphia
Nixon's visit to Philadelphia was not without controversy. Protesters interrupted Nixon multiple times when he spoke, with one man standing up and shouting, "Don't use our money to kill, Mr. Nixon!", just as Nixon was beginning to speak. The man was among multiple Vietnam War protesters who were arrested that day.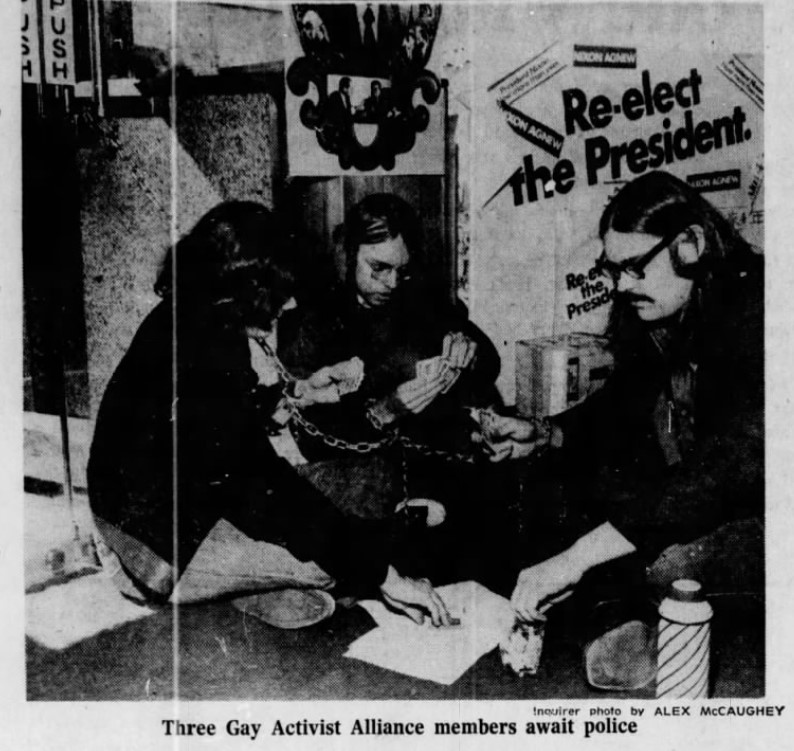 Just a mere 11 blocks to the West from Independence Hall at Nixon's Philadelphia re-election headquarters, more protestors gathered at 1719 Chestnut Street. Members of the Philadelphia Gay Activist Alliance protested Nixon's treatment of the gay community and failures to address issues important to the community. After three participants of the protest chained themselves to the front door of Nixon's Philadelphia headquarters, police arrived to remove the protestors.
Despite the significant number of protestors, Philadelphia's Mayor, Frank Rizzo, a supporter of President Nixon, insisted he did not see any protestors and claimed, "All I heard was cheers for the President."
Nixon's Visit Today
Independence Hall, America's Birthplace and the site where President Nixon signed his revenue sharing bill into law, is a key stop on The Constitutional Walking Tour of Philadelphia!