Related Posts:
The National Constitution Center, located on Philadelphia's Independence Mall, is the first museum in the world devoted to dramatically telling the story of the United States Constitution from Revolutionary times to the present through more than 100 interactive and multimedia exhibits, film, photographs, text, sculpture, artifacts and theatrical performances.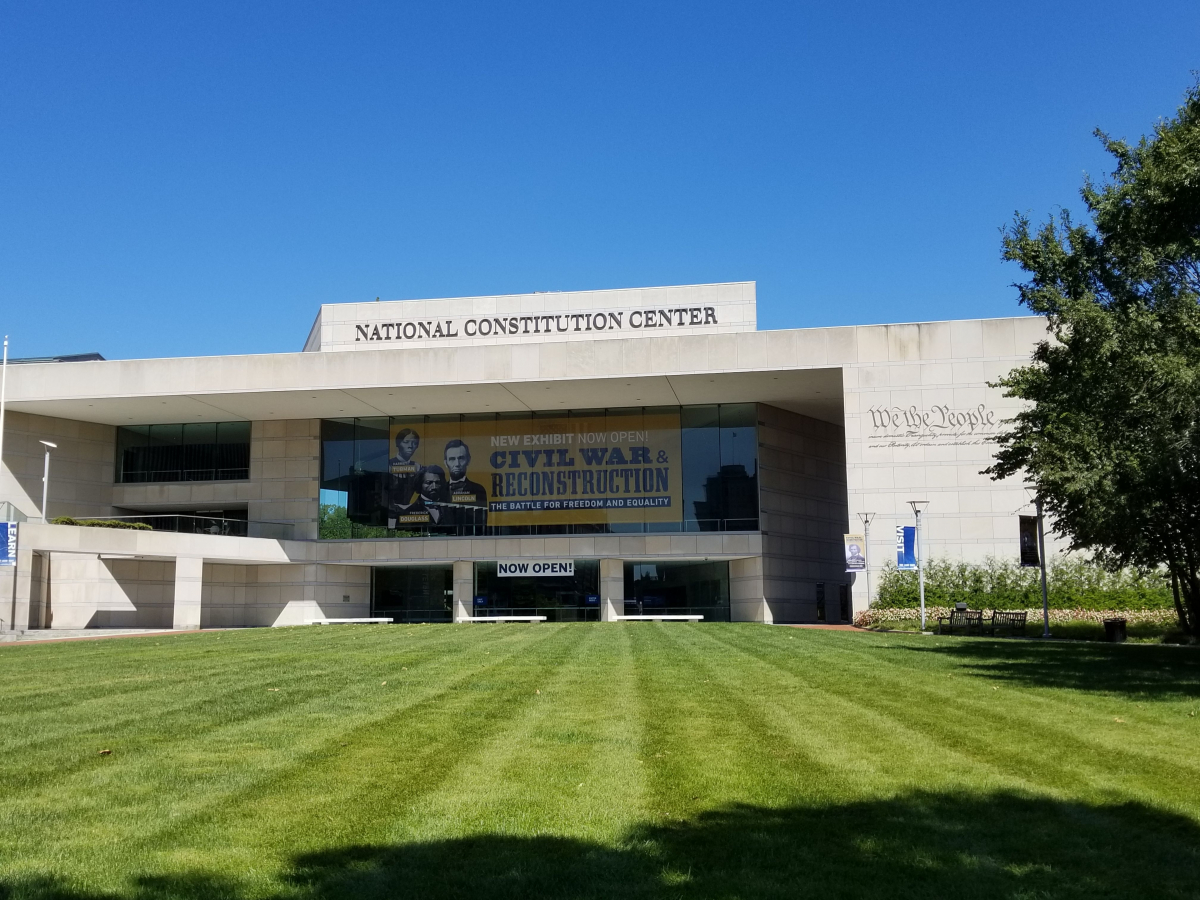 Freedom Rising
Freedom Rising is a live 360-degree theatrical production that is free with every ticket to the National Constitution Center. Performances generally begin every half hour and take place in the newly renovated Sidney Kimmel Theater. Featuring a live narrator and projected images and videos that make full use of the unique theater space, Freedom Rising gives guests to the National Constitution Center some context on the historical background of the United States Constitution in a quick and entertaining show. It is the perfect introduction to the National Constitution Center and upon the completion of Freedom Rising, guests exit the theater directly into the main exhibit hall of the National Constitution Center.
Freedom Rising begins with a vignette on the American Revolution, but while America's victory in the Revolution is often treated as the conclusion of a great story, in Freedom Rising it serves as a brief moment of success before the complications of holding together a newly independent United States of America is made apparent. But out of the turmoil of America's early struggles and its initial failed government, the United States Constitution emerges with a new government.
Freedom Rising details the trials of Founding Fathers such as James Madison, Benjamin Franklin and George Washington as they met for the Constitutional Convention just across Independence Mall at Independence Hall. The show brings alive the fight of America's Founding Fathers across months of intense debate in an attempt to create a new government that will hold together the United States of America. But even when they achieve success, and the Constitution is ratified, Freedom Rising makes clear that this is still not the end of the story. As a living and breathing document, the story of the Constitution is never truly completed, and Freedom Rising is also sure to include information on amendments that continued the never-ending quest to create a more perfect union.
Seeing Freedom Rising is must for any trip to Historic Philadelphia, and visits to the National Constitution Center are very easy for guests of The Constitutional Walking Tour of Philadelphia, as our tour begins and ends just outside of the main entrance of the National Constitution Center.
Additional Information
The National Constitution
525 Arch Street
Philadelphia, PA 19106
215.409.6700