Related Post
The easiest way to see Philly by bike.
The History
Here at
The Constitutional Walking Tour
we've always been of the opinion that Philadelphia is a city that is best seen by foot.  In a city that is as old and densely packed with history as Philadelphia is, traveling by foot is the only way to see everything.  But there are times when you want to travel a bit further and a bit faster than your own two feet can carry you and for that, a bike is a great option.  Many of Center City Philadelphia's streets still run the same path as they did when William Penn laid out the city in 1682.   Needless to say, William Penn wasn't considering automobiles when he designed these roads, much less 60 foot long SEPTA buses! 
In order to escape that traffic, Philadelphians have been increasingly taking to bikes in recent years.  In fact, Philadelphia has the largest number of bicycle commuters per capita of any big city in America!  With all of these cyclists there are a lot of people advocating to make bicycling in Philadelphia more fun, efficient, and safe. In order to accomplish these goals, Philadelphia has added hundreds of miles of bike lanes to make riding on city streets much safer.  Philadelphia now has more than 435 miles of bike lanes, fifth most in the entire nation.
Aside from bike lanes through Philadelphia's urban streets for transportation purposes, Philadelphia also has hundreds of miles bike trails that can be used for exercise and recreation.  The 26 mile
Schuylkill River Trail
runs along the Schuylkill River and gives beautiful views of Philadelphia and its waterfront.  The Schuylkill River Trail even includes a boardwalk out over the Schuylkill River that is open for cyclists to enjoy.  Philadelphia also has plenty of rocky and challenging trails for mountain bike enthusiasts like those in Wissahickon Valley Park and the trail along Forbidden Drive.

While great for native Philadelphians, Philadelphia's status as one of the best bicycling cities in America has unfortunately been a joy that most tourists to the city have been unable to enjoy.  Besides the truly committed cyclists who travel with their bikes, most tourists have been unable to enjoy Philadelphia's many miles of bike lanes and peaceful riverside trails.  But now that has all changed.  In 2015 Philadelphia launched
Indego
a brand new bike sharing program which makes biking in Philadelphia accessible to everyone!
What to See
Indego's bikes are purpose built to be a comfortable ride for bikers of all skill levels and all shapes and sizes.  Easily identifiable by their powder blue color, Indego bikes feature a step-through design that makes it easy for cyclists of all ages to be able to mount the bike with ease.  An easily adjustable seat also allows for a comfortable ride for people of all heights.   The bike is also equipped with splash guards and chain guards so you don't have to worry about losing a pant leg to a bike chain or a splash through a puddle ruining your duds.  
Designed to be easy to use for cyclists of all skill levels, the bike has three gears which gives you enough options to climb even the toughest hills but avoid the confusion of more complicated bikes with more gears.  The sturdy Indego bikes are also designed with safety in mind as all bikes have lights and reflectors as well as easy to use front and rear brakes.  There are even multiple baskets on each bike that are designed to carry anything you may have with you.
You pick up your shiny blue bike at any one of Indego's many
bike stations
and then once you're finished you can return it to the closest station.   Indego bike stations are still at this early stage of their implementation mostly confined to Center City and University City with a few stretching into North Philadelphia around Temple University's campus and few more reaching into the northern edge of South Philadelphia.  But you're free to ride much further in any direction as long as you plan for your bike ride to come to an end back at one of Indego's stations.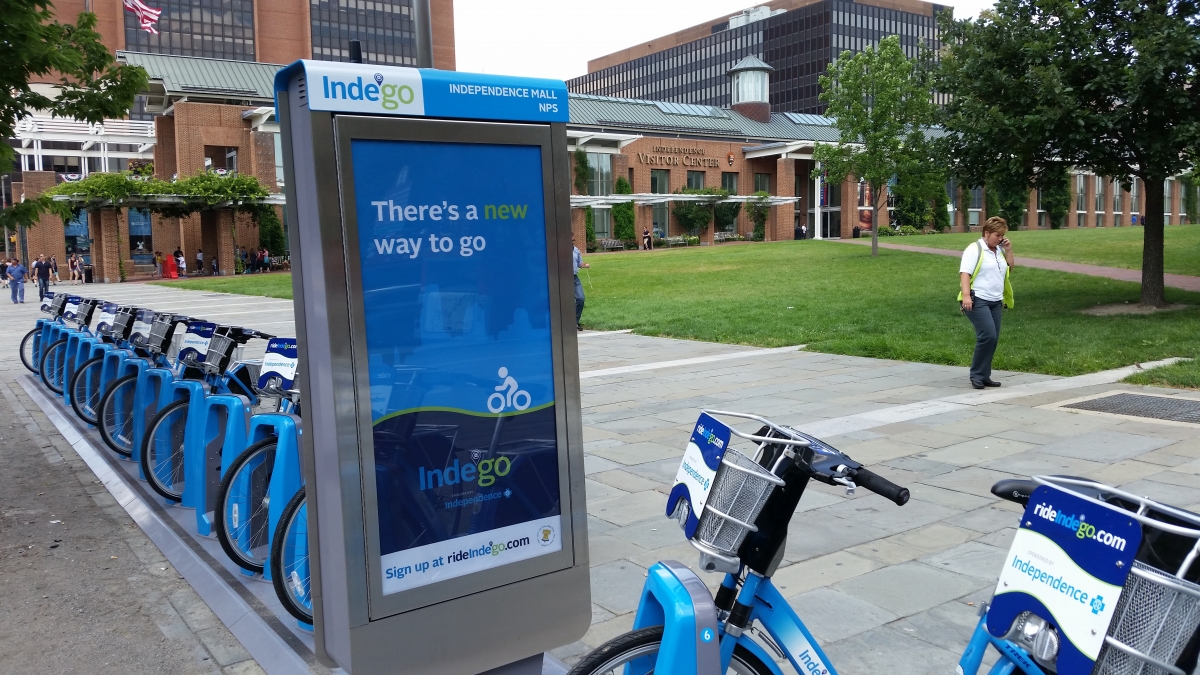 The options as to where to go once you're on your bike are virtually endless.  You can use your bike as a quick and cost effective mode of transportation between tourist sites such as a ride from Independence Hall to the
Barnes Foundation
or you can take a trip where the bike ride itself is part of the fun.  You can ride along the Schuykill River Trail or down the beautiful colonial streets of Society Hill.  You can cruise deep down into South Philly to the
birthplace of the Cheesesteak
or head over the Schuylkill River and ride through the colorful Victorian neighborhoods of West Philadelphia.  
You can even head up to Manayunk to ride the most famous part of the
Philadelphia International Cycling Classic
.  The Philadelphia International Cycling Classic is recognized as America's top international cycling classic and is rated by the International Cycling Union as the highest ranking single-day race in the Western Hemisphere.  The most famous aspect of the Philadelphia International Cycling Classic is known as the "Manayunk Wall".  A super steep 17 degree incline up Levering Street, just off Main Street in Manayunk, the "Manayunk Wall" Is torture to even the best cyclists in the world, but on your Indego bike you can try your best to ride like a pro!
Insider Tips
In order to ride an Indego bike there are numerous ways to pay for your trip.  Depending on where you're going, how long you'll be using the bike, and how often you expect to use a bike while in Philadelphia, there are
different plans
that will best suit your needs.  For most Philadelphia tourists the quickest and easiest way to get on a bike is to pay for walkup trip.  No membership is needed, just walkup to an Indego bike station, insert your credit card, pull out your bike and ride away!  Payment for a walkup trip is $4 per half hour.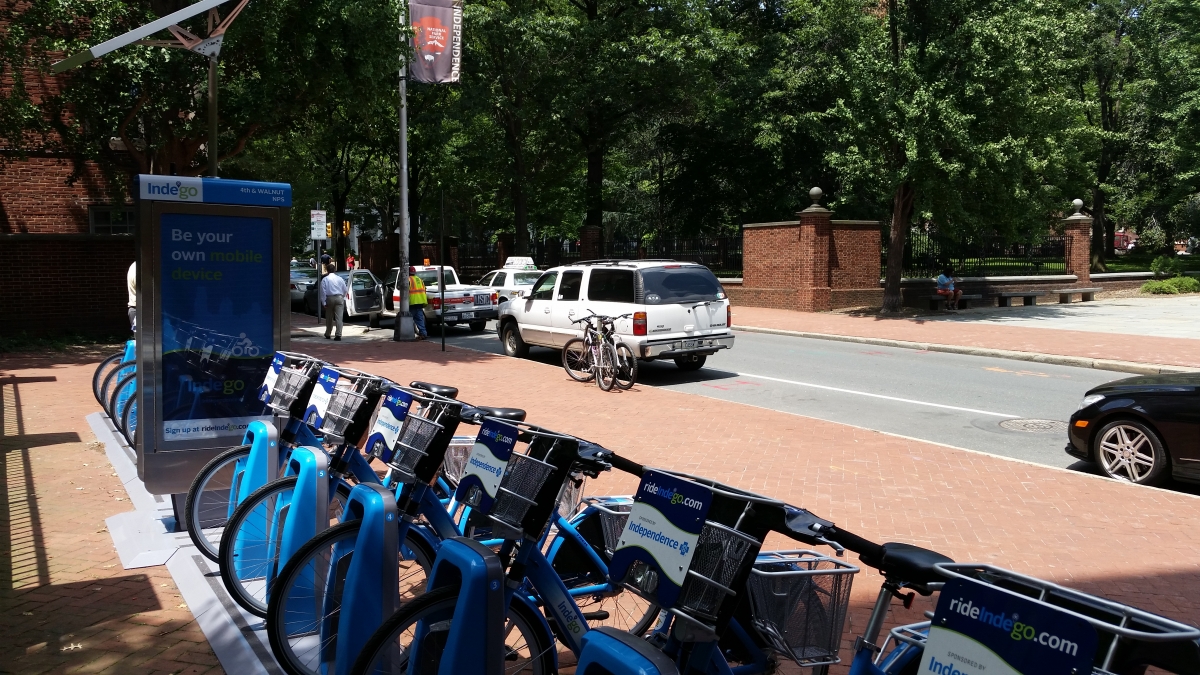 If you'll be in Philadelphia for at least a few days however and plan on riding a bike a lot, you may benefit from purchasing an Indego30 membership.  This 30 day membership costs only $15 and gives you unlimited free trips for up to one hour.  After one hour, trips are only $4 an hour, half the price paid without a membership.  So even if you're only in town for a weekend, if you plan to take at least 4 half hour trips around Philadelphia, your 30 day membership will already pay for itself.
Also please note that due to hygiene concerns, Indego bikes do not come with helmets.  But wearing a helmet while riding a bike is still always strongly encouraged!  If you have a helmet of your own, the easiest thing to do is to try your best to fit it in your luggage and bring it with you.  But if you don't have room to bring your own helmet or forgot it, there are many places throughout Philadelphia to purchase a cheap (but still safe) bike helmet once you arrive.
How to Get There
Use
this interactive map
to find the closest and most convenient bike station to pick up your bike.  Once you're finished riding you can return your bike to the closest, most convenient station.  For guests of
The Constitutional Walking Tour
, the most convenient Indego Station is located on the corner of 5th and Market Streets, which is just one block away from the
National Constitution Center
where all of our tours begin and end.
Hours
Bikes are available to rent 24/7
Additional Information
844.446.3346