One of the biggest concert events in the history of Philadelphia
The History
Made in America
is once again just around the corner and there has been a lot of discussion about the biggest live music festival in Philadelphia.  But Made in America is not the first major concert event in Philadelphia.  Arguably the tradition dates back to at least 1985 with global music festival Live Aid.
Live Aid was an international fundraising concert designed to bring relief to those suffering in the Ethiopian famine.  The concert took place simultaneously in London, England at Wembley Stadium and in Philadelphia at John F. Kennedy Stadium.  The concert was a star studded affair with some of the biggest muscial acts in the world playing the event.  Performers in Philadelphia for Live Aid included Black Sabbath, Run-D.M.C., Crosby, Stills and Nash, The Beach Boys, Madonna, Tom Petty, Neil Young, Eric Clapton, Phil Collins, Led Zeppelin, Patti LaBelle, Hall & Oates, Mick Jagger, Tina Turner, and Bob Dylan.  Stars like Jack Nicholson and Chevy Chase also participated in the event.  An incredible 100,000 people packed into Philadelphia's JFK Stadium for Live Aid.  Live Aid was one of the biggest global television events of all time.  An estimated 1.9 billion people across the world tuned in for the concert broadcast.
Twenty years after Live Aid, Philadelphia again played host to an enormous benefit concert in Live 8.  Live 8 was to take place before the G8 Conference and Summit with the goal of pushing G8 countries to increase funding on eradicating global poverty.  Just like Live Aid, Live 8 would also serve as a fundraising event with money being put toward the effort of ending global poverty.  Live 8 would move beyond just Philadelphia and London, as Paris, Berlin, Rome, Johannesburg, Toronto, Japan, Edinburgh, and Moscow would also participate in the simultaneous global concert.  Philadelphia's concert was hosted by local Philadelphian Will Smith and would feature acts such as The Black Eyed Peas, Destiny's Child, Kanye West, Toby Keith, Dave Matthews Band, Alicia Keys, Jay-Z, Maroon 5, Britney Spears, and Stevie Wonder.  Natalie Portman, Jack Nicholson, Oprah Winfrey, Richard Gere, Steve Carrell, Will Ferrell and other stars would also participate in the event as presenters.  An estimated crowd of over a million people showed up to watch the concert on the Benjamin Franklin parkway, making it one of the largest concert events in world history.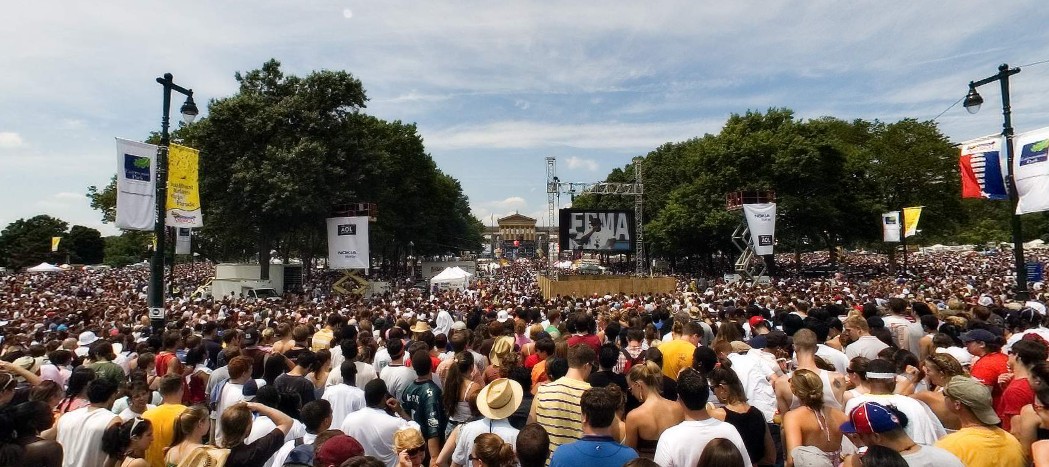 Philadelphia is also home to the
Independence Day "Welcome America!"
celebration that also takes place on the Benjamin Franklin Parkway.  The patriotic event features fireworks and some of the world's biggest musicians such as Nicki Minaj, Jennifer Hudson, Ray Charles and Elton John.  All told, the event is considered the largest annual free concert in America.  
Musician and record producer Jay-Z would announce the "Made in America" concert in 2012 as a large scale cultural and music event.  Philadelphia would be chosen as the location for the multi-day festival set on Labor Day weekend.  Just like Live 8 and the annual "Welcome America!" concert, Made in America takes place on the Benjamin Franklin Parkway.  Past musicians include Pearl Jam, J. Cole, Drake, Jill Scott, Beyonce, Pharell Williams, and of course Jay-Z himself.
What to See
In 2016 "
Made in America
" will be coming to Philadelphia on September 3rd and 4th.  The concert promises to be as big as ever with huge stars headlining each day of the concert.  The lineup is personally curated by Jay-Z and includes Rhianna, Coldplay, Chance the Rapper, Grimes, and DJ Khaled.  The concert is also broadcast live on
Tidal
where it reaches a global audience.  
When attending the concert you'll not only be able to take in some amazing musical performances, but you'll be able to enjoy them in a one of a kind music venue.  Made in America takes place on the Benjamin Franklin Parkway, one of the most iconic locations in Philadelphia.  The main stage sits directly in front of the Philadelphia Museum of Art, one of the finest collections of Art in America and a world famous view made famous in the Rocky movies.  
The steps leading to the Philadelphia Museum of Art
was the location of classic scenes in the movies in which Sylvester Stallone's character Rocky, races up the steps at the culmination of punishing work outs he performed while preparing for his fights.  Adding to the sights is the Washington Monument located directly in the middle of the concert venue. The massive 19th century sculptural fountain work of Rudolf Siemering is topped with a large statue of General George Washington on horseback.  All in all in makes for impressive backdrop for a great concert.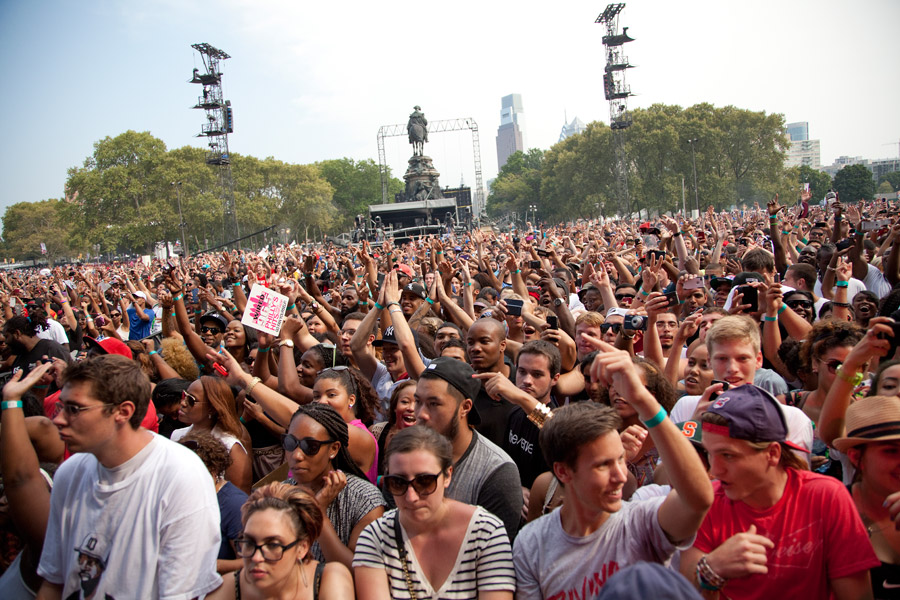 Insider Tips
Made in America is a multiple day outdoor music festival, but none the less incorporates a number of creature comforts so that participants never get the feeling that they're "roughing it."  Designed as a social music event, Made in America knows how important it is to make sure everyone is able to tweet and post as they take in the concert.  That's why concert goers can take advantage of beefed of internet capabilities onsite and numerous
phone charging lockers can be reserved here
.
Also on site will be plenty of options for hungry concert goers to grab a bite to eat.  Numerous food stands will set up on the concert grounds and some of Philadelphia's best food trucks will also be on hand to feed the crowds.  There are also amusement rides and other fun events to hold concert goers attentions.  For the socially conscious there will also be a "Cause Village" set up on the concert grounds where charities can set up shop and give out information to interested attendees.  
The United Way
and the
Coalition Against Hunger
are just a few of the worthy causes that concert goers can contribute to.  Each year Made in America generates hundreds of thousands of dollars that go to charities.
How to Get There
Guests of
The Constitutional Walking Tour
will find getting to the Made in America Festival very easy.  The Made in America Festival is located on the Benjamin Franklin Parkway just 1.5 minutes away from the
National Constitution Center
where all of our tours begin and end.  Guests from out of town who wish to see how America was actually made will also have plenty of time to
join us on a morning tour
before heading across town to see Made in America.
The concert will take place roughly a 30 minute walk away from the National Constitution Center and can be easily reached by heading west on Arch St until reaching the Benjamin Franklin Parkway.  Upon reaching the Benjamin Franklin Parkway, guests should then head right where the main entrance to Made in America will be just a few blocks away.  
Hours
September 3, 2016
12:00pm – 11:59pm
September 4, 2016
12:00pm – 11:00pm
Additional Information