Related Posts
One of Philadelphia's most interesting and eclectic streets
The History
South Street is one of the original streets incorporated into William Penn's 1682 design for the city of Philadelphia.  Originally called Cedar Street, the street quickly came to be known instead as South Street as it was at the time the southern border of the city of Philadelphia, separating Philadelphia from the cities of Southwark, Moyamensing, and Passyunk that were once located south of Philadelphia.  South Street would soon become a meeting place between the denizens of Philadelphia and the inhabitants of the more rural communities to the south.   In 1745 the "New Market" was established on Second Street, extending north from South Street to provide a formal place for merchants to trade their wares just north of Philadelphia's boundaries and cementing South Street as an important business corridor in Philadelphia.
South Street would also become a hub for businesses that wished to cater to Philadelphia clientele but wanted to avoid the sometimes restrictive Quaker influenced laws of Philadelphia.  While the northern side of South Street was part of Philadelphia and subject to all of its laws and ordinances, the southern side of South Street quickly became home to all types of businesses than ran afoul of Philadelphia laws.  The Southwark Theater, considered Philadelphia's first permanent theater, was constructed in 1766 on the south side of South Street to avoid the restrictive live performance laws that existed in Philadelphia at the time.  The Southwark Theater would soon be joined by other theaters, live music stages, taverns and brothels.
In 1794 Richard Allen, a prominent Philadelphia African American leader and minister, founded
Mother Bethel A.M.E. Church
a block away from South Street.  The area quickly became the center of Philadelphia's free black community, which had quickly grown into one of the largest in the nation following the abolishment of slavery in Pennsylvania in 1780.  In 1871 Philadelphia founded the municipal Fire Department and placed Engine 11 at 10th and South Street.  Engine 11 would become the only African American firehouse in Philadelphia and would join prominent African American owned businesses on South Street.   In 1899, civil rights activist W.E.B. Du Bois would publish his ground breaking sociological study, The Philadelphia Negro which studied life in Philadelphia's predominantly African American 7th Ward, centered around South Street.  In 1919, the Royal Theater was founded on South Street and quickly became recognized as one of the finest African American theaters in the country.
European Immigration in the late 19th and early 20th century began to change the character of South Street, creating a much more diverse community.  Large communities of Italians, Poles, and Eastern European Jews began to settle on and around South Street, founding new businesses on the ever more diverse commercial thoroughfare of South Street.  But one of Philadelphia's most historic and unique streets suddenly became threatened when plans for the Crosstown Expressway were released in the 1950s that called for the destruction of South Street.  Worried about the impending destruction of South Street, businesses fled the street, causing plummeting rental values and many vacancies.
Drawn by the rock bottom rents, Philadelphia's 1960s counterculture community began to open up eclectic businesses on the eastern side of South Street.  In 1964 the experimental "
Theater of the Living Arts
" or TLA opened on South Street and was soon joined by a rush of art galleries, bars, and coffee shops that would soon become the nexus of Philadelphia's hippie community.  Joined by leaders of the African American community that lived around the western side of South Street, the bohemian community of South Street began protesting the destruction of South Street for the planned highway.  After years of fighting, the activists would eventually prevail as urban planners would agree that the preservation of historic South Street outweighed the benefits of the proposed highway.  

What to See
Today, South Street is a bit more refined than it was in the hippie heyday of the 60's or the punk rock 80's.  High end restaurants such as
Brauhaus Schmitz
and
Serpico
now call South Street home as do national chains such as Starbucks and Wholefoods.  But South Street remains one of the most unique streets in Philadelphia and walking down it you can see traces of the many purposes it has served and the different cultures that have infused the street with life across the centuries.   In fact, New Market, which began to shape the South Street area as a commercial thoroughfare over 250 years ago, still stands today as a National Historic Landmark. 
African American history can also still be found all over South Street.  The historic African American operated Royal Theater no longer operates as a theater, but it still stands today between 15th and 16th on South Street and is in the process of being converted into retail and housing.  Engine 11 which once served as Philadelphia's African American Firehouse also still stands, and is today incorporated into Waters Memorial African Methodist Episcopal Church.  The new Engine 11 Firehouse in Philadelphia is today just a few blocks away at 6th street and large mural on the front of the building depicts the African American history of the Firehouse and neighborhood that surrounded it.  
It's also still very easy to find some very odd stores and shops that remind you of South Street's well deserved place in Philadelphia's countercultural history.  Numerous record shops and tattoo parlors still dot the area as does the TLA, now over 50 years old, the TLA is still  a popular live performance venue located by 4th Street.  Isiah Zagar was one of the people who was drawn to South Street in the 1960s and his impact is still felt on the street in a major way today.  In what were vacant lots next to his house located at 10th and South, Zagar constructed incredibly intricate mosaics made from nontraditional materials.  Open to public since 2008 and now known as "
Philadelphia's Magic Gardens
", Zagar's creation is now a beloved and unique place to visit, open for tours, art activities, concerts, exhibitions and more.
Perhaps the one thing that has tied all of the different communities and cultures that have lived and worked around South Street over the centuries has been food!  Still today, South Street remains the location of some of Philadelphia's most beloved eating establishments.  
Lorenzo and Sons Pizza
, famous for their enormous slices, and often cited as one of the best pizzas in America has been operating by Third and South since 1970.  Across the street,
Jim's Steaks
,
one of Philadelphia's most beloved cheesesteak joints
has been selling their sandwiches for decades from the distinctive art deco designed black and white tiled store front.  And if you take a few steps off South Street to 4th and Bainbridge St. you can still taste the Jewish history of the neighborhood as well, as
Famous 4th Street Delicatessen
is still operating after nearly 100 years in business. Famous 4th Street still retains the 1920s style that was in fashion when it opened and is famous in Philadelphia for its delicious food that comes in enormous portions, as well as for being a reputed hangout for Philadelphia politicians.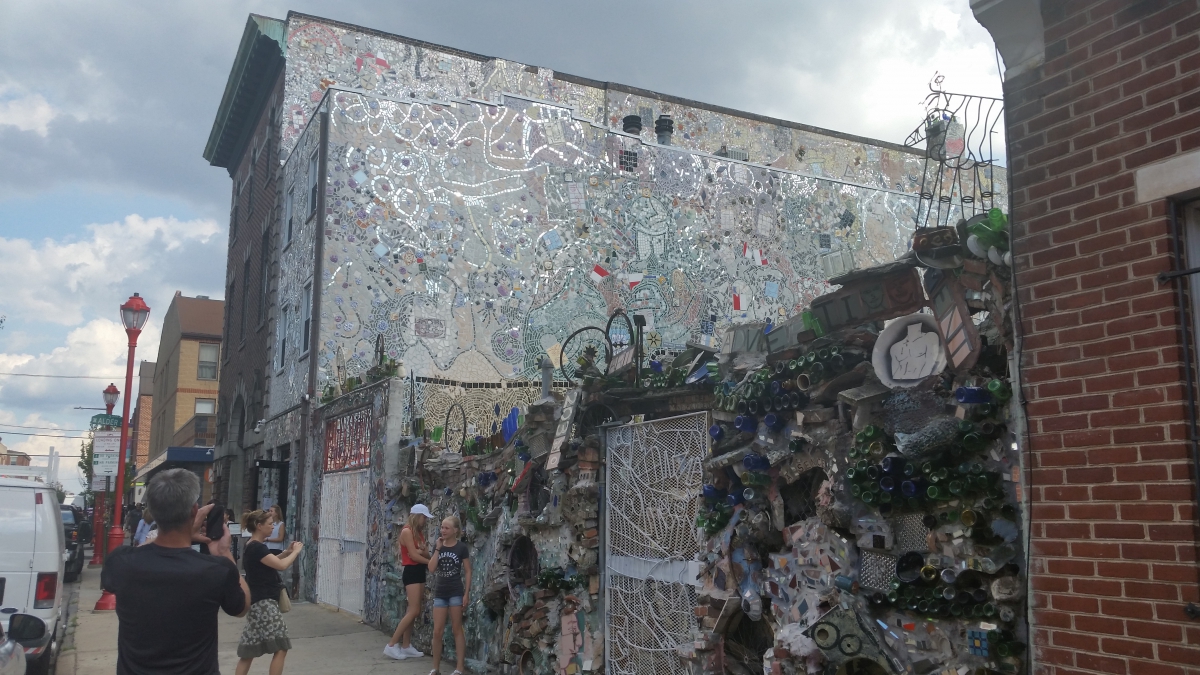 Insider Info
Just as it was in 17th Century, South Street also remains a popular night life strip in Philadelphia today.  Many bars and taverns are still located on South Street, as well as on nearby cross streets.  One of the oldest and most famous bars along South Street is
Bob & Barbara's Lounge
, located by 15th and South Street.  Bob & Barbara's is a no frill drinking establishment where one can watch a sporting event or catch a live performance.  It is also home to the "Citywide Special," a famous but unadvertised drink combination that has now spread to countless Philadelphia bars in one form or the other.  For only $3, a "Citywide Special" will get you can of Pabst Blue Ribbon as well as shot of Jim Beam.  Be sure to use this insider tip in moderation!
How to Get There
South Street is very accessible to visitors of Philadelphia.  Guests of
The Constitutional Walking Tour
begin and end their tours at the National Constitution Center and from there it is an easy 15 minute walk to South Street.  From the
National Constitution Center
head south on either 5th or 6th Streets towards independence Hall, in less than a mile you'll reach South Street.
South Street is also easily accessible via Public Transit.  The
Broad Street Subway Line
can take you directly to South Street via the
Lombard-South Station
.  There are also numerous buses that pass across South Street and the
Route 40 bus
travels right down South Street.  Street parking is available directly on South Street but can be notoriously difficult to find, a few parking garages in the area can however making parking easier.
Hours
Vary by business
Additional Information