Related Posts:
Located on Logan Square directly across the street from The Logan Hotel and in front of the
Cathedral Basilica of Saints Peter and Paul
, Sister Cities Park features a splash zone sprayground, a boat pond, stream, climbing rocks, winding pathways, educational garden, café and visitor center.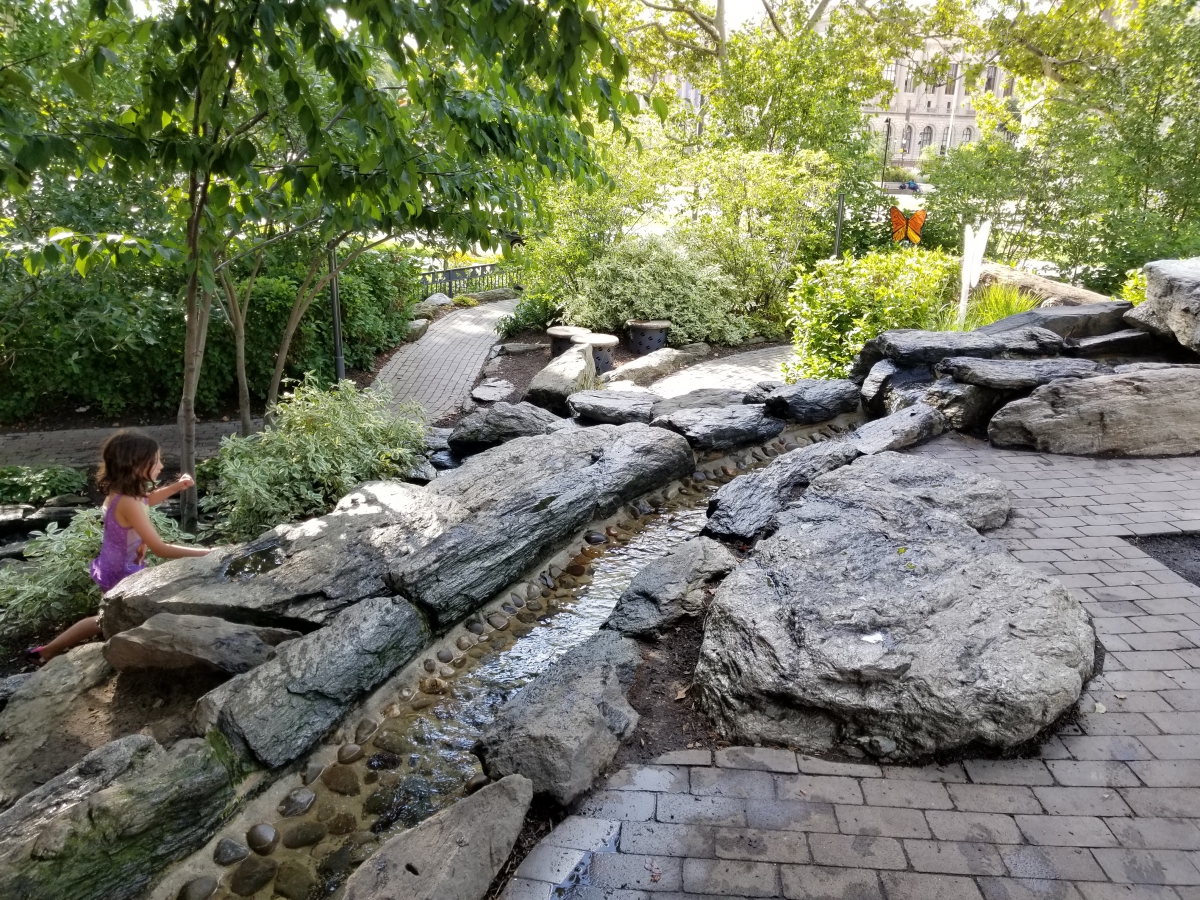 Sister Cities Park is great for visitors and locals alike, offering free family fun all year round.  The Children's Discovery Center is both a destination and stopover for those visiting Museum Mile along the Benjamin Franklin Parkway to headed to the Rocky Steps at the Philadelphia Museum of Art. 
The boat pond, stream, winding pathways, rocks and landscaping are all inspired by the
Wissahickon Valley
, a picturesque wooded gorge extending seven miles along Wissahickon Creek in the Northwest section of Philadelphia
Children can wade through the shallow water in the man-made boat pond and also rent toy sailboats (for a small fee). Kids can also play in the Sister Cities Fountain featuring 10 spouts, one for each of Philadelphia's sister cities: Florence, Italy, and Tel Aviv, Israel. They now include: Torun, Poland; Tianjin, China; Incheon, Korea; Douala, Cameroon; Nizhny Novgorod, Russia; Kobe, Japan; Aix-en-Provence, France; Abruzzo, Italy; and Frankfurt am Main, Germany.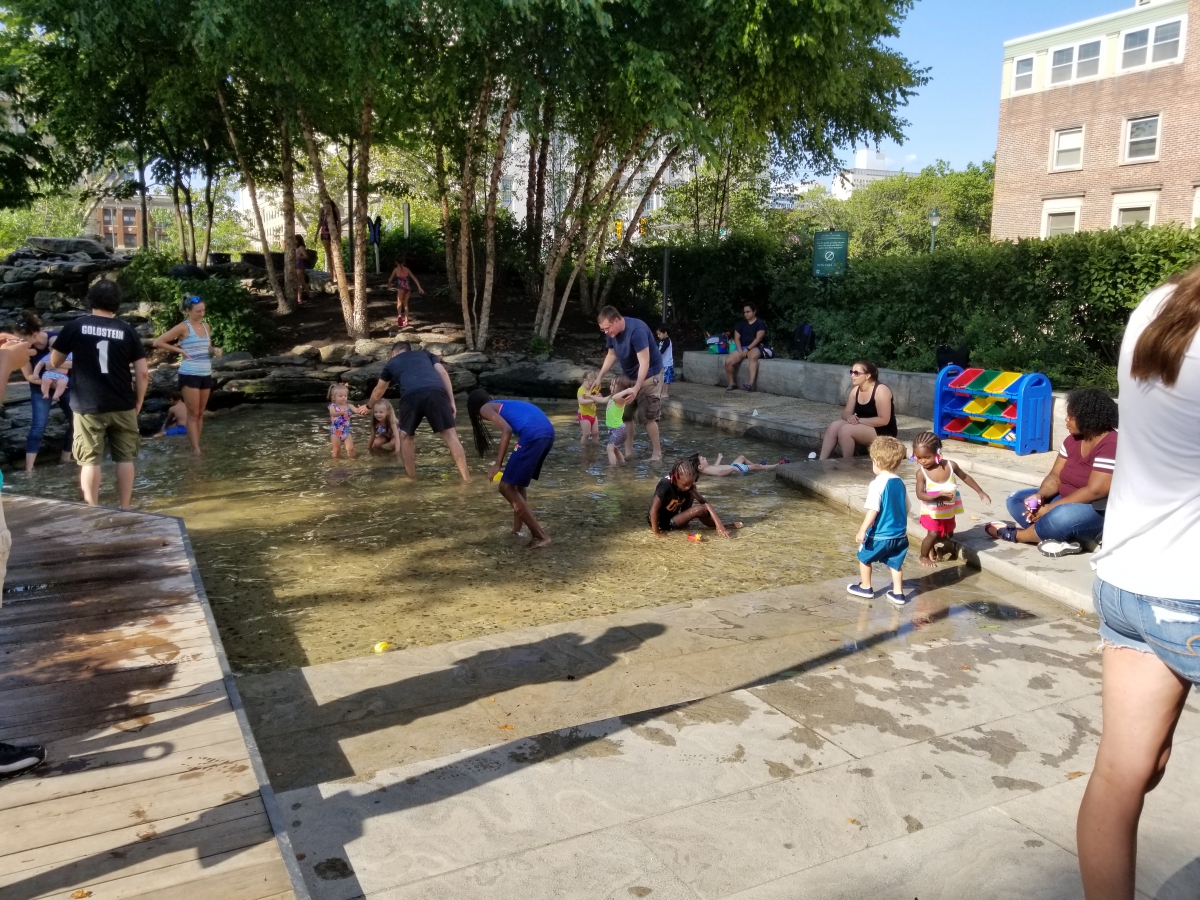 Imagination Playground
During the Fall and Winter, the Children's Discovery Center's Boat Pond closes and the area transforms into Imagination Playground with cool equipment for children to engage in unstructured play and imagination.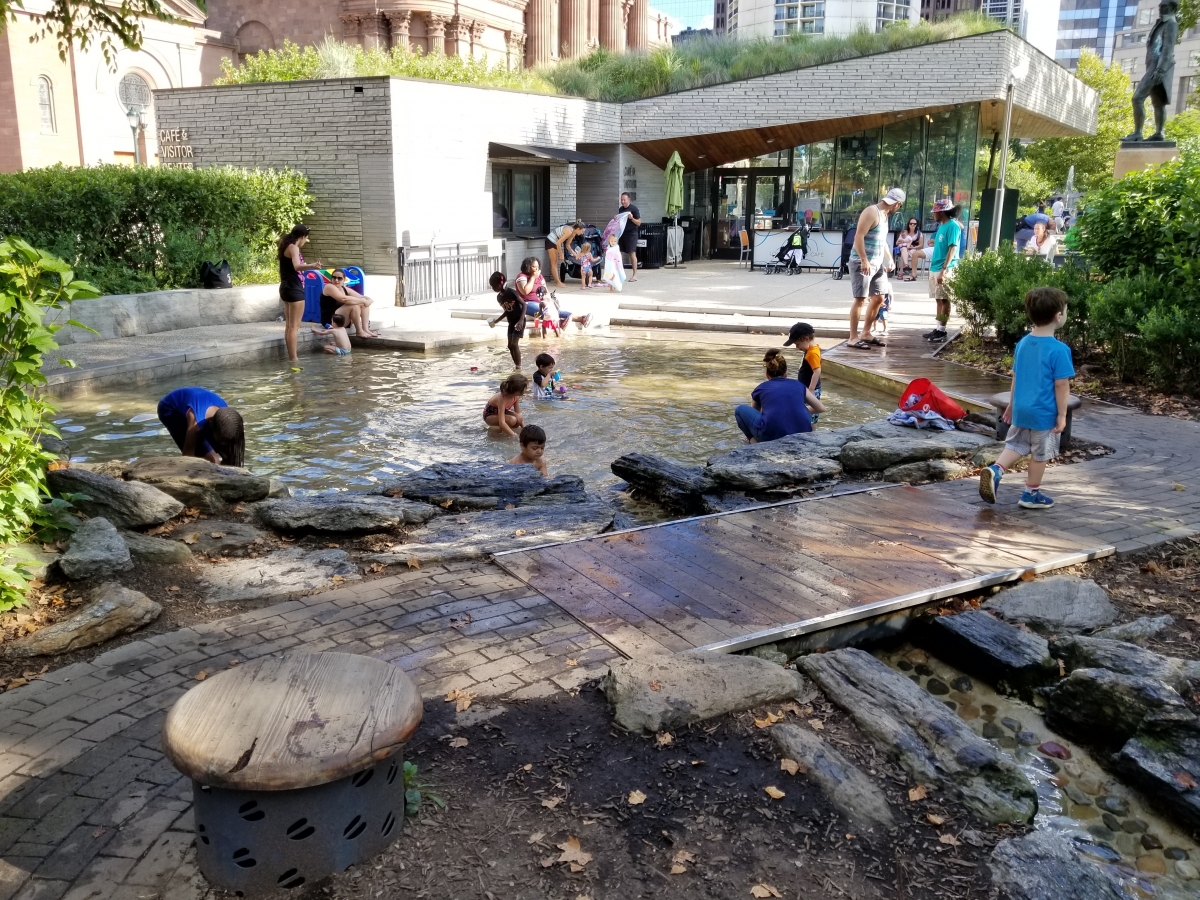 AMOR ("LOVE") Statue
In keeping with the international spirit, Sister Cities Park celebrates LOVE with a special version of Robert Indiana's LOVE Statue entitled AMOR, which means "love" in both Spanish and Latin. The AMOR Statue is a great photo opportunity and complements the other
LOVE sculpture photo opps
at LOVE Park, just a few blocks away.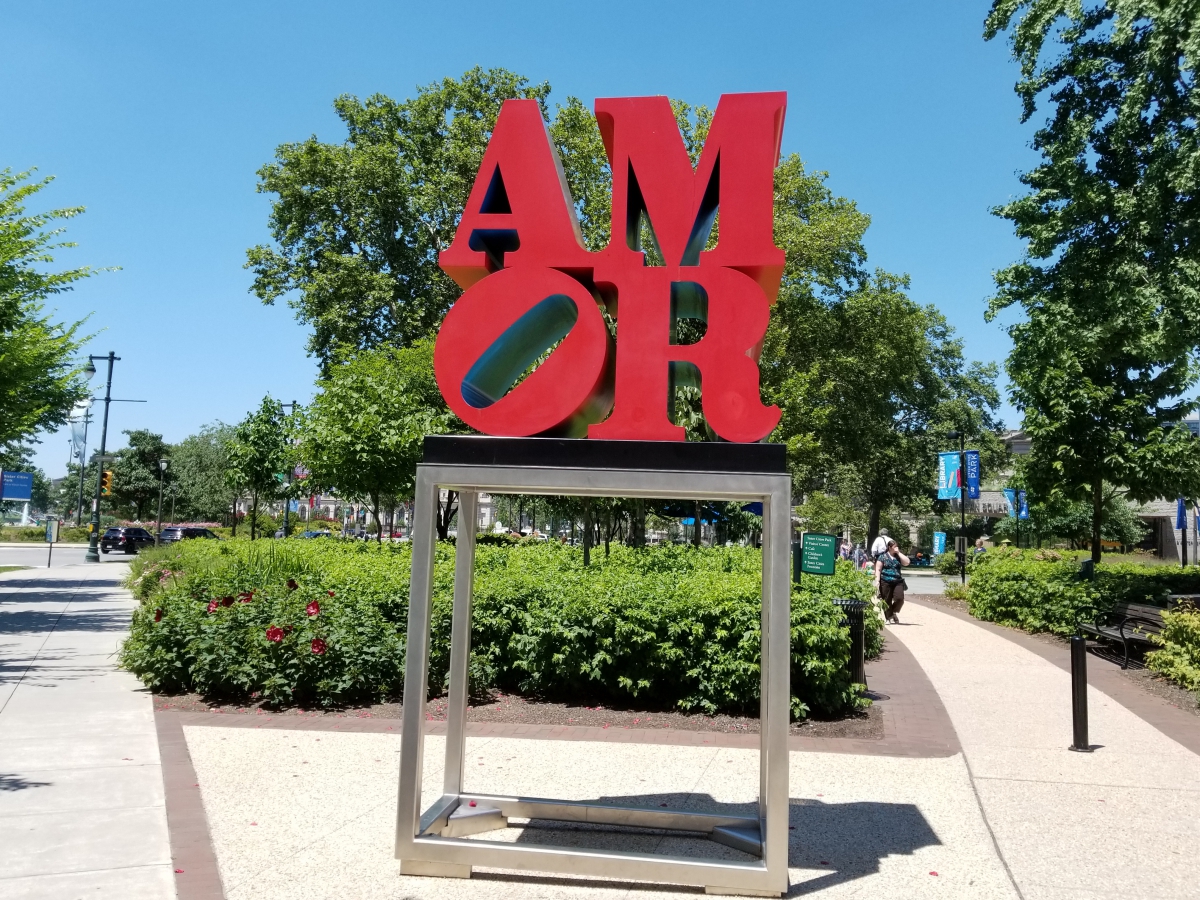 Water Safety
Sister Cities Park is operated by the Center City District which ensures the
safety of water
in their play fountains and follows industry-recommended best practices for proactive water-safety management at Sister Cities Park, Dilworth Park and John F. Collins Park. CCD staff test the water features in their parks three times each day.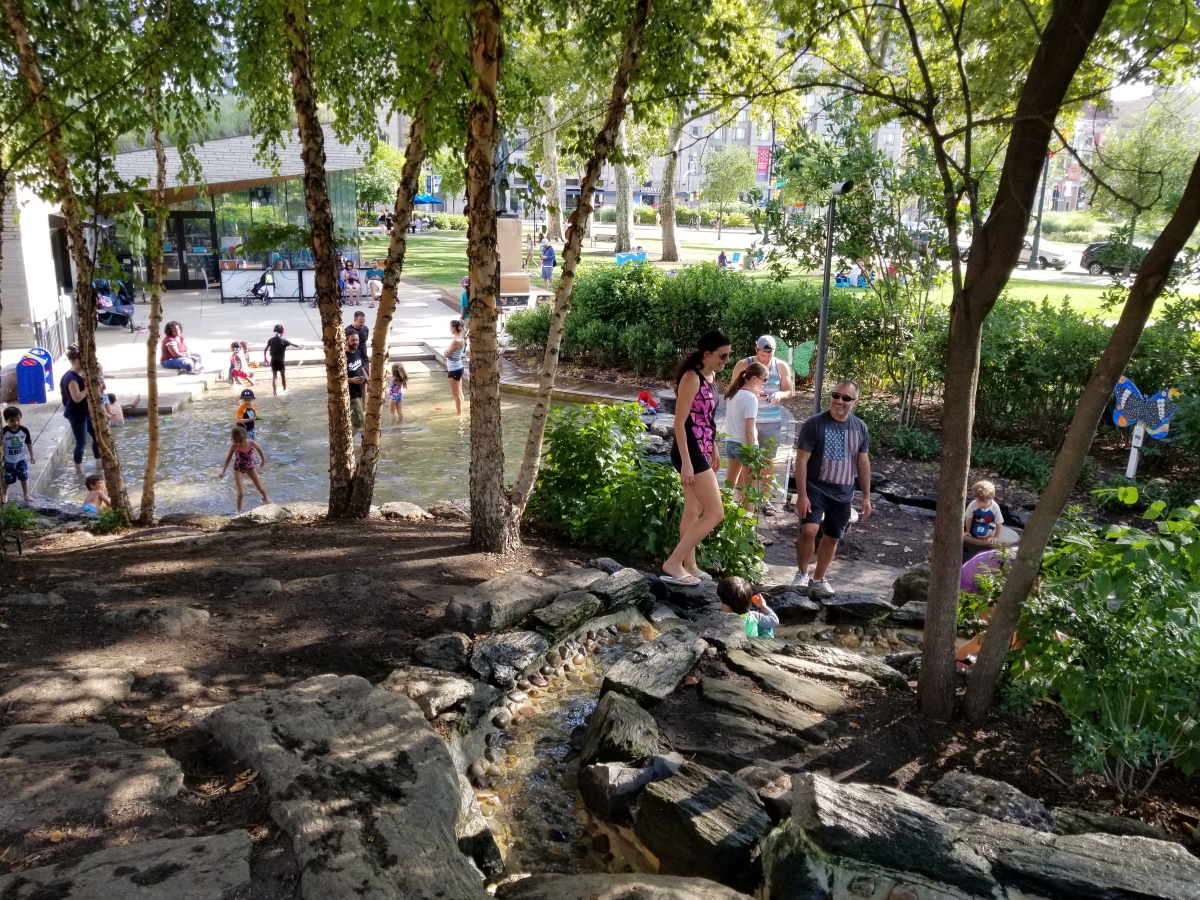 Insider Tips
In the warmer months when kids will be playing in the splash fountains and boat pond, we suggest that you bring towels, bathing suits or simply just shorts and t-shirts, plus a change of clothes.  While not required, we also recommend that you bring your kids' water shoes, flip flops or crocs to make the experience more enjoyable and safer for your kids. If you are visiting from out of town and need water shoes, head to
Five Below
and pick up a cheap pair of aqua shoes or flip flops. The closest Five Below locations are
701 Market Street
(one block from the Liberty Bell) and
1529 Chestnut Street
(located in the heart of Center City, just 0.6 mile away).  
The Children's Discovery Garden is free, but there is a fee to rent a sailboat.  Alternatively, to save money, you can also bring your own model boat or you can rent one at the Boat Pond.
Hours
Monday - Sunday: 6AM-1AM
Operates year-round, weather permitting  
Boat Pond Hours
Monday - Sunday: 10AM-8PM
Operates seasonally, May October
Library Book Cart Hours
Monday - Sunday: 10AM-5PM
Operates year-round, weather permitting
Imagination Playground Hours
Monday - Sunday: 10AM-5PM
Operates seasonally, late October - April
Note: hours are subject to change.
How to Get There
Sister Cities Park is conveniently located at 18th and the Ben Franklin Parkway. For guests of
The Constitutional Walking Tour
, Sister Cities Park is just a short 1.2 mile walk from the
National Constitution Center
. From the Constitution Center, walk up Arch Street heading West and make a right onto the Ben Franklin Parkway at 16th Street.  Sister Cities Park will be on your right. 
Additional Information 
18th Street & Benjamin Franklin Parkway
Philadelphia, PA 19103
215.440.5500