Related Posts:
The iconic LOVE statue is located in LOVE Park which is right next to City Hall.
LOVE Park, originally known as John F. Kennedy Plaza, was designed by renowned Philadelphia city planner Edmund Bacon (father of actor
Kevin Bacon
) and architect Vincent G. Kling in 1969.  The public space earned its nickname "Love Park" after a LOVE sculpture by Robert Indiana was placed in the park to celebrate the United States Bicentennial in 1976. 
In addition to the
Liberty Bell
,
Rocky Statue and the Rocky Steps
(at the Philadelphia Museum of Art), the LOVE statue has become one of the most iconic photo opportunities in Philadelphia for both tourists and locals alike. The recently refurbished LOVE sculpture makes a great photo opp background for a Facebook or Instagram post, wedding pictures, family portraits and holiday cards.  Day and night, there are many people taking stunning shots of the LOVE sculpture, the geyser-like fountain behind the LOVE statue, and the ever changing crowds and activities happening in LOVE Park. LOVE Park is a great place to people watch.
As to timing for you to get the best photo, we recommend visiting LOVE Park mid-morning to mid-day (i.e., 9:30AM-1PM, depending on the time of year) so that the sun is shining on the LOVE sculpture or late afternoon to early evening as the sun is setting.  Additionally, evening and nighttime photos are also beautiful. Note that there may be times that you will have to wait in a short line to take your photos.
Gateway to the Benjamin Franklin Parkway
LOVE Park serves as the great gateway to the Benjamin Franklin Parkway, Philadelphia's beautiful boulevard of museums that was designed by Paul Philippe Cret and Jacques Gréber.  The Benjamin Franklin Parkway, which opened in 1918, was modeled after the Champs-Élysées in Paris, France, and the Parkway runs diagonally through the city's otherwise standard street grid that was designed by William Penn.  The Benjamin Franklin Parkway is 1 mile in length and terminates at the Philadelphia Museum of Art (where the
Rocky Steps
are). Some people refer to the Benjamin Franklin Parkway as Museum Mile because there are so many museums located along the Parkway including the
Academy of Natural Sciences
, the
Barnes Foundation
, the
Franklin Institute
, and the
Rodin Museum
.
AMOR Statue
Just a few blocks away at
Sister Cities Park
, there is a special version of Robert Indiana's statue entitled AMOR, which means "love" in both Spanish and Latin. The AMOR Statue is a great photo opportunity and complements the other LOVE sculpture photo opps at LOVE Park, just a few blocks away.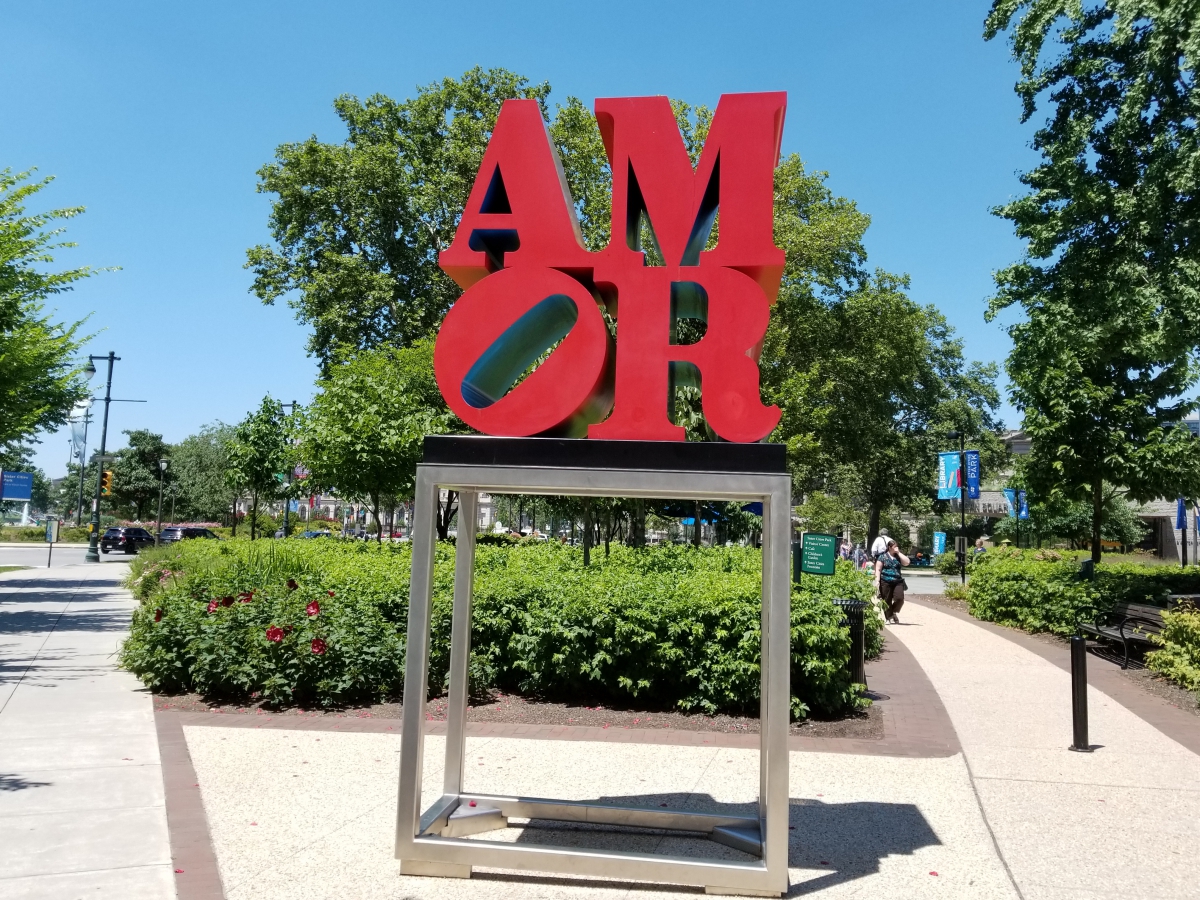 Insider Info
There is a second LOVE statue by Robert Indiana in Philadelphia, and it is located in the heart of the campus of the
University of Pennsylvania
.  It is located in Blanche Levy Park (also referred to as College Hall Green or simply the Green), and the address is 36th & Locust Walk.
How to Get There
Love Park is easily accessible to guests of
The Constitutional Walking Tour.
  Starting from the
National Constitution Center
(where all of our tours begin and end) guests just have to walk west on Arch Street.  There is no need to make any turns, Love Park is accesible right from Arch street about 10 blocks away at 15th and Arch Streets.  Love Park is also very easy to reach via public transit.  Love Park is within quick walking distance of stops on both the
Market-Frankford
and
Broad Street
Subway Lines, as well as regional rail via
Suburban Station
. If you are driving, there is a parking garage directly beneath Love Park for easy access.
Additional Information
LOVE Park
N. 15th Street and John F. Kennedy Boulevard 
(just across the street from Northeast side of City Hall)
Philadelphia, PA 19102