Philadelphia's front porch
Related Posts
The History - Broad Street Station
For over half a century, the main passenger rail station of the Pennsylvania Railroad was the Broad Street Station in Philadelphia. Designed by renowned architect Frank Furness, the Broad Street Station was located directly across the street from Philadelphia's City Hall in a grand building. Though Broad Street Station was centrally located, it required hundreds of pollution spouting locomotives to travel across a wide viaduct with numerous tracks running all through the city. The viaduct cut the city in half and was chaotic source of noise and created heavy sooty smoke that blanketed the city.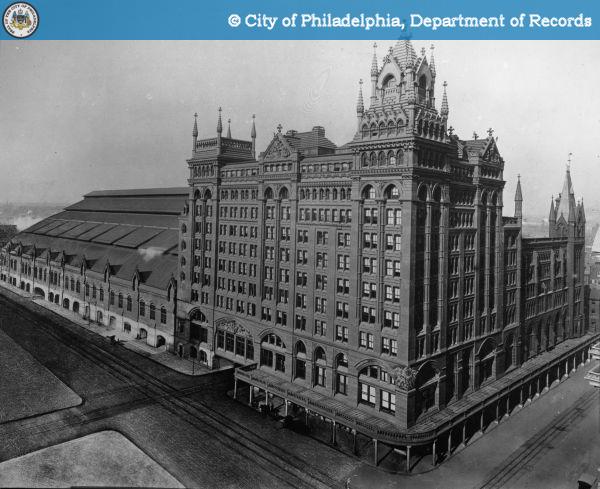 In the 1920s, the Pennsylvania Railroad, which was headquartered in Philadelphia, decided to begin diverting train traffic from the Broad Street Station to new stations that it planned to build. Broad Street Station would be replaced by two stations, Suburban Station and 30th Street Station, which opened in 1930 and 1933 respectively.
Suburban Station
Suburban Station was so named because it allowed locals in the Philadelphia suburbs to continue commuting directly into the heart of Center City via brand new underground tracks.  However these underground tracks did not have nearly the capacity of the enormous viaduct that it replaced, so the many trains coming from other cities would now use 30th Street Station. Although 30th Street Station was removed from what was then the heart of Philadelphia in the early 20th century, it was designed to make use of Philadelphia's many trolley and subway lines to allow passengers to continue traveling to Center City or anywhere else they needed to go in the city after disembarking from their trains at 30th Street Station.
30th Street Station
30th Street Station itself is a massive building, and at the time it was built, a modern technological marvel. The building featured a state of the art electronic intercom communication system, a network of pneumatic tubes, and even space for an aircraft to land on the roof of the building. But perhaps most impressive of all were the new trains that traveled through the station, no longer powered by pollution heavy locomotives, but instead by overhead electric wires. By 1933, when 30th Street opened, automobiles were increasingly prevalent and widespread commercial aviation was on the horizon.30th Street Station was designed to take a more antiquated form of travel into the modern world.
Today, 30th Street Station is used for Amtrak trains, primarily on the Northeast Corridor which travel from Boston and New York to the North and Baltimore and Washington, D.C. to the South. Additionally, 30th Street Station has many SEPTA commuter trains as well.
The architecture of 30th Street Station reflects this clash of classical and modern. The exterior of the building features giant Corinthian columns rising over seventy feet high. They are juxtaposed however with five story high windows, which are angular and modern.The interior features a nearly 100 foot tall ceiling, gilded columns and marble floors, while also featuring art deco artwork and finishes that were modern for the time. It is neoclassical design, seen through the prism of Art Deco architecture. 
As 30th Street Station headed toward its 100th birthday, it was beginning to feel outdated just as its predecessor once did. In this case though, it was not the building itself which felt dated, as 30th Street sill bustles with passengers, and it is the third busiest train station in the nation. Rather it was what surrounded 30th Street that was outdated. 30th Street was separated from the street by rows of parking, taxi drop off lanes and pick up lanes. The station was surrounded by a sea of pavement and cars. That is what led to the creation of the Porch at 30th Street Station.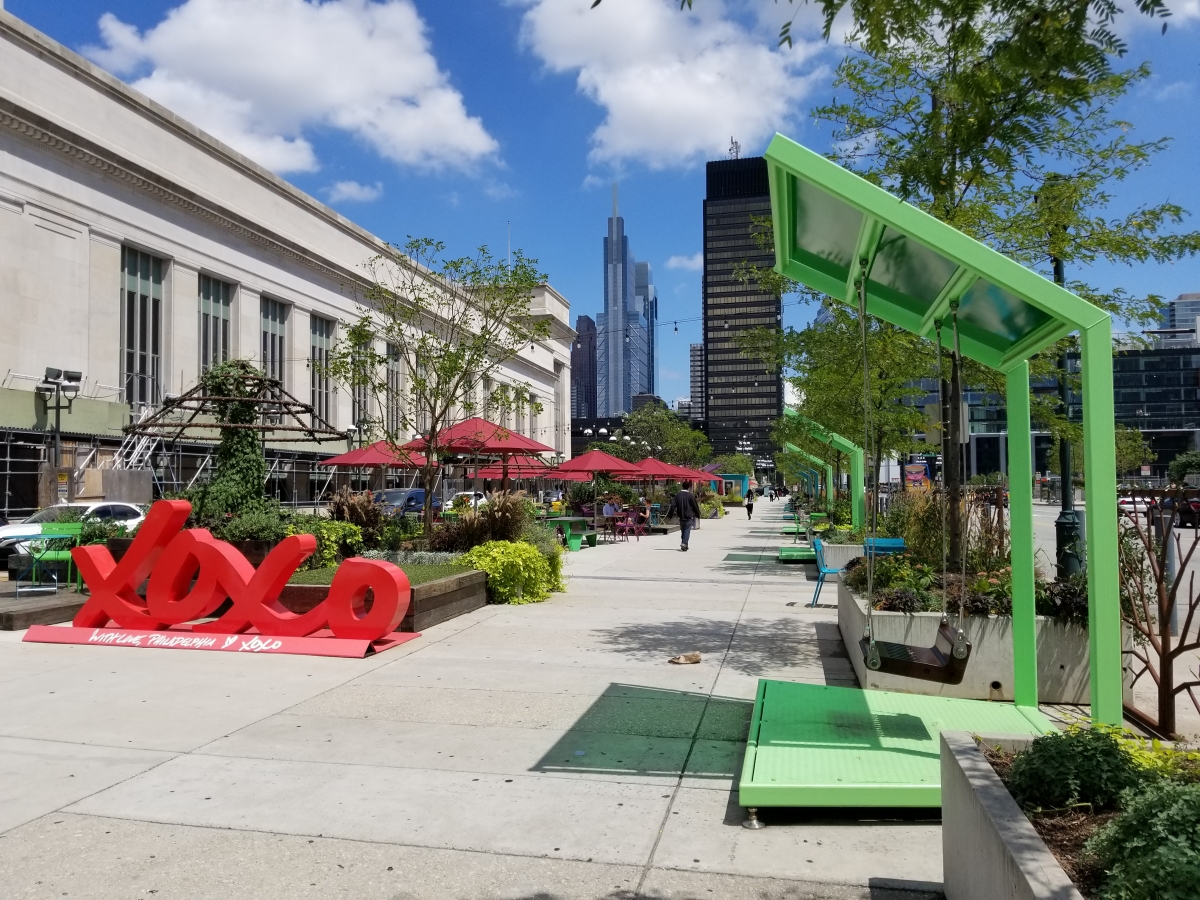 What to See
In 2011, the University City District welcomed the public to a totally reworked exterior of 30th Street Station, dubbed "the Porch."  Gone were rows of parking and travel lanes and in their place was a brand new public plaza.The University City District did not have a ton of funding to create this new public space so they got creative.  The narrow sidewalk that ran along Market Street was in disrepair and because Market Street is technically also Pennsylvania highway route 3, they were able to get PennDOT to replace it with a new large pedestrian space over 50 feet wide, more than times the original width of the sidewalk.  Planters were added along the street to separate the space from the traffic bustling from the 6 lanes of Market Street and new pedestrian lighting was added to keep the area bright and welcoming 24/7. The planters included trees to not only add some green to the area, but to also provided shade to an area that previously had none.  Without money for permanent benches, instead colorful metal chairs and tables were added with big umbrellas. Without the money to build an actual restaurant structure, they instead welcomed food trucks to pull onto designated areas.
In addition to the physical changes, they made sure there was always something happening. There were various events and activities including free yoga classes, farmers' markets, flea markets and artistic performances.  Some of these activities have become favorites, others have faded away but all of them provided a reason for people on their busy commutes to hang out for a while and enjoy what the Porch had to offer.
By 2015, the Porch was such an incredible success and attracted so many people that additional funds were raised to further improve the area. Certain improvements that were beyond the Porch's meager budget when it was first created were now able to be added. The Porch 2.0 added permanent benches, more trees, more lighting, and even swings. And with the continued improvements, the Porch has become an ever more popular place.
Insider Info
If you want to stay up to date on what is going on at the porch, check out the University City District's website. You can see which food trucks will be there are on which days so you never miss your favorite cuisines.  You can also see the schedule of performances.  You can catch everything from a ballet performance, Brazilian drumming or even an accordion virtuoso.  The Porch also now has a permanent beer garden, the Pub at the Porch. The pub serves favorites and local beers from area breweries.
How to Get There
For guests of The Constitutional Walking Tour, the Porch is a bit of lengthy but manageable walk. Starting from the National Constitution Center, where all of our tours begin and end, just head south one block and then make a right on Market Street, the Porch is roughly 2 miles away, right on Market Street after you cross the Schuylkill River.  Alternatively, guests can take the Market Frankford Subway. The closest stop to the National Constitution Center is just a block away at 5th and Market Streets and then you can disembark at 30th Street Station, right at the Porch. If you plan on driving, there are numerous parking lots and garages in the area. Or just hop in Uber for the quick two mile trip.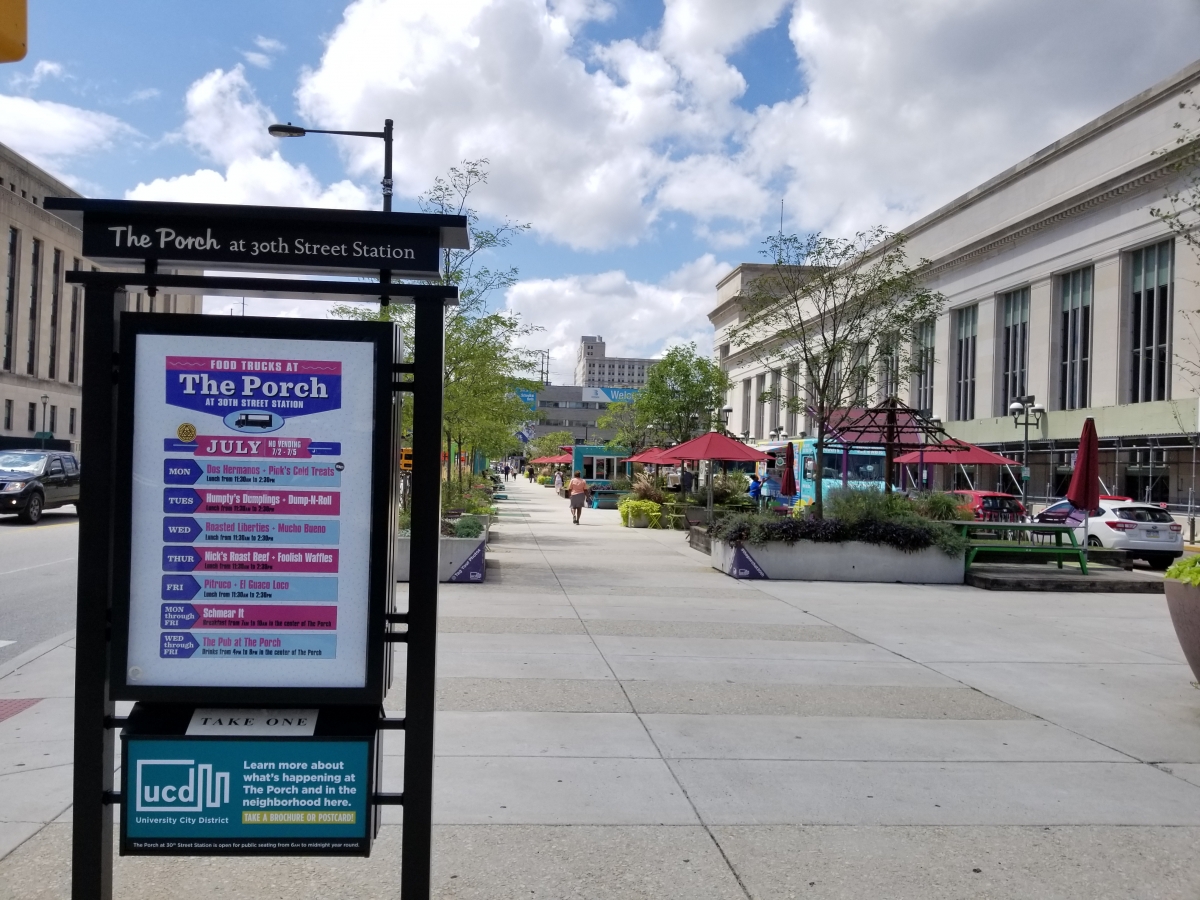 Additional Information
The Porch at 30th Street Station
2955 Market Street
Philadelphia, PA 19104
215.243.0555