Related Posts:
Overview
Eating gluten free and coming to visit Philadelphia?  Not a problem. You want to try an authentic Philly cheesesteak? Not a problem either! Below are some suggestions for eating gluten free in the City of Brotherly Love.
Gluten Free Cheesesteaks
You're in Philadelphia, so let's start with the cheesesteaks. Campo's Deli, in the heart of the Historic District, offers any of their sandwiches on a gluten free roll. Campo's has been in the food business since 1947 and everything - bread, the meat and cheese, and even the beer – are locally sourced. They offer cheesesteaks, chicken cheesesteaks and hoagies as well as a variety of vegetarian and vegan options. The gluten free rolls come from Taffets Bakery – more on Taffets later.
If you're willing to take a bit of a drive, Jay's Joint in Parkland is about 20 miles (a half hour drive) outside the city. But they have an extensive gluten free menu including getting your Philly cheesesteak on one of their famous gluten free pretzel rolls! 
Gluten Free Corn Dogs, Funnel Cake & French Fries
Another unique Philadelphia attraction is Reading Terminal Market. Inside you'll find a variety of food choices, including the 100% gluten free stand Fox & Son Fancy Corn Dogs. The gluten free menu includes corn dogs, poutine, fried cheese curds funnel cake and fries. Follow them on Instagram (@foxandsonphilly) and you'll see some other treats like fried oreos!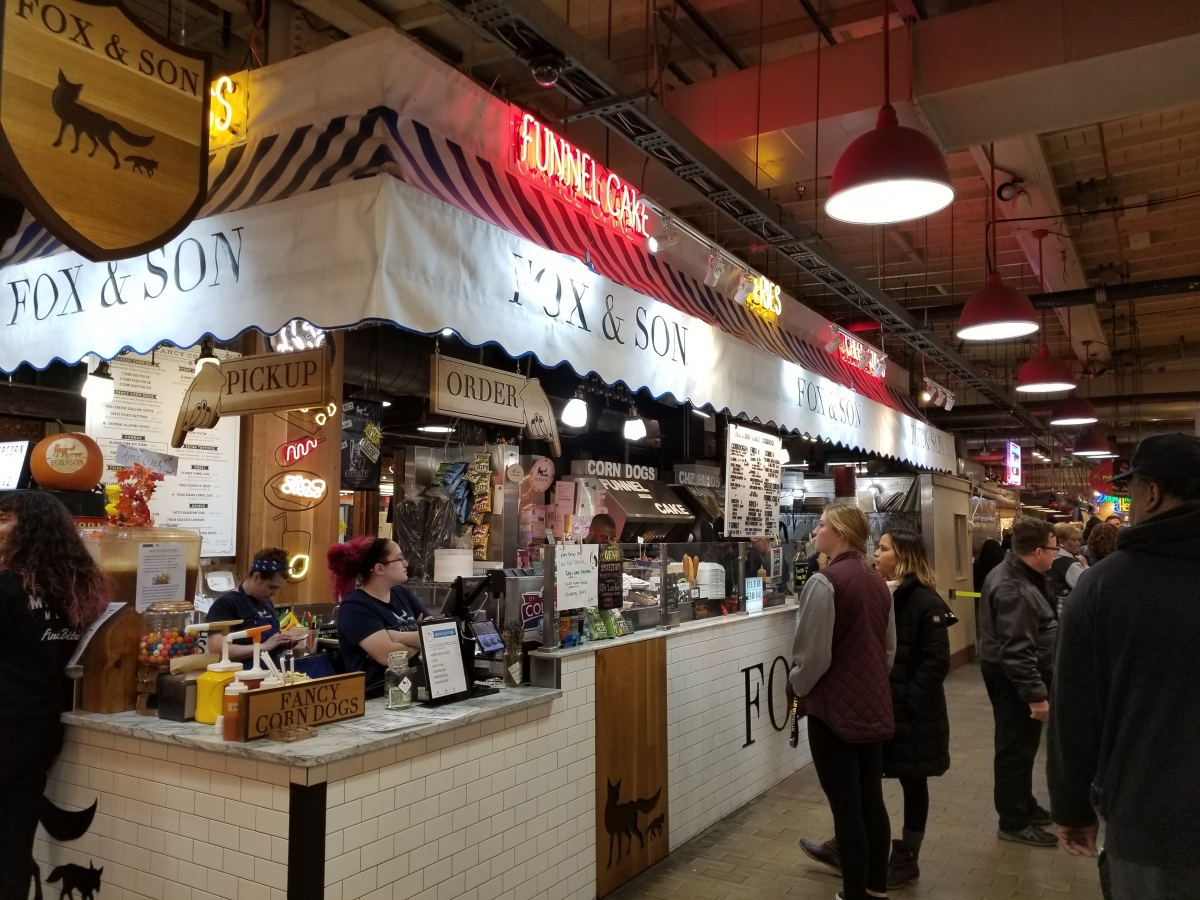 Gluten Free Plus Dairy Free, Egg Free, Nut Free & Shellfish-Free
If you're in the Rittenhouse Square neighborhood, check out Farmers Keep. Not only is the restaurant Gluten-Free, but also Dairy Free, Egg Free, Nut Free, and Shellfish-Free. The menu consists of salads, sides (like Asparagus Edamame Quinoa and Moroccan Chickpeas) and Proteins like Chicken Casserole and Citrus Beef Curry.
Real Food Eatery has 2 locations in the city. It's kind of an upscale quick service restaurant that is 100% gluten free. The lunch and dinner menus are the same, and the concept is you pick an entrée (protein such as chicken, salmon, tofu, etc.), a base (salad, rice or quinoa) and 2 veggie sides.  Add an optional sauce and you're good to go! Don't forget to try the gluten free dessert options – cookie, brownie or oat bar.
Gluten Free Bakeries
If you have a sweet tooth, then you'll definitely want to visit Sweet Freedom Bakery. In addition to being gluten free, their menu is also free of dairy, soy, egg, corn, peanut and refined sugar. All items are vegan and kosher. They have a wide array of items – cakes, cupcakes, cookies, brownies, blondies, donuts, muffins and more!
And if you're heading out of the city or to Jay's for cheesesteaks (see above) then a stop at the Happy Mixer Gluten Free Bakery is definitely worth your while! They have 2 locations in Chalfont and Langhorne, and the most amazing selection of cakes, muffins, breads, donuts, cookies and more! 
If you find yourself in Haddonfield, NJ (just over the bridge), then you can't miss Bleu Bear Bakery! Another 100% gluten free spot, whipping up fun creations. They offer a huge selection of cupcakes, cookies, brownies and more. Perhaps most impressive is the list of about 30 different types of freshly made donuts made to order - ranging from fruity pebbles to peanutbutter fluff to maple bacon and more!
Gluten Free Breads, Soft Pretzels and More
The owner of Taffets Bakery trained at JNA Culinary Institute, worked at some of the top restaurants in Philadelphia, but was inspired to open this gluten free bakery because of his mother's sensitivity to gluten! Their main focus is on breads – offering everything from traditional loaves to baguettes, pizza crusts and bagels. And if you're gluten free and want to try a Philly soft pretzel, this is the place!
Gluten Free Pizza & Pasta
All of the pizzas and pastas Barra Rossa can be prepared gluten free for a small additional fee. The food is prepared and handled separately to avoid cross contamination. They also have minestrone soup without noodles, and other items on their menu  that can be made gluten free (such as salads) are marked "GF." All of their cured meats, cheeses and olives are gluten free.
If you're looking for gluten free pizza, there are a few other notable Philly spots. Slice offers a gluten free pizza menu at their locations which are in Rittenhouse Square, Fishtown and the Italian Market – even the homepage of their web site says "Gluten Free Available."
Snap Custom Pizza is near Rittenhouse Square, and also has several suburban locations – any of their pizzas can be ordered gluten free. They are Celiac-friendly meaning they keep the ingredients and cooking process separate to avoid cross contamination.
If you find yourself in University City (near University of Pennsylvania and Drexel University), check out Zavino. They make their pizza dough from scratch and bake it in a separate oven and it's delicious! Their other location on 13th St. also has the gluten free dough but unfortunately does not have a separate oven!
Giorgio on Pine has an extensive gluten free menu including Schar gluten free pasta, and pizza made on gluten free custs from Still Riding Foods. 
Ice Cream
Let's not forget the ice cream! An offshoot of the New York favorite, with flavors like Rocky Roadhouse and Salty Pimp, Big Gay Ice Cream is gluten free-friendly. Their web site states that "almost all of our ice creams are gluten-free. On occasion, we may offer a special flavor containing gluten, which will be labeled accordingly on the menu board. Note that we always thoroughly wash and sanitize all equipment when changing flavors, regardless of ingredients." To top it off, they have gluten-free ice cream cones so what more could you ask for?
Another idea if you are looking for something unique is Sweet Charlie's Rolled Ice Cream. This fun treat is custom made to order, and there are so many endless combinations. They also have great allergy procedures in place. If you let them know, they will clean and sanitize the surface where they make the ice cream, change their gloves and get a new set of utensils from the back. They will also get your toppings from the back.
A Philadelphia classic is Franklin Fountain - an adorable old-fashioned ice cream parlor. They also have allergy procedures in place that include hand washing, using a clean scoop and scooping from a new tub of ice cream. Plus every flavor of ice cream is gluten free except hydrox cookie! A stop at Franklin Fountain for ice cream can be the perfect ending to your city adventure!
Additional Gluten Free Options
As Philadelphians, we are lucky to have a selection of dedicated gluten free eateries.
Snap Kitchen is an expanding chain with several locations in the city including Old City, Fishtown and Rittenhouse Square (as well as some suburban locations). This is a "grab and go" place that is 100% gluten-free, with pre-packaged gluten-free meal options. While the menu changes, items can include breakfast delights like almond butter pancakes, muffins and egg and cheese sandwich on a cauliflower bun, or grain free lasagna and chicken fried broccoli rice for lunch or dinner.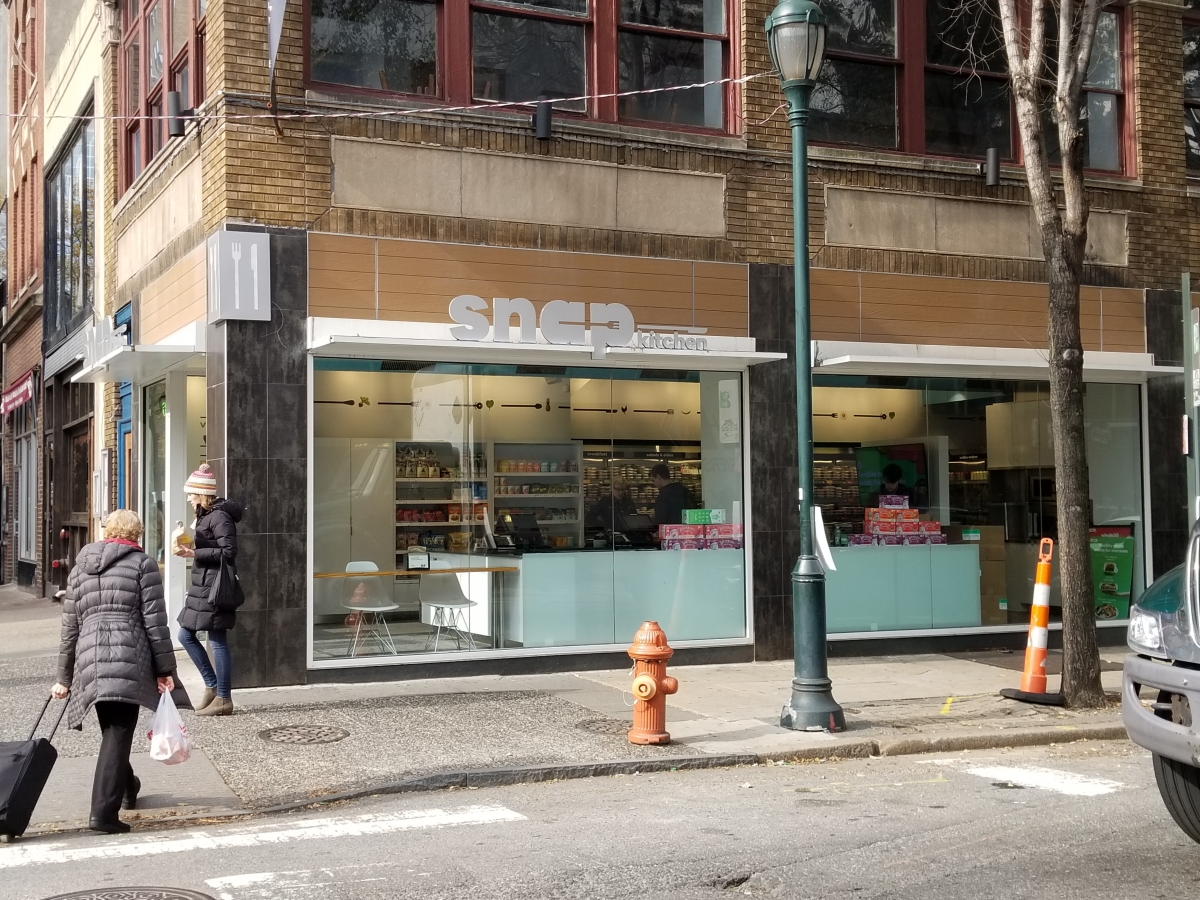 P.S. & Co. offers an ever changing menu of plant-based, gluten free options. Stop in and eat your meal, or grab a drink and a pastry to go. Breakfast/brunch options can include breakfast tacos and burritos, waffles, pancakes and more. For lunch there are salads and sandwiches, and dinner can include kale pesto pizza, ramen bowls, lemongrass curry to name a few. There is also an extensive beverage menu with coffee, tea, cold pressed juices, smoothies and more.
Pure Fare is a healthy, gluten free establishment that offers made to order as well as "grab and go" options. There are sandwiches and fancy toast combinations on gluten free bread - you can go for toast with ricotta, figs and strawberries, or maybe you're in the mood for peanut butter and banana toast with chia seeds. There are so many already prepared salad and sanwich options as well as quick snacks like avocado chocolate pudding and greek yogurt parfait. All their gluten free pastries are made from scratch and are delicious - healthy muffins like quinoa blueberry or delicious cookies like banana chocolate chip are a few favorites!
Restaurant Locations
1. Campo's Deli
214 Market Street
2. Fox & Sons (inside Reading Terminal Market)
51 North 12th Street
3. Farmers Keep
10 South 20th Street
4. Real Food Eatery
207 South 16th Street and 1700 Market Street
5. Sweet Freedom Bakery
1424 South Street
6. Taffets Bakery
1024 S. 9th Street
7. Snap Kitchen
601 South 10th Street, 1325 Frankford Avenue, 243 Market Street and 1901 Chestnut Street
8. Barra Rossa
929 Walnut Street
9. Slice
1180 South 10th Street
10. Snap Custom Pizza
1504 Sansom Street
11. Big Gay Ice Cream
1351 South Street
12. Sweet Charlie's
Multiple Locations including:
711 Walnut Street
1921 Walnut Street
13. Franklin Fountain
116 Market Street
14. Jay's Joint
1205 Highland Avenue, Parkland, PA
15. Giorgio on Pine
1328 Pine Street
16. The Happy Mixer Gluten Free Bakery
2 locations including:
4275 County Line Road, Chalfont, PA
12 Summit Square, Langhorne, PA
17. Bleu Bear Bakery 
109 Kings Highway East, Haddonfield, NJ
18. P.S. & Co
1706 Locust Street
19. Pure Fare 
119 South 21st Street