Related Posts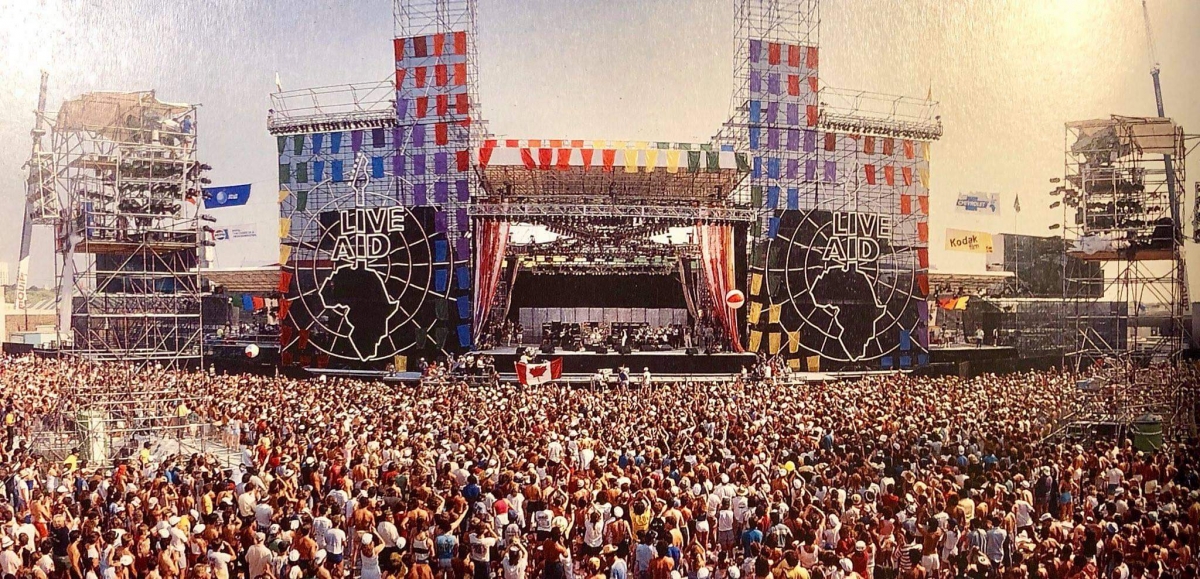 On this day in history on July 13, 1985, the Live Aid concert events were held in Philadelphia and London. Billed as the Global Jukebox, Live Aid served as an international fundraising platform designed to raise money and bring some relief to those suffering in Africa from the Ethiopian famine. The concerts took place simultaneously in London, England at Wembley Stadium and in Philadelphia at John F. Kennedy Stadium (now the site of the Wells Fargo Center). Orchestrated by Boomtown Rats lead singer Bob Geldof, the legendary promoter Bill Graham, as well as Larry Magid and Allen Spivak of Electric Factory Concerts in Philadelphia, the Live Aid concerts were star studded affairs with some of the biggest musical acts in the world. It is estimated that the concerts were watched by almost 2 billion people worldwide in 110 countries, and raised approximately $127 million for famine relief.
Performers in Philadelphia for Live Aid included The Hooters, Black Sabbath, Run-D.M.C., Crosby, Stills and Nash, The Beach Boys, Madonna, Tom Petty, Neil Young, Eric Clapton, Phil Collins, Led Zeppelin, Patti LaBelle, Hall & Oates, Mick Jagger, Tina Turner, and Bob Dylan. Stars such as Jack Nicholson and Chevy Chase also helped to emcee the event. An incredible 100,000 people packed into Philadelphia's JFK Stadium for Live Aid and 72,000 attended the Wembley concert. Tickets for this once in a lifetime event cost $35.00. 
Live Aid was conceived by Bob Geldof on May 1, 1985, and it was planned and executed in just 10 weeks. According to the Smithsonian Magazine, 
"The sister concerts were shown live in 110 countries to an estimated 2 billion viewers. Using 13 satellites and 22 transponders, it was the most ambitious international satellite television venture that had ever been attempted and it remains one of the largest television broadcasts of all time."
MTV's concert coverage broadcast kicked off just before 7AM ET in Philadelphia with VJ's Martha Quinn, Mark Goodman (formerly of WMMR-FM), Alan Hunter and Nina Blackwood.
Good Morning Children of the 80's - This is Your Woodstock
Joan Baez, the singer who is best known for her peace ballads of the 1960s, was the official opening act of Live Aid in Philadelphia, "Good morning, children of the 80's. This is your Woodstock, and it's long overdue!" Following that opening, Baez sang Amazing Grace.
And Live Aid Philadelphia was underway.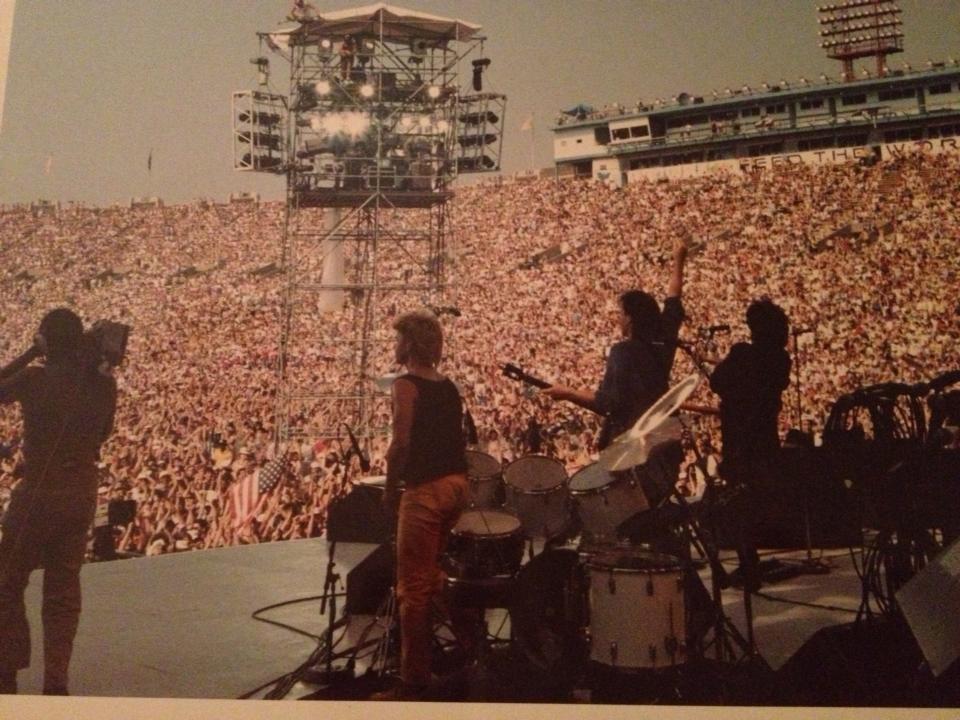 Live Aid was one of the biggest global television events of all time. An estimated 1.9 billion people across the world tuned in for the concert broadcast, and it was estimated that the TV telecast reached more than 500 million of the world's approximate 600 million TV sets, including in the Soviet Union (now Russia) and China (which was unprecedented at the time in the 1980s).
One of the quintessential chart topping rockers of the 1980s was Bryan Adams who played his "Summer of '69" anthem and even changed one of the final verses to the Summer of '85 in tribute to the Live Aid concert in 1985. 
Below you can see the landscape of the Philly stadium complex in 1985 including Veterans' Stadium, the former home of the Philadelphia Phillies and Philadelphia Eagles, as well as the Spectrum, the former home of the Philadelphia Flyers and Philadelphia 76ers. None of those stadiums still exist.
Live Aid's official opening act was a local favorite, The Hooters, who had just released their debut album on Columbia Records entitled Nervous Night. Even though the BBC TV announcer got the venue wrong and said that The Hooters were playing at Wembley, Joe Piscopo and Chevy Chase got it right when they introduced The Hooters on ABC TV. The Hooters were honored to have been the official opening act for Live Aid in Philly (see below for related story on Bernard Watson, aka David Weinstein, who preceded The Hooters at Live Aid). Along with The Hooters, Philly's own Patti LaBelle and Hall & Oates also played at Live Aid.
Although Crosby, Stills & Nash (CSN) came of age in the late 1960s and early 1970s, CSN rocked Philly with "Teach Your Children."
Meanwhile in at Wembley Stadium, Queen performed Bohemian Rhapsody at Live Aid in London.
One of the top female artists of the 1980s was Madonna and she wowed the crowd with "Holiday."
As day turned into evening in Philadelphia, Phil Collins took the stage at JFK Stadium to sing "In The Air Tonight." Phil Collins' presence in Philadelphia was really unique since just hours earlier in the day, Phil had performed at Live Aid at Wembley Stadium in London. Immediately after his London performance, Phil hopped aboard the British Airways' Concorde supersonic jet and flew from London to JFK Airport in New York, where he then took a helicopter to Philly. Phil Collins was the ultimate jet setter back in the go-go 80s.
Mick Jagger and Tina Turner paired up for an amazing performance of State of Shock.
Philadelphia's own Patti LaBelle brought the house down late at night with her rendition of John Lennon's timeless classic, Imagine.
Live Aid's Finale in Philadelphia was an amazing once in a lifetime collection of all of the musical artists who performed at JFK Stadium throughout the day singing "We Are World" in front of 100,000 people.
The Weather - Hazy, Hot & Humid
The National Weather Service had forecasted that it was going to be sunny, hot and humid with temperatures approaching 90 degrees in Philadelphia on July 13, 1985. The Philadelphia Fire Department had set up open air showers on the field, and also sprayed fire hoses into the crowd in an attempt to cool down the sweltering audience.
When looking at the videos of some of the performances, the field of JFK Stadium looked like a beach with many in shorts and bathing suits.

JFK Stadium Performances - Artists & Set Lists
Bernard Watson (aka David Weinstein, see his fascinating story below): "All I Really Want to Do", "Interview" (8:51AM);
Joan Baez (introduced by Jack Nicholson): "Amazing Grace"/"We Are the World" (9:02AM);
The Hooters: "And We Danced", "All You Zombies" (9:12AM);
The Four Tops: "Shake Me, Wake Me (When It's Over)", "Bernadette", "It's The Same Old Song", "Reach Out I'll Be There", "I Can't Help Myself (Sugar Pie, Honey Bunch)" (9:33AM);
Billy Ocean: "Caribbean Queen", "Loverboy" (9:45AM);
Black Sabbath (introduced by Chevy Chase): "Children of the Grave", "Iron Man", "Paranoid" (JFK 9:52AM);
Run-D.M.C.: "Jam Master Jay", "King Of Rock" (10:12AM);
Rick Springfield: "Love Somebody", "State of the Heart", "Human Touch" (10:30AM);
REO Speedwagon: "Can't Fight This Feeling", "Roll With The Changes" (10:47AM);
Crosby, Stills and Nash: "Southern Cross", "Teach Your Children", "Suite: Judy Blue Eyes" (11:15AM);
Judas Priest: "Living After Midnight", "The Green Manalishi (With The Two-Pronged Crown)", "You've Got Another Thing Comin'" (11:26);
Bryan Adams (introduced by Jack Nicholson): "Kids Wanna Rock", "Summer Of '69", "Tears Are Not Enough", "Cuts Like a Knife" (12:02PM);
The Beach Boys (introduced by Marilyn McCoo): "California Girls", "Help Me, Rhonda", "Wouldn't It Be Nice", "Good Vibrations", "Surfin' USA" (12:40PM);
George Thorogood and the Destroyers: "Who Do You Love" (with Bo Diddley), "The Sky Is Crying", "Madison Blues" (with Albert Collins) (1:26PM);
Simple Minds: "Ghost Dancing", "Don't You (Forget About Me)", "Promised You A Miracle" (2:07PM);
The Pretenders: "Time The Avenger", "Message Of Love", "Stop Your Sobbing", "Back On The Chain Gang", "Middle of the Road" (2:41PM);
Santana and Pat Metheny: "Brotherhood", "Primera Invasion", "Open Invitation", "By The Pool"/"Right Now" (3:21PM);
Ashford & Simpson: "Solid", "Reach Out and Touch (Somebody's Hand)" (with Teddy Pendergrass) (3:57PM);
Madonna (introduced by Bette Midler): "Holiday", "Into The Groove", "Love Makes The World Go Round" (4:27PM);
Tom Petty and the Heartbreakers (introduced by Don Johnson): "American Girl", "The Waiting", "Rebels", "Refugee" (5:14PM);
Kenny Loggins: "Footloose" (5:30PM);
The Cars: "You Might Think", "Drive", "Just What I Needed", "Heartbeat City" (5:49PM);
Neil Young: "Sugar Mountain", "The Needle and the Damage Done", "Helpless", "Nothing Is Perfect", "Powderfinger" (6:07PM);
The Power Station: "Murderess", "Get It On" (6:43PM);
The Thompson Twins: "Hold Me Now", "Revolution" (with Madonna, Steve Stevens and Nile Rodgers) (7:21PM);
Eric Clapton (with Phil Collins): "White Room", "She's Waiting", "Layla" (7:39PM);
Phil Collins (after having flown the Concorde from the UK to USA) – "Against All Odds (Take A Look At Me Now)", "In The Air Tonight" (8:04PM);
Led Zeppelin Reunion: (with Jimmy Page, Robert Plant, John Paul Jones, Tony Thompson, Paul Martinez, and Phil Collins) – "Rock and Roll", "Whole Lotta Love", "Stairway To Heaven" (8:13PM);
Crosby, Stills, Nash & Young: "Only Love Can Break Your Heart", "Daylight Again"/"Find The Cost of Freedom" (8:40PM);
Duran Duran: "A View to a Kill", "Union Of The Snake", "Save A Prayer", "The Reflex" (8:50PM);
Patti LaBelle: "New Attitude", "Imagine", "Forever Young", "Stir It Up", "Over The Rainbow", "Why Can't I Get It Over" (9:20PM);
Hall & Oates: "Out Of Touch", "Maneater", "Get Ready" (with Eddie Kendricks), "Ain't Too Proud To Beg" (with David Ruffin), "The Way You Do The Things You Do", "My Girl" (with Eddie Kendricks and David Ruffin) (9:50PM);
Mick Jagger (with Hall & Oates / Eddie Kendricks / David Ruffin): "Lonely At The Top", "Just Another Night", "Miss You", "State Of Shock"/"It's Only Rock 'n Roll (But I Like It)" (with Tina Turner) (10:15PM);
Bob Dylan, Keith Richards and Ronnie Wood: "Ballad of Hollis Brown", "When the Ship Comes In", Blowin' In The Wind" (10:39PM),
Finale: USA for Africa (led by Lionel Richie): "We Are the World" (10:55PM)

Insider Information
The Four Seasons Hotel & The Palace Hotel - Artists Central
There were so many chart-topping artists who came to Philadelphia at the same time that there were not enough Presidential Suites to satisfy the demand. The former Four Seasons (now The Logan Hotel) and Palace Hotel (now the Embassy Suites) on the Benjamin Franklin Parkway were the epicenter of pre-Live Aid festivities for the rock stars. The Four Seasons and the Palace were the two go to hotels for the artists. Hundreds of fans stood on the sidewalks around the hotels which were right across the street from each other on 18th Street, just to try to catch a glimpse of the arriving rock stars, including Mick Jagger and many others.
Live Aid's Rotating Stage: Maximizing the Music
Because there were so many artists, and each act was allocated only about 15-30 minutes on stage, time was of the essence, and the reason behind Live Aid's cool circular rotating stage. Even though the stage and scaffolding were enormous, artists performed on a rather small semi-circle portion of the stage. When one act finished its set, the stage would be manually rotated, and another band would be ready to begin jamming almost immediately on their semi-circle portion of the stage. That is why you will notice that there were these white room screen dividers right behind each artist who was performing which blocked the set-up of the next band to go on thereafter.
Keith Haring Artwork
Backstage at Live Aid, Keith Haring, the visual artist who had created artwork for Live Aid, drew original pieces of art for some of his famous and not so famous fans. These original Harings were drawn on paper and menus at the Hard Rock Cafe which was set-up in a tent backstage providing hospitality to the artists, their support staffs, and VIPs.
Hard Rock Cafe Live Aid - Love All, Serve All Backstage
Years before the Hard Rock Cafe in Philadelphia had opened at 12th & Market Streets, and when Hard Rock was a cool and experiential destination, the Hard Rock Cafe opened a special backstage restaurant at Live Aid, and it served many famous stars, guests and VIPs throughout the day long concert event.
The pop-up Hard Rock was also decorated with many Gold and Platinum albums as well as other music memorabilia, some from the artists performing at Live Aid, in order to give it an authentic Hard Rock flavor. 

A Chance of a Lifetime for Bernard Watson (aka David Weinstein) 
Most 18 year olds who graduated from high school in 1985 (like me) simply wanted to just go experience Live Aid in person. Bernard Watson from Miami wanted to play at Live Aid! So Watson drove to Philly, camped out in JFK Stadium's parking lot for 2 weeks, and relentlessly pursued Live Aid promoter, Bob Geldof, to play at Live Aid. He auditioned in the parking lot, and his persistence paid off when Geldof invited Watson to be the unofficial opening act of Live Aid in Philadelphia, even though Watson had never played for an audience larger than 800 people at his high school in Miami. This 1985 news story is fascinating, including how Watson broke a guitar string, dropped his guitar pick, and had his voice crack. But Watson was unfazed, humble and grateful... the show must go on and it did!
A Life Saving Kidney Transplant for Steve Fallon
Live Aid was all about humanitarian assistance on a global scale, but that took on new and personal meaning at Live Aid for concert-goer Steve Fallon. On the morning of the concert (in an era long before cell phones), Chevy Chase interrupted Live Aid and appealed to the 100,000 in attendance for Steve Fallon to make his way towards the balloon on the left side of the stage. As fate would have it, Steve's father had miraculously received a call from Massachusetts General Hospital in Boston that they had obtained a kidney that matched Fallon's blood type. Time was of the essence to respond and for Fallon to be in Boston to receive the life saving transplant. So, Fallon's father frantically called the concert promoter, Electric Factory Concerts (on a landline), and alerted them of the situation. Fortunately Fallon heard this appeal from Chase, and he made his way to the balloon.  Fallon received a police escort to Philadelphia International Airport to make a 12:45PM flight, and after arriving in Boston at 2PM, he was whisked away to Mass General for his life saving kidney transplant that same day.
Broadcast Battles
On July 9, 1985, The Los Angeles Times published an article entitled "ABC-Westwood War: A Report from the Front". Just days before the legendary Live Aid was set to take place, litigation was filed by Westwood One Radio Networks against ABC Radio in Los Angeles. ABC, including ABC Radio, had recently been acquired by Capital Cities Communications in March 1985, and ABC Radio held the exclusive U.S. radio rights to the Live Aid concerts in Philadelphia and London. However, Westwood One argued that it held the exclusive radio broadcast rights to nine artists appearing in Live Aid, and that ABC radio should be prohibited from broadcasting performances by those artists. The artists named by Westwood One were Tina Turner, Elton John, the Pretenders, REO Speedwagon, Rick Springfield, Bryan Adams, Tom Petty and the Heartbreakers, the Hooters, and Hall & Oates. The L.A. Times also reported that on July 8, 1985, Norm Pattiz, President of Westwood One, speculated that matter would be settled out of court.
To that end, on July 14, 1985, in an article entitled "Radio Wars", Mr. Pattiz reflected,
"What it was was a case where the producer sold a broadcast package that included broadcast rights owned by Westwood One. Our position from the beginning was to find a solution that allowed the artists to be broadcast for a worthwhile cause, without putting ourselves in the position of abrogating our rights and responsibilities to our affiliate stations, advertisers and shareholders."
Chevy Camaro IROC-Z28s Autographed Backstage by Live Aid Artists
At Live Aid in Philadelphia, General Motors and MTV teamed up to promote the 1985 Camaro IROC-Z28 as part of the famous Live Aid Concert, and in Philadelphia, there were two identical IROC-Zs displayed backstage for the artists to autograph.  Really!
About 100 artists and celebrities autographed the Camaros including Mick Jagger and Keith Richards, Rick Springfield, Don Johnson, Patti LaBelle, Duran Duran, The Beach Boys, The Four Tops, Crosby, Stills, Nash and Young and a few appropriately (ironically) named artists, R.E.O. Speedwagon, two members of the Cars and Chevy Chase.
After Live Aid, Chevrolet had these unique cars clear coated so the signatures would be preserved. Then Chevrolet set up a "Drive-Aid Signature Car" tour including more concerts and the GM Auto Show circuit, and one went to the GM Heritage Collection Center.
One of the Camaros for the Cause was awarded through a sweepstakes that was held at the Drive Aid concert in 1986, which was a sister concert and part of the Live Aid effort. A-25-year old computer programmer from Connecticut won the sweepstakes drawing for the IROC Camaro signature car, but he sold it thereafter.
There was so many signatures...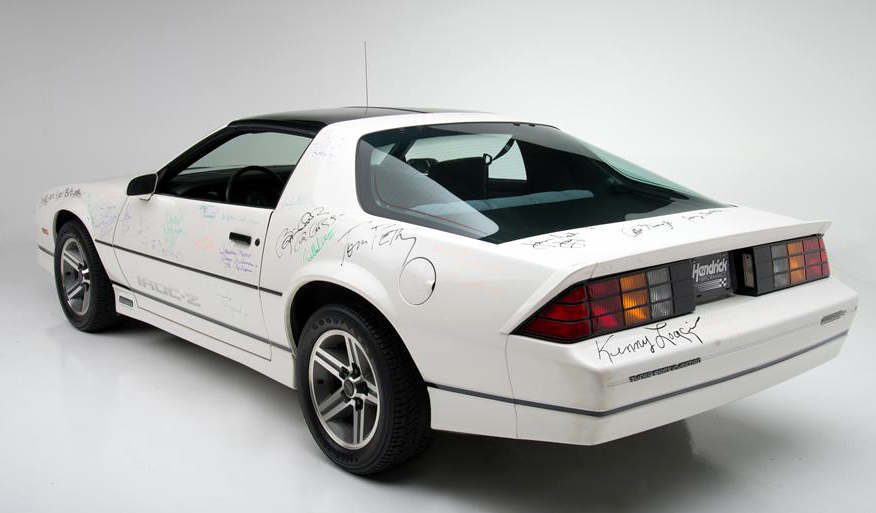 "And in the end, the love you take is equal to the love you make"
6ABC's Action News in Philadelphia (WPVI-TV) reported live JFK Stadium and with live aerial footage from Chopper 6 over JFK Stadium as Live Aid concluded, and the 100,000 fans were exiting the venue shortly after 11PM ET.
MTV's Mark Goodman officially ended MTV's 17+ hour Live Aid concert coverage broadcast with MTV VJs and crew from an empty JFK Stadium in Philadelphia after the 100,000 concertgoers had departed.
Bob Geldof's Tribute
"Please remember this day all of your lives. It's important.
Remember the day you wanted to help.
Remember the bands and crews who did it. The professionals who made it an extraordinary technological feat.
Remember the dying who were allowed to live.
Remember the day you die, there is someone alive in Africa 'cos one day you watched a pop concert.
Remember your tears and your joy.
Remember the love.
Remember that on that day for once in our bloody lives WE WON.
Remember the dying goes on and remember so that as time passes you can tell others 'it's possible I know.'
What a day, what a lovely day!"
-- Bob Geldof, July 1985

Art Imitating Life and Life Imitating Art
Following the October 2018 theatrical release of the biographical motion picture about Queen and Freddie Mercury entitled "Bohemian Rhapsody", The New York Times published an article "When Queen Took 'Bohemian Rhapsody' to Live Aid" and reflected -- "Queen's famous set at the behemoth charity concert Live Aid plays a central role in the Freddie Mercury biopic "Bohemian Rhapsody." This can be seen in the trailer for "Bohemian Rhapsody", and shows how Live Aid has continued to influence future generations given the popularity of that movie which gross about $904 Million in 2018 at the box office.
Sponsorships
Wide World Sports and Entertainment, along with Rockbill, sold various sponsorships for the Live Aid concert events. The main sponsors were Kodak, Chevy, American Telephone and Telegraph Company (AT&T) and Pepsi. According to The New York Times, sponsorships were sold for $750,000 each (cash and in-kind), and in addition to signage (6'x12') at the concerts, the sponsors also received 12, :30 commercials on MTV and 125 independent TV stations across the United States.
Coca-Cola purchased a separate sponsorship for $360,000 from ABC Radio Network for its 18 hours of live concert broadcast coverage from 6AM-12Midnight. However, Coca-Cola only aired 9 minutes of radio commercials throughout the entire day, even though they were entitled to receive many more commercials. Ironically, just days before Live Aid, The New York Times reported that "Coca-Cola, which was to have been the major advertiser on the ABC-TV Network's three hour prime-time [TV] coverage of the highly publicized Live Aid telethon of rock stars Saturday, withdrew its involvement yesterday [July 9, 1985]." The New York Times continued, "It is understood that the reason for Coke's withdrawal is the existence of signs for competitive products in the Wembley Stadium in London..." In 1985, event sponsorship was really coming of age and was not nearly as sophisticated as it is today, and to that end, this fascinating video featuring Bob Geldof discussed how he got Coke and Pepsi to co-sponsor different parts of Live Aid.
Looking Back
Christmas 2004 - 20 years after Band Aid, and the Live Aid 10-hour, 4-disc DVD boxed set was released. In the brochure was a poignant tribute,
"Technologically it is hard to now comprehend what a feat it was to broadcast the first absolutely live all day multi-artist concert to the whole world. In 1985 there were no mobile phones and barely any fax machines. The laboriously punched ticker tape of the telex was the standard form of written international communication. In many countries international phone calls still had to be booked, sometimes hours in advance through the operator. Computers were outside the experience of most ordinary people. The email was a future dream.

Yet simultaneous concerts on two continents were coordinated. Global television schedules were cleared. Concorde was put on standby. Even the Space Shuttle astronauts were lined up to make a contribution. Twenty years on Live Aid remains unrivaled. Even now. And the new ways of thinking and behaving it pioneered -- in broadcasting, political lobbying and fundraising -- have become taken for granted as our norms.

It was without understanding itself to be, the first inkling that we now live in a globalised world. Its lingua franca [common language] was pop music. And its distinctive message was the need for change.

Music, culture and politics became one."

Promotional Announcements
In advance of the Live Aid concert in Philadelphia, John DeBella from WWMR's Morning Zoo recorded various TV ads on WTAF-TV 29 (today Fox 29).
Author's Note by Jon Bari, President of The Constitutional Walking Tour
When I was a senior in high school in Spring 1985, I started my internship at WMMR-FM in Philadelphia. I fell in love with radio, and it was an amazing journey in which I learned about the industry from the ground up: programming, music, promotion, research and sales. I was so fortunate to get that coveted internship at the Home of Rock and Roll, 93.3 W-M-M-R, PHI-LA-DEL-PHI-A! Little did I know it at the time, but I was in for a life changing experience. One of the many highlights that I had was the opportunity to not only attend Live Aid, but also be backstage at Live Aid - the day music changed the world. I wish that I would have saved my original Keith Haring sketch he had made for me and others that day. When I started my freshman year in college in September 1985 and I would tell people I was from Philadelphia, the first question that I was asked was whether I had attended Live Aid. In this article, I have tried to capture many of my fond memories of that once in a lifetime experience that took place in an era long before the Internet and everyone had mobile phones and social media. Looking back, Live Aid was surreal and transformative in so many respects. In addition to continuing to intern at WMMR while I was in college, I also worked as a College Representative for Capitol Records and EMI. After college, I worked in sales and promotions at other Philadelphia radio stations including Eagle 106 (WEGX-FM) and Q102 (WIOQ-FM), before going to business school and becoming part of the launch team for Comcast PC Connect/Comcast @Home, which today is better known as Xfinity Internet.