One of Philadelphia's oldest neighborhoods is filled with youthful energy
The History
Fishtown's history is a bit fuzzy in its origin and is tied very strongly to the history of another nearby historic Philadelphian neighborhood, Kensington.  In 1704 a merchant of English descent from Barbados named Anthony Palmer arrived in the then barely 20 year old city of Philadelphia.  A successful merchant, he purchased 582 acres of land for the modest sum of 500 Barbados pounds.  Palmer lived on the land and periodically purchased neighboring properties to enlarge the size of his estate.  As Philadelphia grew and prospered over the next 30 years from a small town of a few thousand people into one of the largest and wealthiest cities in the entire British Empire, the tract of land Palmer had purchased was suddenly much more valuable.  
Palmer, now a wealthy member of the Pennsylvania council, sold off a section of land to finance the founding of a new town.  Palmer called the town Kensington after an area of London called Kensington Gardens and began laying out and selling properties for his fledgling town in 1729.  Located right on the Delaware River, Kensington quickly grew as a center of Philadelphia's ship building industry.  But while the economy of Kensington mostly centered on shipbuilding and other shipping related industries, in the south western corner of Kensington which was bordered by the Delaware River and the former Cohocksink Creek, the economy of note was shad fishing.  Shad, a fish somewhat similar to the Salmon, was a large industry in colonial Philadelphia as natives not only enjoyed eating the bony fish itself, but had a particular affinity for the Shad roe that was found in pregnant female shad fish.  As this corner of Kensington became more and more associated with the shad fishing industry, it gained a nickname, Fishtown.
Who, when, and how Fishtown gained its name is disputed by this point.  Popular legend for many years had it that the neighborhood was named by a visiting Charles Dickens in 1842, but the earliest known usage of the term Fishtown to describe the neighborhood dates back decades earlier, before Dickens was even born.  Whoever gave Fishtown its name, it stuck.  The neighborhood was still called Fishtown even after industry turned the Cohocksink Creek into a highly polluted urban sewer and Fishtown's shad fishing industry died.  It even remained the name of the neighborhood in 1854 when Fishtown, the rest of Kensington, and 28 other cities and towns were consolidated into present day Philadelphia.  By the turn of the 20th century Fishtown's fishing industry may have been long gone but the town buzzed with all different kinds of industries.  Fishtown was filled with factories producing everything from textiles to beer and surrounding those factories was thousands of modest two story row homes that housed the Irish, Polish, and German immigrants who came to Fishtown to work in its factories and live the American dream.
As Fishtown's many factories and industry began to move overseas in the mid-20th century, Fishtown became a working class neighborhood without any jobs and poverty became an increasingly burdensome problem.  But in the past decade Fishtown has been reborn.  Located along the Delaware River and just minutes away from Center City Philadelphia, Fishtown became a cost effective alternative for those who wanted to live the big city life without the big city prices.  Today Fishtown is filled with young families, college students, artists, professionals, and of course many of the same families that have lived in the neighborhood for generations.  Filled with eclectic businesses and popular nightlife destinations, Fishtown has become one of the most exciting neighborhoods in the city.
What to See
If you want to pay tribute to the true spirt of old Fishtown, head over to the Delaware River front to
Penn Treaty Park
. There you can actually once again fish for shad as the fish has returned to the Delaware River's no longer polluted waters.  Penn Treaty Park is said to be the place where William Penn met with the Leni Lenape after his arrival to the Philadelphia.  Said to have taken place under a great Elm tree, Penn and the Quakers made peace with the Leni Lenape in this historic meeting.  Today an obelisk stands where the "Treaty Elm" once stood.  
If the peace and quiet of Penn Treaty Park has you looking for a bit more excitement, you can head just south of the park to the
Sugar House Casino
.  If a casino isn't really your style, there are plenty of other night life options.  At
Johnny Brenda's
on Frankford and Girard, you can enjoy one of the many local beers that are on tap.  You can also head upstairs and see a live show in their live performance space which accommodates up to 250 people!  For a more low key nightlife option, continue north on Frankford Avenue to
Frankford Hall
.  This Steven Star bar and restaurant is a take on a traditional German "biergarten."  Food offerings include German favorites like bratwurst and Bavarian dumplings and on a nice day guests can sit outside in a beautiful tree convered courtyard filled with picnic tables.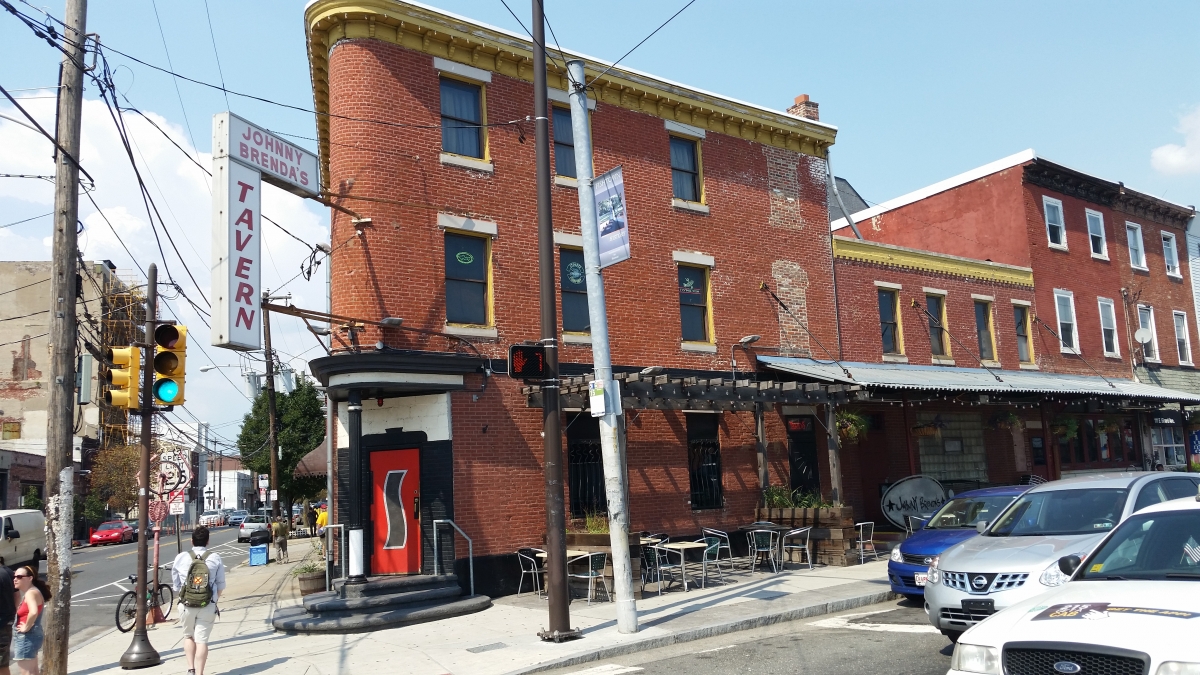 Aside from bars and live music venues, Fishtown is also home to a vibrant artistic community and is home to a number of art galleries.  And if you're looking for something truly unique, head over to Pizza Brain to see the world's largest collection of pizza memorabillia.  Owner Brian Dwyer dubs it the world's first Pizza Museum and which includes just about anything related to pizza.  If looking over the world's largest collection of Pizza memorabillia makes you hungry for some pizza, don't worry, Pizza Brain is also an artisan pizzeria that serves up some of
America's best pies.
Insider Tips
Due to Pizzeria Beddia's somewhat unusual business plan, there is perhaps no pizza place on earth that is more poorly positioned to take advantage of the wave of new customers that will arrive after being named the best pizza in America.  For starters, there is no phone in Pizzeria Beddia, so that means all orders have to be made in person.  There are also only three real options on the menu which includes a classic tomato pie with a few choices of toppings, a spicy arrabbiata pizza, and a rotating specialty pizza. Also, the dough for Pizzeria Beddia is personally hand made by shop owner Joe Beddia and requires days of fermentation to achieve perfection.  Due to this, there are only 40 pizzas available at Pizzeria Beddia a day, which are produced in only one size and have a strick limit of two pies per group of customers.
But none of this matters to the people have tried this pizza. Beddia's handmade dough is the highlight of truly unique pizza experience that keeps customers coming back for more.  The pizza is so good at Pizzeria Beddia that customers routinely arrive up to two hours in advance of their 5:30PM opening to make sure they secure one of the only 40 pies that are available for purchase each day.  Now that Pizzeria Beddia has gained the fame of being named America's best pizza, there's no telling how long you'll have to wait to secure a pie.  But there's also no doubt that this pizza is worth the wait.
How to Get There
For guests of
The Constitutional Walking Tour
, the best way to get from the
National Constitution Center
, where all of tours begin and end, to Fishtown is by taking public transit.  Just one block south of the National Constitution Center is the 5th Street Station of the
Market-Frankford Line
, take the eastbound train and get off at Girard Station, to your east will be Fishtown.  You can also certainly drive to Fishtown, though be aware that on street parking can be limited and besides a few near the Delaware River front there are not many public parking lots in the neighborhood.  Walking from Old City to Fishtown would take roughly 30-45 minutes depending on your pace, but by walking north on 3rd and then turning east to Girard you'll be able to see some interesting parts of Old City and Northern Liberties on your way to Fishtown.
Hours
Varies depending on business
Additional Information
1210 Frankford Avenue
Philadelphia, PA 19125
215.634.3338
1201 Frankford Avenue
Philadelphia, PA 19125
215.739.9684
Delaware Avenue and Beach Street
Philadelphia, PA 19125
Pizza Brain
2313 Frankford Avenue
Philadelphia, PA 19125
215.291.2965
115 E. Girard Avenue
Philadelphia, PA 19125
1001 N. Delaware Avenue
Philadelphia, PA 19125
877.477.3715