Tickets to see the inside of Independence Hall are certainly cheaper (free) and slightly easier to get than tickets to see the Philadelphia Eagles or "Hamilton the Musical", but it is still best to plan ahead when visiting Philadelphia so that you get to see the inside Independence Hall on the day and time of your choice. This is really "the room where it happened."
Related Posts:
The Basics - Free Tickets
Independence Hall is open the public, and every visitor receives a free 30 minute guided tour by a National Park Service Ranger. That's part of the beauty of Independence Hall and also part of the reason why a visit can be a little challenging.  There are lots of people who would like to visit this hallowed hall every day, but only about 80 people are allowed on each tour (which run every 15-20 minutes).  This blog will explain the ins and outs of securing your tickets in advance, getting your tickets on the same day of your tour, and if you're feeling lucky, we'll even give you some tips on how to try to visit Independence Hall without a ticket!
January to February 
There are no tickets required to take a tour and see the inside of Independence Hall.  This is because visitation to Independence National Historical Park is lighter in the Winter, and it is considered off-season time of year, but there are still so many great sites to see.
March to December
Tickets to see the inside of Independence Hall are required from March to December, and these tickets are for timed entry on a specific day and time.  
While there are a limited number of tickets available every day from March to December (except Christmas when Independence Hall is closed), the good news is that tickets for Independence Hall are free.  There are two official ways to get tickets to Independence Hall: 1) advance reservations and tickets ($1.50 service fee per ticket), or 2) walk up tickets on the day of your visit (free).  
Advance Reservations and Ticketing
The best way to assure that you get to visit Independence Hall exactly when you want to is to reserve your tickets in advance online.  Here's how to get your tickets:
Visit the recreation.gov web site, by clicking here (or call toll free at 877.444.6777 from 10AM to 10PM (Eastern Time)) 
Everyone in your group needs a ticket, including infants.
While the tickets are free, there is a non-refundable $1.50 service fee for each ticket that you reserve through the recreation.gov Web site.
Once you reserve your tickets, you will receive a confirmation letter with a reservation number. 
Reserved tickets must be picked up the day of your tour at the "will-call" desk Independence Visitor Center at 6th and Market Streets, at least 45 minutes before your scheduled tour on the day of your visit (make sure to bring your reservation number and identification). The Independence Visitor Center opens at 8:30AM every day of the week (except Thanksgiving and Christmas).
Keep in mind that while everyone picks up their Independence Hall tickets from the same desk at the Independence Visitor Center, there are two different lines: 1) for those who have reserved their tickets in advance online or by phone, and 2) for those who are trying to secure walk-up tickets on a first come, first served basis. The Will Call line is the express line that is generally short or non-existent, so if you have a reservation number and you find yourself in a long line, please confirm that you are in the right line.
Tickets not picked up 45 minutes prior to the scheduled tour time will be released to walk-up visitors. For example, if your tickets are for 11:00AM, you must pick your tickets up by 10:15AM on the morning of your visit.
If your preferred day and time slot is not available online in advance, do not worry. It is still possible that you might be able to get tickets on the day of your visit. See below.  
Walk Up Tickets on the Same Day of Your Visit (No Advance Reservations)
The National Park Service releases a limited number of same day tickets to Independence Hall for people without advance reservations to pick up on a first come, first served basis. If you are looking to secure tickets without a reservation on the day of your visit, you should plan to arrive to the Independence Visitor Center at 6th & Market Streets as early as possible in the day to increase your chances of getting tickets. Keep the following in mind:
The Independence Visitor Center opens at 8:30AM every day of the week (except Thanksgiving and Christmas), and there is often a line outside of the building with people waiting to go inside and get tickets for Independence Hall. 
The line for Independence Hall tickets forms in front of the East entrance of the Independence Visitor Center which is on the side of the Visitor Center facing 5th Street. 
One person may pick up a maximum of ten (10) tickets for a family or small group.  We suggest that groups of more than 10 should all wait in line to increase your chances that everyone gets a ticket.
Some of the VIP tour packages that we offer also include tickets to Independence Hall, pending availability, for no extra cost.  Contact us at 215.555.1776 or email us at info@theconstitutional.com.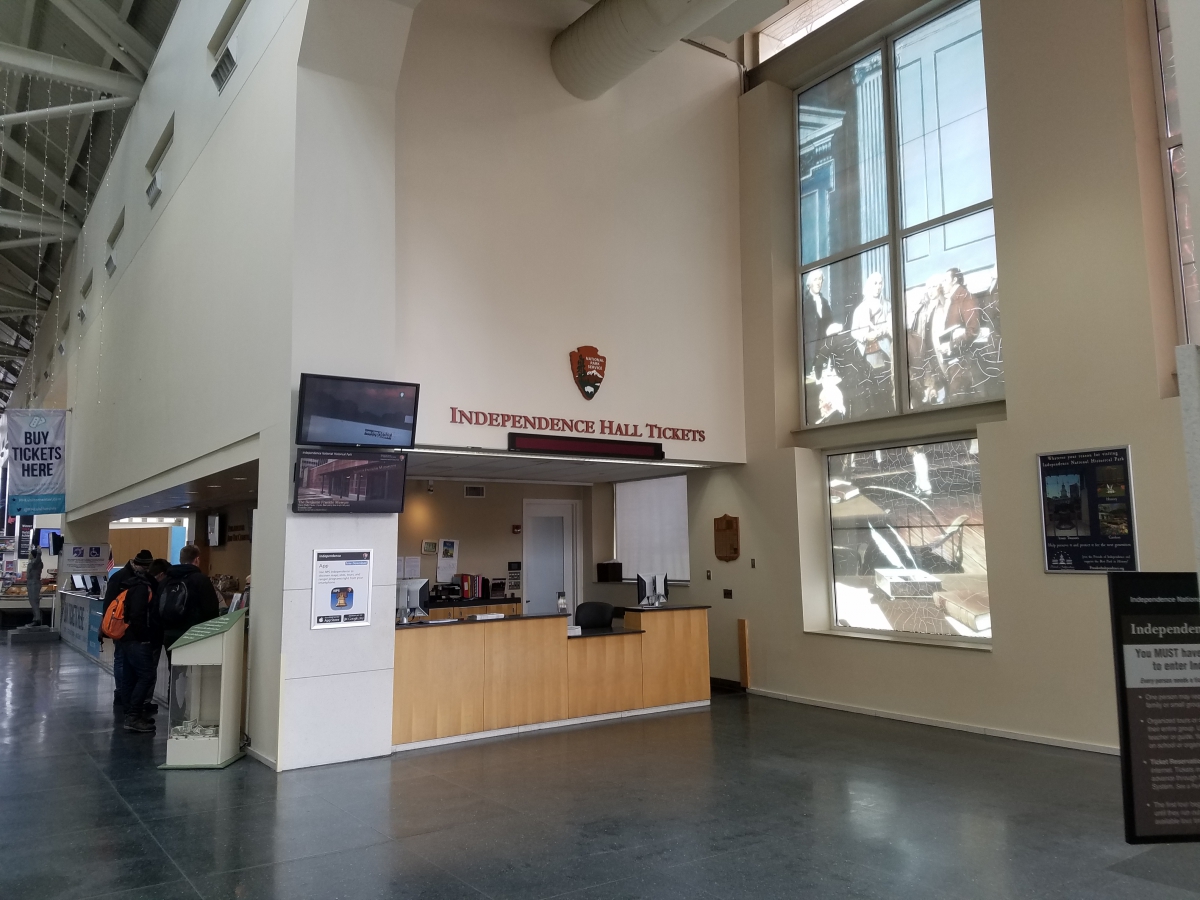 Ticketless Times: Summer Hours and Holidays
There are certain days and times when you do not need a ticket to visit Independence Hall.
During the Summer, Independence Hall offers extended hours when it is open until 7PM.  Between 5PM and 7PM, there are no tickets required to take a tour of Independence Hall.
The dates when Independence Hall switches between regular and Summer hours are determined by the National Park Service, and are not announced more than a few months in advance.  Generally though, Summer Hours start sometime in mid-June and extend to the beginning of September.
In 2018, Summer hours are offered through September 3rd.
There are also no tickets required on Thanksgiving Day, Christmas Eve, or Independence Day (Fourth of July).  On Thanksgiving Day and Christmas Eve day, Independence Hall is only open from 9AM to 3PM, and it is closed on Christmas Day.
During time periods when tickets are not required, you should proceed directly to the security line.  Once you clear security, a line will begin to form in the courtyard behind Independence Hall to enter the building and take the tour.
Stand By Access to Independence Hall Without a Ticket
If tickets to Independence Hall are "sold out" for the day and time you want, there is a chance you still may be able to receive a tour.
Eighty tickets are given out for each tour time, but just because 80 tickets were given out, that does not mean that all 80 people with those tickets will show up on time to see their tour.  When someone with a ticket for a designated day and time slot is a no show, the Park Rangers may let guests without a ticket in to visit Independence Hall.
If you are trying to visit without a ticket, go through security and find the National Park Service Ranger collecting tickets in the courtyard behind Independence Hall. Politely let the Park Ranger know that Independence Hall tickets were sold out, and you were hoping to take the Independence Hall tour if there is any extra room available from no shows. 
The smaller your party is, the more feasible this plan may be.  It may be more likely that a couple of people do not show up for their designated tour; however, it is less likely that 20 people do not show up.
Larger groups should split up to increase their odds that they'll all be able to fit in a tour group of Independence Hall and groups attempting to view the hall through this method should be prepared to wait a few tours to see if any spots become available.
Group Tickets
If you are visiting with a group larger than 8 people, please
click here
to learn more about the group tour ticketing to Independence Hall. 
Security Line
Once you have your tickets, you and your entire party should arrive at the Independence Hall security screening line at least 20-30 minutes before the scheduled start time of your Independence Hall tour.  When picking up your tickets at the Independence Visitor Center, the Park Ranger may alert you to increased wait times and advise getting in the security line even earlier.
The security screening line to access Independence Hall begins at the corner of 5th and Chestnut Streets.  You will see signs pointing you to the entrance like those in the photo below.
Be prepared for airport level security screening.  
While phones and cameras are allowed, you cannot bring any weapons into Independence Hall, including small pocket knives.  
While you can bring in sealed water bottles or packages of food in a bag, you are not allowed to bring in any beverage that cannot be sealed and placed in a bag, nor any open food products.
Once you have cleared security, you will see the area where people lining up for the next tour of Independence Hall.
Bathrooms
Go to the bathroom in advance of getting in the security screening queue.  There are nice new restroom facilities at the Independence Visitor Center, just a block away.  There are no restrooms inside Independence Hall or the secured area that surrounds Independence Hall.
Insider Tips
Once you've gotten through security, you must remain within the secure gated area while you wait for your tour to start.  If you leave the gated area, the only way to obtain reentry is to wait in line and go back through security.
If you get through security earlier than expected, there are things you can see including the West Wing which contains and original printed copy of the Declaration of Independence or Congress Hall, which is where the United States Congress met from 1790 to 1800.
Planning Your Visit to Historic Philadelphia
The Constitutional Walking Tour of Philadelphia
is an outdoor walking journey that provides a primary overview of the Independence National Historical Park area and visits more than 20 of the most historic sites in America's Birthplace including the Liberty Bell, Independence Hall, Franklin Court, Betsy Ross House and the National Constitution Center.  Often times, visitors taking The Constitutional Walking Tour may choose to visit certain sites such as Independence Hall before or after The Constitutional. You can buy tickets by clicking on the "Buy Tickets" button, or by calling
215.525.1776
.
If you want to learn more about the incredible history of Independence Hall,
click here
, for our blog all about this hallowed Hall and its importance to the American Revolution.
Good luck and enjoy your tour!  
Additional Information
Independence Hall
520 Chestnut Street
Philadelphia, Pa 19106
215.965.2305