Related Posts:
Hamilton's time in Philadelphia
The History
With the great success of "Hamilton, An American Musical", with music and lyrics by Lin-Manuel Miranda, it seems interest in the man who adorns our nation's ten dollar bills has never been higher. But even those who saw the Broadway play about the life of Alexander Hamilton, may be unaware that many of the major events depicted in the play took place right here in Philadelphia. Philadelphia has changed quite a bit since Alexander Hamilton lived here, but if you know where to look, you can see traces of Hamilton all around Old City.
Hamilton was originally born in the British West Indies before traveling to New Jersey in 1772 in pursuit of an education. Hamilton would eventually attend college in New York City, but the outbreak of the Revolutionary War in 1775 led to Hamilton joining a New York volunteer militia company and eventually the Continental Army. Hamilton would rise to the rank of General George Washington's chief staff aide and would command a New York infantry battalion in the battle of Yorktown. But then as the Revolutionary War was coming to a close in 1782, Hamilton became a New York Representative to the Congress of the Confederation, causing Hamilton to travel to the then United States Capital of Philadelphia, a city he would call home for much of the next 15 years of his life.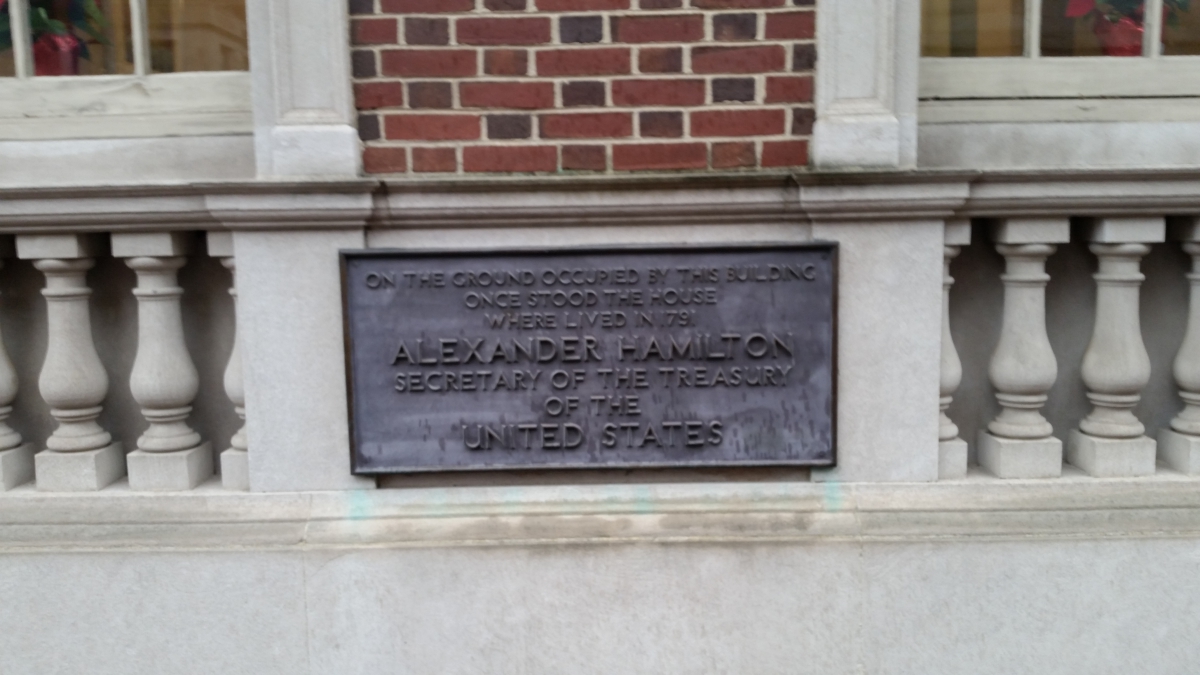 Not only did Hamilton live in Philadelphia while a member of the Congress of the Confederation, Hamilton also lived in Philadelphia during the summer of 1787 while a member of the Constitutional Convention. It was at Independence Hall during the Constitutional Convention that Alexander Hamilton would help to shape the United States Constitution.  The new government created by the United States Constitution would spend much of its formative years here in Philadelphia, as this city served as Capital of the United States under the U.S. Constitution from 1790 to 1800. During the early years of the Constitution, Hamilton lived here in Philadelphia as he had earned the role of Secretary of the Treasury in George Washington's administration.
What to See
If you're looking to explore Hamilton's Philadelphia, arguably the first place you should head to is
Independence Hall
. Independence Hall is the birthplace of America and a very important site for many of this country's founders. In 1782 when Hamilton received his first political position as a representative of New York in the Congress of the Confederation, he would have worked in Independence Hall. In 1783, a force of roughly 500 Pennsylvania Militia soldiers mutinied against the United States Government in Philadelphia.  Hundreds of soldiers surrounded Independence Hall and demanded payment for their military service. Despite Hamilton's political inexperience at the time, he was chosen to negotiate with the soldiers and convince them to stand down. Hamilton would return to Independence Hall in 1787 to help draft and sign the United States Constitution. On a visit to Independence Hall today, you are able to enter the assembly room which is set up to look just as it did in 1787 when Hamilton signed the United States Constitution.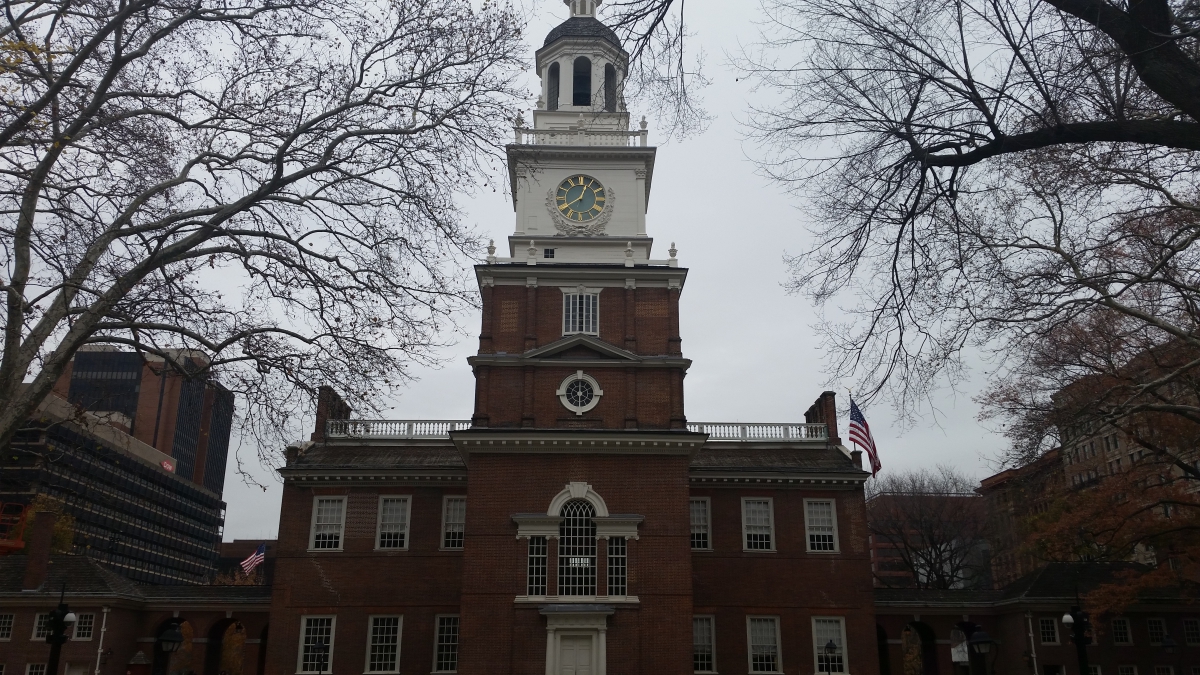 While Independence Hall is the most notable site in Philadelphia related to Alexander Hamilton and perhaps the easiest to visit, there is still plenty more to see for those interested in Hamilton. From 1789 until 1795 Alexander Hamilton was the Secretary of the Treasury in President George Washington's cabinet. Throughout much of this time Hamilton worked in a two story brick building located just a few blocks away from Independence Hall on South 3rd Street. While the building that housed Hamilton's offices no longer stands today, a plaque commemorates its presence. The Treasury Department was at this time the largest executive department created by congress and it was Hamilton who shaped it in these critical early years of this country's history. Washington trusted Hamilton enough that it was Hamilton,not Washington, that shaped much of the economic agenda during most of Washington's presidency. While some of Hamilton's economic policies proved to be controversial, he had great success in implementing them and receives much credit today for stabilizing the economy of the United States after years of economic turmoil that directly followed the American Revolution.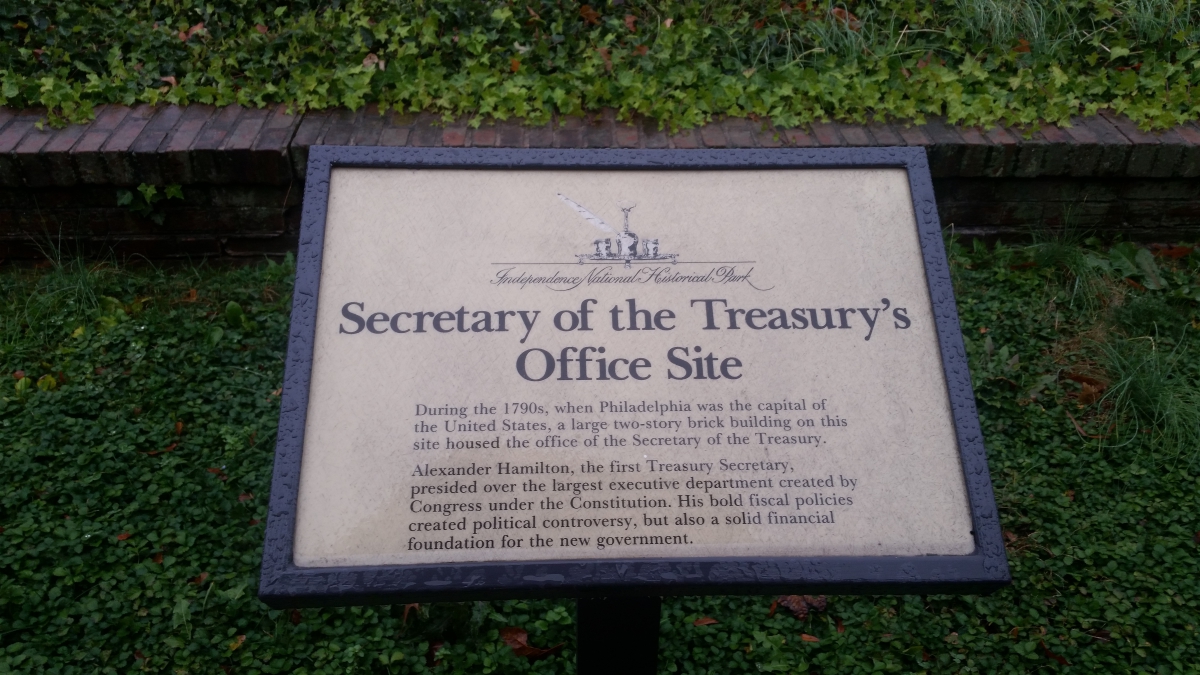 Arguably Hamilton's greatest political victory was the establishment of a federal banking system.  Hamilton's banking system was criticized by small government focused southern agrarians such as James Madison and Thomas Jefferson, and sparked the nation's first great Constitutional Debate. Despite the political controversy, Hamilton would eventually convince both George Washington and Congress to support his plan. The resulting First Bank of the United States still stands on South 3rd Street today, not far from the location of Hamilton's treasury office.  It was also during his time as Secretary of the Treasury that Hamilton convinced Congress to pass the coinage act of 1792 which resulted in the creation of the United States Mint. Today the
United States Mint
is located on North 5th Street and is open to the public for free tours.  But the current United States Mint in Philadelphia only dates back to 1969 and is the 4th United States Mint in Philadelphia.  The original location no longer stands today but a plaque commemorating its former location can be found at 631 Filbert Street (near 7th & Flibert Streets).
While none of the residences Hamilton lived in during his many years in Philadelphia still stand today, a property on the 200 block of Walnut Street has a large plaque commemorating the location of where Alexander Hamilton once lived with his wife Elizabeth. 
Insider Info
If you're interested in learning more about Hamilton and his time in Philadelphia you can join us on
The Constitutional Walking Tour
.  Both Independence Hall and the First Bank of the United States are visited on our standard tour.  If you're really interested in a deep dive into the life of Alexander Hamilton in Philadelphia though, you should consider booking a private
V.I.P. Tour
.  On our V.I.P. Tours, guests receive their own private guided tour of Philadelphia that will accommodate your exact needs. So if you want a tour that focuses on Alexander Hamilton and shows you all of the locations mentioned in this blog, we would be happy to arrange that for you. And don't worry, if you'd rather focus on another individual or topic besides Alexander Hamilton, we can do that too!
How to Get There
Throughout much of Hamilton's time in Philadelphia, he lived and worked within just a few square blocks of Philadelphia centered upon Independence Hall, where the U.S. Government was set up in Philadelphia. Guests of the Constitutional Walking Tour will find all of the locations mentioned in this blog just a few short blocks away from the
National Constitution Center
where all of our tour begin and end. There is plenty of parking in the area for guests arriving via automobile and the area is well served by public transit with the closest subway stop located at
5th and Market Streets
.
Hours
Vary by site, not all locations mentioned in this blog are open to the public.
Additional Information
520 Chestnut St
1.877.444.6777
First Bank of the United States
116 South 3rd St,
215.965.2305
Secretary of the Treasury Office Site
South 3rd Street (Between Chestnut and Walnut on the West Side of the Street)
Site of Alexander Hamilton Residence
200 Block of Walnut Street (South Side)
Site of First United States Mint
North 7th Street (Between Market and Arch Street on the East Side of the Street)