Guest Blogger: Andrew Terranova, Concierge, Sofitel Philadelphia
Related Posts
As a concierge in Philadelphia, I get asked a lot of the same questions over and over again. "How do I get to the Rocky Steps?" or "Where do I get the best cheesesteak?" My favorite question though, is when people ask me about trips to Lancaster County. I spent my teens to my early 20's living in Lancaster and still go back frequently to see friends and family. It truly is some of the most beautiful countryside on earth, so I'm always thrilled to field this question from guests. There are some tours available through companies here in Philadelphia, but I always suggest that guests rent a car and drive out there on their own, getting lost on the placid backroads and experiencing all the charm and warmth of PA Dutch Country individually. I decided I would make an itinerary for guests to use as a roadmap and I personally tested it out recently to see how well it worked. I really hope you enjoy taking a trip with me through my hometown of Lancaster, Pennsylvania.
Fast Facts about Lancaster County:
Lancaster city was founded in 1729.
On September 27, 1777, Lancaster city enjoyed its spot in the sunlight as Capital of the USA for one day when the U.S. Congress fled from Philadelphia because of the British occupation in Philadelphia.
The population of Lancaster County is a little over half a million people, according to the 2010 Census.
Lancaster was Capital of Pennsylvania from 1799 to 1812, after which the Capital was relocated to Harrisburg.
The 15th President of the USA, James Buchanan, is from Lancaster. You can visit his Wheatland Estate to this day.
Lancaster was awarded the prestigious title of an "All-America" city by the National Civic League in 2000.
Although Lancaster is called "Pennsylvania Dutch Country," that is actually a misnomer. When the Amish came from Germany, people confused the German "Deutsch" with "Dutch."
Stop 1 – Kitchen Kettle Village, Intercourse, PA.
Taking historic Route 30 from Philadelphia is the best bet to start the trip. This will shoot you almost straight to the hub of Amish Country, Intercourse, Pennsylvania. Yes, that's really the name. Intercourse was founded in 1754. The community was originally named Cross Keys, after a local tavern. Intercourse became the name in 1814. This is where you'll see many Amish buggies. The Amish buggies are always grey, while the Mennonite buggies (the Mennonites are the more liberal Anabaptist sect of the Amish who can drive cars and use modern conveniences) always are seen in black buggies. In Intercourse, on Old Philadelphia Pike, you'll find Zimmerman's Grocery Store, which movie buffs may remember from the movie Witness, starring Harrison Ford.
A quarter mile from Zimmerman's is lovely Kitchen Kettle Village. This quaint little market place village may be kitschy and touristy, but it is a necessity. You'll find local artisans with handmade goods, like leather workers and furniture makers, and then the crown jewel – the BAKERY. When you hit an Amish bakery, you are in sweet tooth nirvana. I bought a plethora of whoopie pies for some friends and coworkers back in Philadelphia. Whoopie pies are my favorite Lancaster snack. Like giant Oreos, these Amish traditional deserts are a sandwich of soft chocolate cake with a creamy vanilla filling in-between. You can get them in red velvet, pumpkin or peanut butter, but the best for me is the original chocolate. You can also find delicious pickles, pickled beets, pickled radishes, and pickled anything at Kitchen Kettle Village. My favorite selections are the jams, with old fashioned apple butter being the best of the bunch. And I'd be remiss not to admit that the traditional Amish shoo fly pie is a Lancaster favorite. A great place to eat your whoopie pies is right in the Village while staring out lazily into the hazy countryside and farmland. It's a very peaceful way to experience the bucolic charms of Lancaster County.
Kitchen Kettle Village
3529 Old Philadelphia Pike
Intercourse, PA 17534
1.800.732.3538
Stops 2 & 3 – Lancaster Central Market/Isaac's Restaurant
From Intercourse, we headed about 20 minutes into downtown Lancaster. When I lived in Lancaster many moons ago, downtown was not the very vibrant, happening place it is today. But with a major capital campaign to rejuvenate the central downtown core, Lancaster city is a lot more fun and atmospheric, with great boutiques, quaint coffee houses, a popping bar scene, art galleries and world-class restaurants. Throughout it all, Lancaster Central Market has stood the test of time and been a major attraction right in the heart of the city since 1730, making it the oldest continuously operating public farmer's market in America. On this spot in the 1700's, farmers would cart their hauls from the fields of the surrounding fruitful land to the center of the new municipality and sell their goods in an open field. This early market was instrumental in King George II designating Lancaster as an official market town, and not much has changed almost 290 years later.  And upon its official charter as a borough in 1742, the royal decree proclaimed Lancaster was to hold "two markets in each week… of the year forever in the lot of ground already agreed upon for that purpose and granted for that use."
Even today, Lancaster is known as a market town – supplying produce, poultry and dairy products to some of the finest restaurants in Philadelphia, Washington D.C. and New York City. Each week, around 3,000 locals and tourist visit this Lancaster hot spot. National Geographic recently named Central Market as one of their travel favorites. It was also named one of America's 10 greatest public places by the American Planning Association, and was listed as one of the ten best fresh markets in the world by CNN in 2013.
The current market building is housed in the 1889 shed designed by English architect James Warner. The terracotta topped towers, red brick and slate rooftop has made Central Market a unique and photogenic symbol of Lancaster city. Enjoy the many fantastic offerings the Amish and Mennonite people have to sell! You may want to check their website for their hours before heading to Central Market, as they are only open several days a week.
With our stomachs rumbling from all the wonderful food we saw at Central Market, we decided to head to the ubiquitous Lancaster chain, Isaac's for lunch. This tasty and funky deli has décor that is a holdover from the 1980's Memphis Design group (complete with neon fixtures), and features sandwiches named after birds (the magpie sandwich is my personal favorite). It's only a half block from Central Market, and it's quick, delicious and inexpensive. Oh, how I wish we had Isaac's in Philadelphia!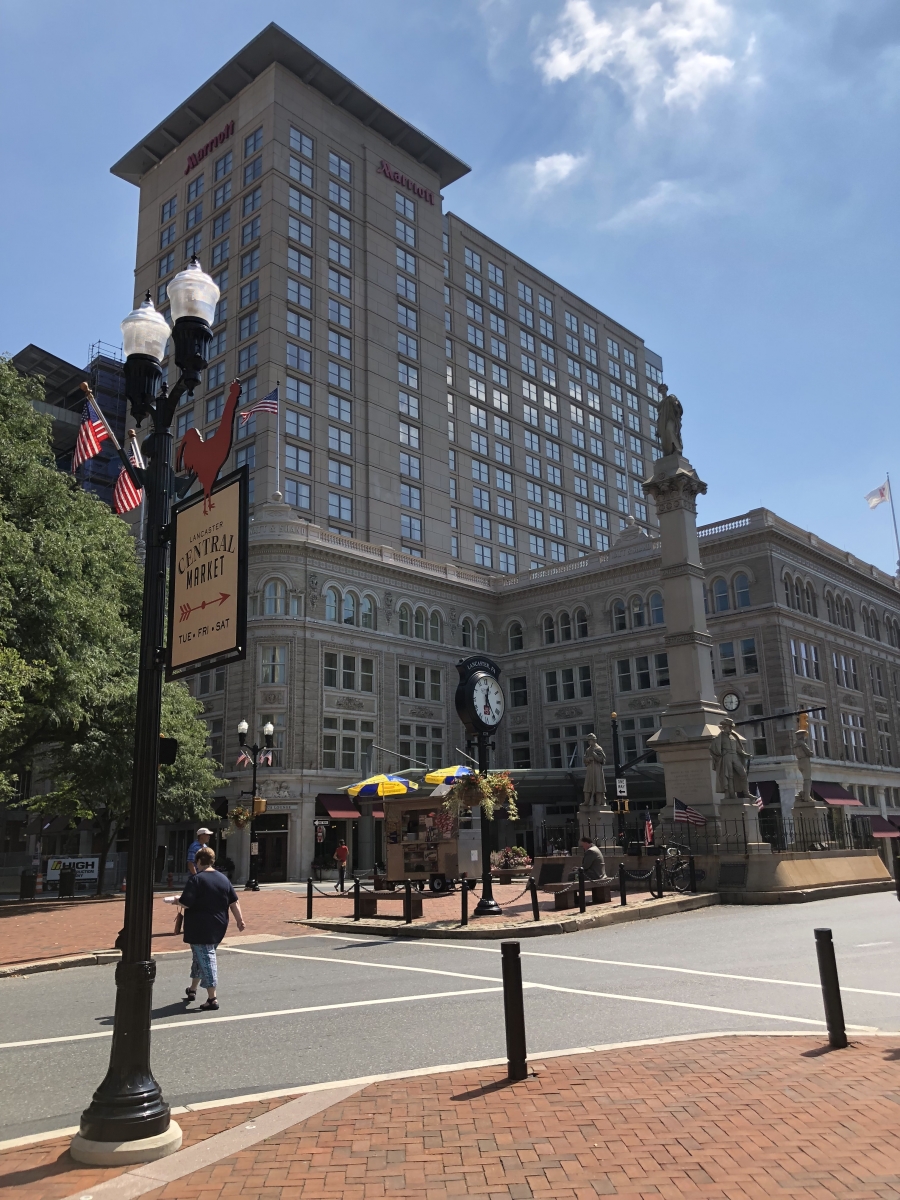 Lancaster Central Market
23 North Market Street
Lancaster, PA 17603
717.735.6890
Isaac's Downtown Bar and Grill
25 North Queen Street
Lancaster, PA 17603
717.394.5544
Stop 4 – The Fulton Theatre
Since 1852, the Fulton Theatre in downtown Lancaster has been known as the "Grand Old Lady of Prince Street." This extraordinary theater is one of only three theaters in America designated a National Historic Landmark (along with Philadelphia's own Walnut Street Theatre). Many of the greatest entertainers in history have appeared on the stage, including Sarah Bernhardt, Mark Twain, Louis Armstrong, Lily Tomlin, Lancaster's own Jonathan Groff…and even me! The theater is named after Lancaster's famous steam engine pioneer, Robert Fulton.
The theater has a much storied history. It served as a military hospital briefly after the battle of Gettysburg in 1863, and was a stop on the Underground Railroad. In the 1920s, the theater was temporarily used as a house of burlesque, and a stock company was instituted to help keep the tradition of live theater alive in a world competing with the new medium of motion pictures. By 1957, the theater mostly showed art films and had occasional stock performances. In the 1970s and 1980s, the theater was still used for community performances, but sadly fell into disrepair. In 1995, the theater was reopened, completely refurbished at a cost of $9.5 million. Today, it is an illustrious performing arts center complete with Broadway-quality productions and is home to the Lancaster Symphony Orchestra.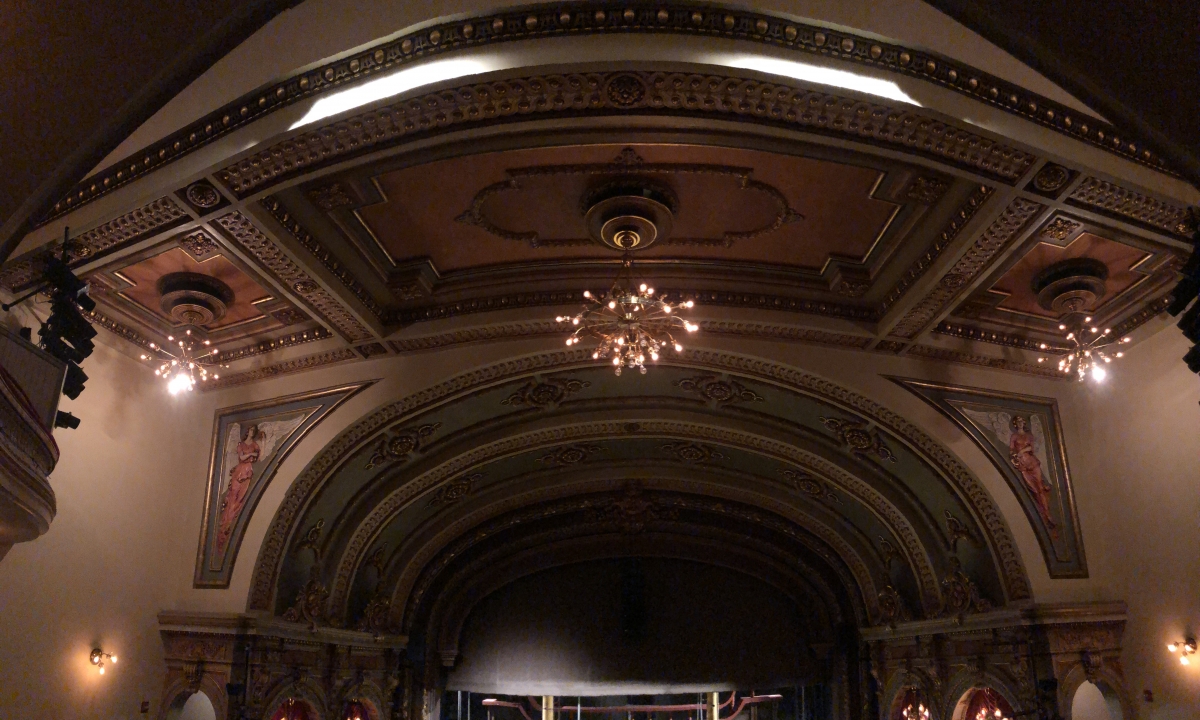 The Lancaster Jail and the 1763 Massacre of the Conestoga
Perhaps the darkest moment in Fulton Theatre history took place before the Fulton even existed. In 1737, the Lancaster County Jail occupied the spot of the current theater. In 1763, 20 Conestoga men, women and children who were massacred in 1763 by a vigilante group known as the Paxton Boys. The only remaining part of the prison is the back wall of the theater on the Water Street side. A small plaque can be found on the wall memorializing the December 27, 1763 Massacre of the Conestoga.
Without a doubt, the Fulton Theatre is one of the most important and historic theaters in the country, and possibly one of the most gorgeous. It's worth it to take time and be entertained here, but if you cannot make it to see a show, do yourself a favor and contact the theater for their available tours. The box office manager Kyle gave us a great tour, and we thank him for it. It was also wonderful to be back in a theater that contains so many personal memories for me.
Fulton Theatre
12 North Prince Street
PO Box 1865
Lancaster, PA 17608-1865
717.397.7425
Stop 5 – Wilbur Chocolate Store, Lititz, Pennsylvania
By now you may be noticing a common thread in this blog, and that is food! One of the foods I grew up with was Wilbur Chocolates. About 20 minutes north of Lancaster city is the charming town of Lititz, "America's coolest small town" and the home base of Wilbur Chocolates.
In 1865, Mr. Henry Oscar Wilbur was a hardware store owner in Vineland, New Jersey. There, he met a confectioner by the name Samuel Croft. The two went into business and opened their first chocolate factory under the name Croft & Wilbur at 125 N. 3rd Street in Philadelphia. The business flourished as they sold their candy to railroad workers and eventually moved to a larger location at 1226 Market Street (not far from Reading Terminal Market, the only place in Philadelphia where you can buy Wilbur products in Philadelphia). In 1913, an additional factory was built in the small hamlet of Lititz, and all of the materials and labor were obtained locally. While the factory in Lititz is sadly closed (condos are going into the factory), across the street is the Wilbur Chocolate Store. They still create handmade chocolates right there on the spot. Malt balls, cherry cordials and chocolate bars make this a candy-lover's Mecca.
So what exactly is a Wilbur Bud you may be asking? Well, the first thing you'll notice is that it looks suspiciously like a piece of very familiar chocolate made at another famous candy factory just an hour west of Lititz. But these are not wrapped in foil with a little flag on them. The Wilbur Bud was invented in 1894, the Hershey's Kiss in 1907. The Wilbur Bud is a little different for two reasons. First, they have always been available in dark or milk chocolate. Second, the word "Wilbur" is stamped on the bottom, giving the Wilbur Bud a distinctive texture when you pop it in your mouth. After a visit to the Wilbur Chocolate Store, work off those calories with a little stroll through Lititz, one of America's most adorable towns. If you're still hungry, there are more food recommendations to come!
Wilbur Chocolate Store
45 North Broad Street
Lititz, PA 17543
888.294.5287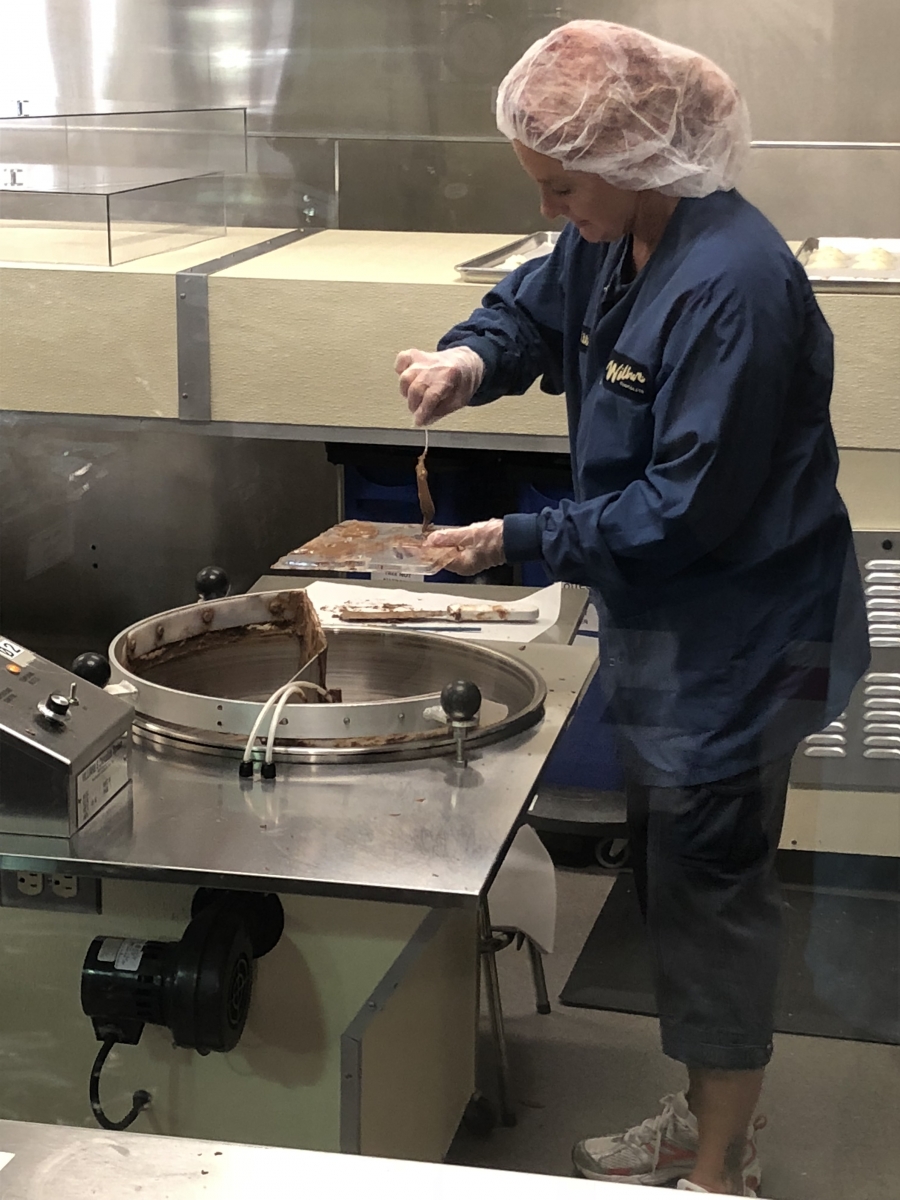 Stop 6 – Ephrata Cloister, Ephrata, Pennsylvania
A 15 minute drive from Lititz is the adorable town of Ephrata. Tucked away at the bottom of Ephrata's big hill along route 322 is the tiny and historic establishment of Ephrata Cloister. The town of Ephrata was born on this spot, founded by Conrad Beissell in 1732. He wanted to live as a sort of religious hermit. He felt the Second Coming would soon be upon us, and he wanted to prepare for the great day by achieving a private, spiritual union with God.
By the 1750s, almost 100 Brothers and Sisters were housed in the impressive Germanic log, stone, and half-timbered buildings. Brothers and Sisters wore full-length white robes, spent their days working and praying, ate sparsely, sang beautiful hymns written by the residents, and slept little in preparation for their Heavenly reward. They worked as farmers, paper makers, carpenters, millers and textile producers.
During the American Revolution, Ephrata served as a hospital for nearly 260 American soldiers, some of whom rest in the Mount Zion Cemetery overlooking the historic grounds. Today, you can visit the historic establishment and step back to a more peaceful and tranquil time and place.
Ephrata Cloister
632 West Main Street
Ephrata, PA 17522
717.733.6600
Stop 7 – The Record Connection, Ephrata, Pennsylvania
There's no denying it – vinyl is back and more popular than ever! Many records you thought were long gone are being rereleased in the ever popular format. One of the stores I've been going to for decades is Record Connection in the cute town of Ephrata, Pennsylvania. With reasonable prices and a super helpful staff, you're certain to find that hidden treasure you've been searching for in their collection of thousands of vinyls, CDs and yes, even cassette tapes. Located on Route 272 across from the big Green Dragon sign (you'll know the sign when you see it), Record Connection is by far one of the best music stores in the area. I personally love to collect Broadway cast recordings, and this has one of the best collections of showtunes in existence. From the Rolling Stones to Madonna, you'll find everything you want at Record Connection.
The Record Connection
550 North Reading Road
Ephrata, PA 17522
717.733.1641
Stop 8 – Stoudt's Black Angus, Adamstown, Pennsylvania
As our tour comes to its conclusion, you'll probably find yourself hungry for a great dinner after a long day of travelling and sightseeing (if you have an appetite left after Wilber Buds and whoopie pies). One of my favorite breweries and restaurants is located in the heart of Adamstown – the self-proclaimed "Antiques Capital of the World." Unfortunately, on the day we went, the antiques stores were closed. But that doesn't mean you should deny yourself a great dinner in the area.
Stoudt's Brewery was one of Pennsylvania's first microbreweries, having been started in 1987 by Ed and Carol Stoudt. The restaurant, Stoudt's Black Angus Restaurant and Pub, has been in business for half-a-century.
Beers regularly available at Stoudt's Brewery include a pils, a Munich-style pale lager, an American pale ale, and "Scarlet Lady Ale", an English-style ale. Heavier offerings include "Triple", a Belgian-abbey style ale, an American-style double IPA, and Fat Dog Stout, a British-style stout. Stoudt's also offers seasonal beers. You can readily find these delicious beers at any good beer store in Philadelphia, but there's nothing better than getting it straight on tap from the source. I had the pils, which paired perfectly with their famous prime rib. Keeping in touch with the Germanic roots of Lancaster, the restaurant serves great schnitzels and wursts, too. Their raw bar can't be beat.
There is a delightful little Bavarian village attached to Stoudt's featuring cute shops and boutiques. Every year, their Oktoberfest celebration attracts thousands of people to their beer hall. It's a great place to raise a pint and devour fresh steaks.
Stoudt's Black Angus Restaurant and Pub
2800 N Reading Road
Adamstown, PA 19501
717.484.4386
Conclusion
After dinner at Stoudt's, we begrudgingly, but oh, so tiredly, headed back to the frantic pace of the big city - Philly. The convenient thing about the location of Stoudt's is that it's just a five minute drive back to the Pennsylvania Turnpike. With warm hearts and full bellies, we said "auf wiedersehen" to my hometown.
I hope you enjoyed this trip to what I consider to be the most beautiful area of the most beautiful state in America.
Credits:
Andrew Terranova - Author 
Ari Barkan - Photos