Related Posts
Benjamin Franklin 1706-1790
Titled: Keys to Community
Artist: Philadelphia Sculptor, James Peniston
Dedicated: October 5, 2007
The Philadelphia Fire Department's early history dates back to 1736 when Benjamin Franklin co-founded the volunteer-based Union Fire Company which eventually became the Philadelphia Fire Department (PFD). The PFD was formally established in 1871 as a fully-paid professional department, and the PFD proudly provides fire protection, all hazards response and emergency medical services to residents, visitors and business owners in the City of Philadelphia.
Peniston's one-ton bronze sculpture is textured with casts of 1,000 keys collected from local Philly area schoolchildren. Keys to Community alloy also contains several brass nameplates representing Philadelphia firefighters who have fallen in the line of duty dating back to 1736.
Keys to Community was partially funded by the Philadelphia Fire Department and by more than 1.8 million pennies ($18,000.00) that were donated by school children from 500 area Philly schools.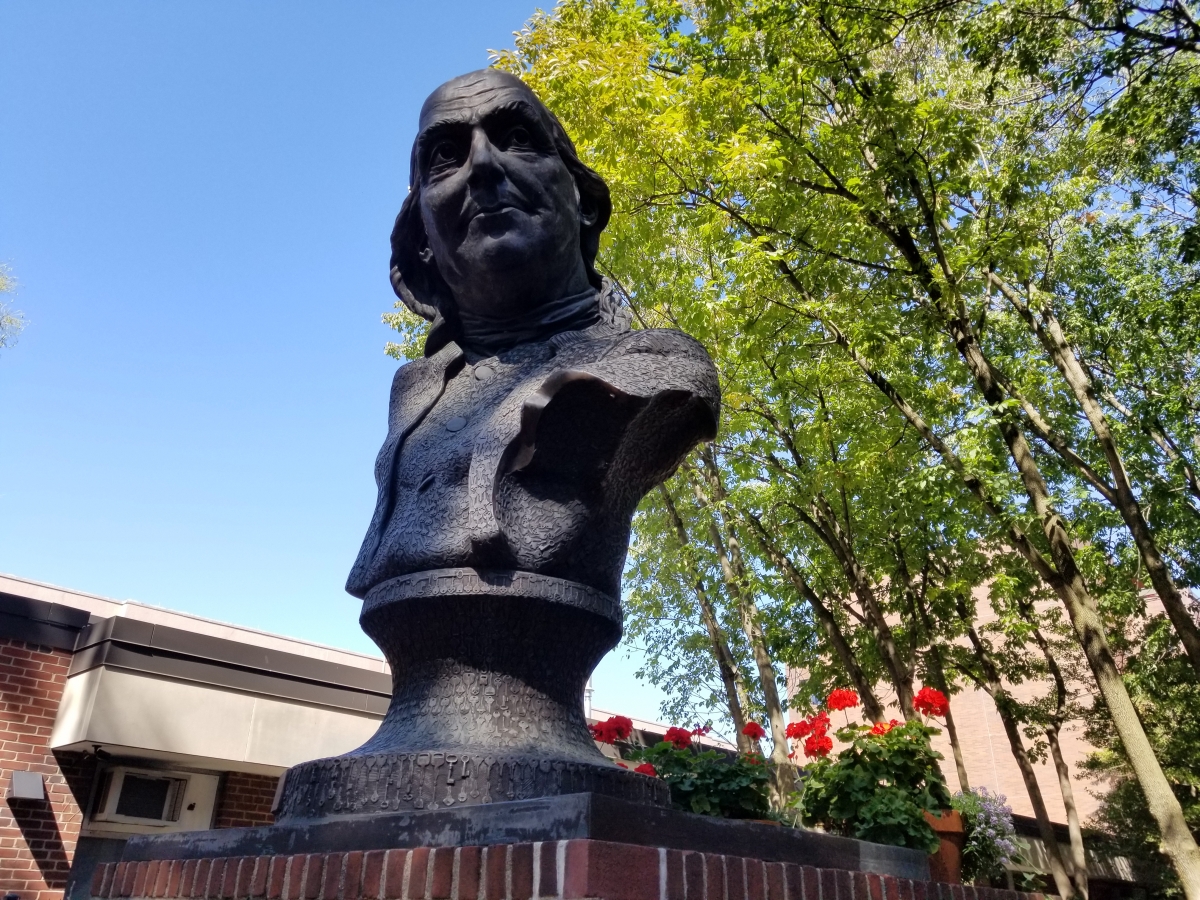 Keys to Community replaced the beloved, but deteriorated, 1971 sculpture of Benjamin Franklin, "Penny Franklin", which was affectionately known as "Penny Benny", by sculptor Reginald E. Beauchamp. 
In 1982, the Philadelphia Daily News reported that "some say more pictures are snapped of Penny than any other city sight, except for the Liberty Bell." According to the U.S. Mint, on June 10, 1971, Penny Benny was unveiled by Mrs. Mary Brooks, Director of the U.S. Mint,
"Mrs. Mary Brooks, Director of the Mint, praised Philadelphia's school children for collecting the nearly 80,000 pennies that Reginald E. Beauchamp molded into his 'talking' sculpture of Benjamin Franklin which she unveiled today.

'The nation's most popular coin is the penny,' Mrs. Brooks said at the unveiling ceremony in celebration of the 100th anniversary of Philadelphia's Paid Fire Department. 'The Mint makes over five billion pennies a year and 76 percent of its coin production is devoted to making pennies.'

Benjamin Franklin established the volunteer Union Fire Company in 1736, the first fire company on our shores, and the sculpture is located in the garden of Engine 8, Ladder 2 Company, direct descendant of the original colonial company. A push button mechanism on the 16 foot fiberglass figure activates a recorded two minute speech on fire prevention.

Mrs. Brooks, who has been waging a campaign to keep pennies in circulation, acknowledged the wisdom of Benjamin Franklin's adage "a penny saved is a penny got" and said: "I'm a thrifty soul myself but I do wish more people would spend their pennies, keeping them in circulation instead of squirreling them away in shoe boxes and pickle jars. It would save the Mint a lot of time and money making more and more pennies every year."

Since each penny donated for the sculpture carried a fire prevention wish, Mrs. Brooks said she was revising her penny campaign slogan for the occasion and coining another phrase. 'Usually, the way I put it is 'a penny spent is a penny at work,' " she said. "But today, let's make that – 'a penny in a sculpture is a joy forever.'"
According to the Philadelphia Inquirer in an article entitled "What happened to 'Penny Franklin'? Giant Ben Franklin sculpture is still in Old City, but in a new form", the pennies from Penny Benny were repurposed into the the Keys to Community sculpture, and the spirit and legacy of Penny Benny live on in the bronze bust of Franklin,
"Waste not, want not. The sculpture remains in Old City, just not in its original form. Margot Berg, the city's public art director, said firefighters removed the pennies from the original sculpture and cast them into the molten bronze poured for 'Keys to Community,' a nine-foot bronze bust of Franklin at Girard Fountain Park on Arch Street near Fourth Street. The sculpture was installed in 2007 and incorporates more than 1,000 keys collected from schoolchildren."
Keys to Community is located outside of the Philadelphia Fire Department's station, Engine 8, Ladder 2 at 323 Arch Street, near the Betsy Ross House.
While visiting Keys to Community, be sure to check out the beautiful and moving History of the Philadelphia Fire Department Mural.