Related Posts:
A far more ubiquitous Philly treat than the more widely known Philly Cheesesteak...
History
Unlike the Cheesesteak, the soft pretzel was not created in Philadelphia.  Said to have been created by Christian monks of indeterminate European background well over a millennium ago, the pretzel has an origin many times older than Philadelphia itself.  Since the time of their creation, pretzels, a simple dough that is normally boiled before being baked, have spread over much of the world.  But despite their global origins, it is in Philadelphia where this simple food was perfected.
Drawn to Pennsylvania by founder William Penn's bold declaration of religious freedom, the Pennsylvania Dutch arrived in the Philadelphia area in the 18th Century.  The Pennsylvania Dutch (who are actually German, not Dutch) brought with them their native cuisine, and one aspect of that cuisine was the pretzel.
Over time, the Philadelphia Pretzel began to separate itself from its brethren in other cities and regions.  The dough got chewier, the crust, crustier, and the classic pretzel shape was squished until it resembled a figure eight more than a standard pretzel. In Philadelphia it is customary to enjoy your pretzel with mustard, normally a spicy brown variant. And then, at some point in the 19th century, for reasons impossible to understand, the pretzel started showing up everywhere in Philadelphia.  Truly EVERYWHERE!
Enterprising folks have been selling pretzels to Philadelphians basically everywhere Philadelphians gather for well over a century now.  Walk around center city and you'll find them on nearly every lunch cart or food truck.  In the touristy areas around Independence Hall, you'll find them sold on street corners.  If you attend a sporting event in Philadelphia, a common sight will be a local who has purchased a large quantity of pretzels in bulk and is walking around the parking lot selling them out of a borrowed shopping cart for a marked up price.  The cart is often equipped with a communal bottle of mustard for patrons to squirt on the pretzel.  Anyone who attended school in the city likely had the opportunity to buy a pretzel during lunch or recess. You might even find someone selling pretzels outside a theater, a concert, a religious service or polling location.
While the Philadelphia pretzel is not the most famous Philadelphia cuisine, it might truly be the most Philadelphian food you can eat.  While other culinary creations such as the cheesesteak, soda or hoagie have found national or even worldwide fame to the point that you could probably find a version of the food across the country, you're very unlikely to find a Philadelphia style pretzel outside of Philadelphia.  They are a uniquely Philadelphian food, found truly everywhere in the city, but almost impossible to find anywhere else. 
Where to get a Pretzel Today
If you're looking to get a Philadelphia pretzel, as long as you're in Philadelphia, the process is pretty simple.  Wherever you are in the city, if you just look around your current surroundings, there is a better than average chance someone is selling a pretzel within your range of sight.  If not, don't worry, it won't be difficult to find one.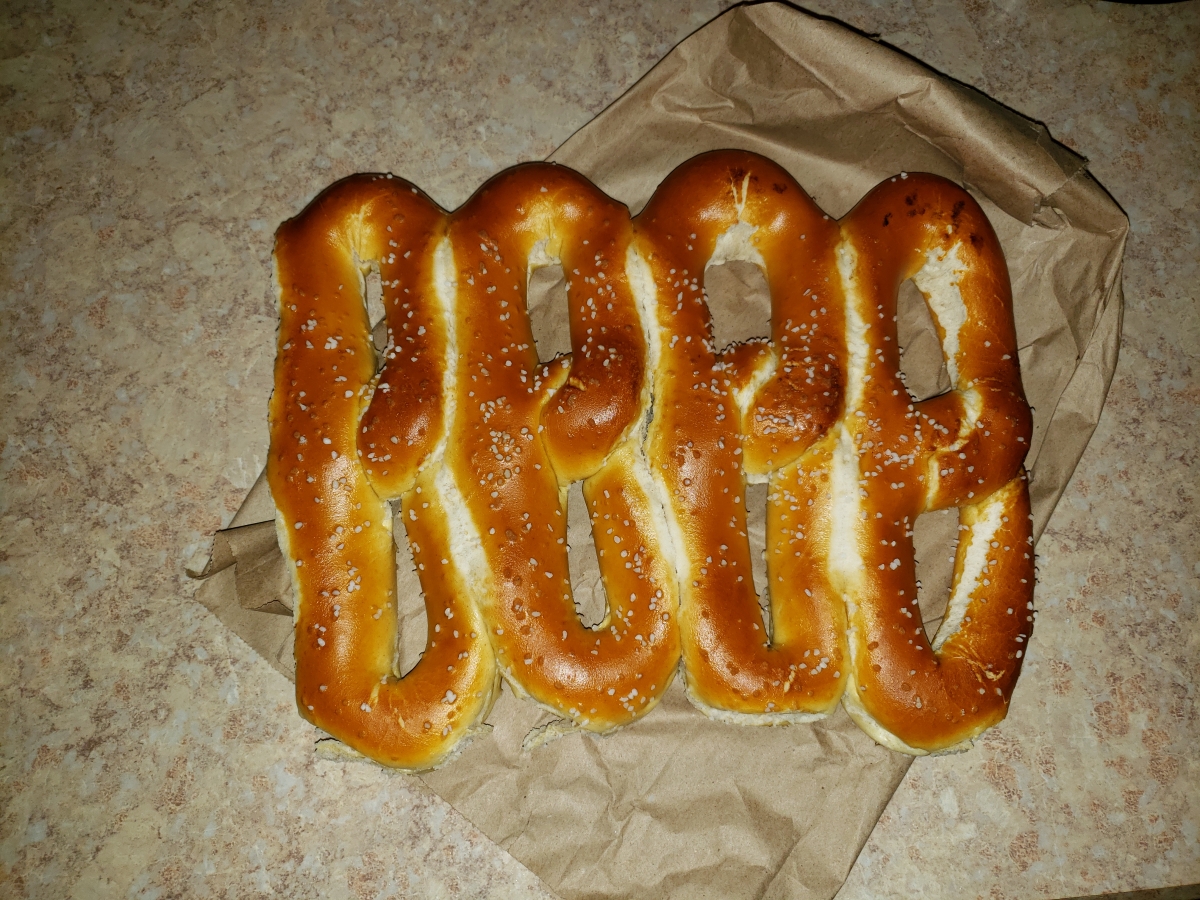 Street Vendors
If you're in Old City, enjoying the history and want to fuel up after enjoying The Constitutional Walking Tour, you'll notice there are food carts all around the edges of Independence Mall.  Luckily just about every one of them sells pretzels.  These pretzels may not always be entirely fresh, nor reliably among the best pretzels you'll find in Philadelphia, but they'll certainly do in a pinch.
Locations: 
All over the city
Wawa
Wawa is an oddly named, but beloved convenience store in the Philadelphia region.  You'll see them all over the city and as a Philadelphia centric convenience store, they of course sell Philadelphia soft pretzels.  If you're on a later tour of the city and the food trucks have packed up by the time you finish, there is a Wawa conveniently located just across 6th Street from Independence Hall.  While the quality of this Philadelphia soft pretzel can be an issue of contention in Philadelphia, it is undoubtedly a Philadelphia style soft pretzel, thus it is as at least better than any other soft pretzel you'd find outside of Philadelphia, even if it pales in comparison to most found within the city.
Locations: 
All over the city, for a store locator click HERE.
Center City Pretzel
If you want to get serious about your pretzels, this is the place to go.  Center City Pretzel is not in Center City but rather instead South Philadelphia right by the Italian Market (9th Street Curb Market.)  If you're having trouble finding it, just follow the incredible smell of the pretzels wafting onto the nearby streets as this is an actual bakery that makes their pretzels on the premises. Be sure to arrive early as they're generally closed by noon at the latest when they sell out of pretzels. On the plus side, if you're an early riser they're open by 4AM Monday through Saturday. 
Locations:
Center City Pretzel
816 Washington Avenue
Philadelphia, PA 19147
215.463.5664
Brauhous Schmitz
A German restaurant on the busy South Street commercial corridor, Brauhous Schmitz sells a Philadelphia soft pretzel that has a touch of its German roots.  A more refined pretzel than most of the soft pretzels you'd find in the city, it still has a taste that is quintessential Philadelphia Soft Pretzel.
Location:
Brauhous Schmitz
718 South Street
Philadelphia, PA 19147
267.909.8814
Miller's Twist
Located in Reading Terminal Market, a historic Philadelphia Market that has been in operation for over a century.  Miller's Twist pretzels technically are NOT Philadelphia soft pretzels.  They are instead Pennsylvania Dutch style soft pretzels, with dough that isn't as chewy and a softer crust.  However, it is important to keep in mind that it was the Pennsylvania Dutch who originally brought the soft pretzel to Philadelphia.  So, while these may not strictly be Philadelphia style soft pretzels, they are the pretzels from which Philadelphia soft pretzels were derived.  The proto-Philadelphia soft pretzel, if you will.  Most importantly, they're absolutely delicious.
Location:
Miller's Twist
Reading Terminal Market
12th and Arch Streets
Philadelphia, PA 19138
215.923.1723
Philly Pretzel Factory
A relative newcomer to the Pretzel scene, the Philly Pretzel Factory has only been slinging pretzel dough for 20 years.  In the short time they've been around however, the Philly Pretzel Factory has grown into an incredibly successful franchise as they've opened over 100 shops across the Philadelphia region.  They also might be the first to bring the Philadelphia soft pretzel to the pretzel loving masses across the country.  They've recently began opening franchises outside of the Philadelphia Metro.  While still very much centered in Philadelphia, as of recently, residents of cities such as Chicago, Boston, Dallas and New York City can buy an authentic Philadelphia soft pretzel in their own city.
Locations:
All over the city, for a store locator click HERE.

Gluten Free Soft Pretzels
And if you are gluten free, we didn't forget about you! You can get a gluten free soft pretzel in South Philly at Taffets Bakery. The owner of the bakery trained at JNA Culinary Institute, worked at some of the top restaurants in Philadelphia, but was inspired to open this gluten free bakery because of his mother's sensitivity to gluten! Their main focus is on breads but if you're gluten free and want to try a Philly soft pretzel, this is the place!
Location:
Taffets
1024 South 9th Street
Philadelphia, PA
215.551.5511