Related Posts
Guest Blogger: Andrew Terranova, Concierge, Sofitel Philadelphia
When I was asked by The Constitutional Walking Tour to put together a series of blogs on African American historical figures in Philadelphia, I jumped at the opportunity to learn more about the proud heritage of our city and the contributions made by its citizens. As an American history buff, I am always fascinated by the individual stories of people who have helped to make history happen.
We do talk a lot about the foundation of our country in the 75 minute walking tour of Historic Philadelphia, but the stories don't end with Ben Franklin and Betsy Ross. These patriots made Philadelphia and America great places, but they couldn't have without the help of some unsung heroes. I'll also provide you with the details of where you can go to learn more about them so you can venture out to pay your respects
Octavius Valentine Catto (February 22, 1839 – October 10, 1871)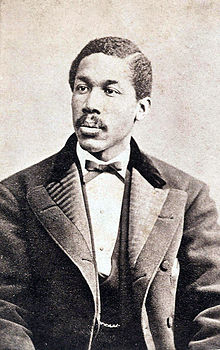 Octavius Catto was born a free man in Charleston, South Carolina. He vehemently protested the segregation of Philadelphia's trolleys, he fought to pass Constitutional amendments enfranchising Black citizens, and then he worked to bring those new Black voters to the polls.
Catto was brought to Philadelphia by his parents as a youth, his father being a Presbyterian Minister. In 1854, he attended the Institute for Colored Youth (now Cheyney University). In 1859, the school hired Catto to teach math and English. In 1864, he delivered the school's commencement address:
"It is at least unjust to allow a blind and ignorant prejudice to so far disregard the choice of parents and the will of the colored tax-payers, as to appoint over colored children white teachers, whose intelligence and success, measured by the fruits of their labors, could neither obtain nor secure for them positions which we know would be more congenial to their tastes..."
He also spoke about the Civil War, and what its aftermath would be like for freed African Americans; specifically, in regards to education:
"... It is for the purpose of promoting, as far as possible, the preparation of the colored man for the assumption of these new relations with intelligence and with the knowledge which promises success, that the Institute feels called upon at this time to act with more energy and on a broader scale than has heretofore been required..."
During the Civil War, Catto teamed up with Frederick Douglass to help recruit African Americans to fight on the side of the Union. Together they recruited 11 regiments of the United States Colored Troops from Philadelphia.
On May 18, 1865, Catto was mentioned in The New York Times when he dared step onto a segregated Philadelphia Trolley:
"Last evening a colored man got into a Pine-street passenger car, and refused all entreaties to leave the car, where his presence appeared to be not desired. The conductor of the car, fearful of being fined for ejecting him, as was done by the Judges of one of our courts in a similar case, ran the car off the track, detached the horses, and left the colored man to occupy the car all by himself. The colored man still firmly maintains his position in the car, having spent the whole of the night there. The conductor looks upon the part he enacted in the affair as a splendid piece of strategy. The matter creates quite a sensation in the neighborhood where the car is standing, and crowds of sympathizers flock around the colored man."
Now an activist, he also became a pioneer in baseball, trying to get the Negro League to recognize Philadelphia. His love of baseball, he believed, could help unite people of all colors. With Jacob C. White, Jr., he ran the Pythian Baseball Club, which was undefeated in 1867. In 1869, Catto petitioned and won the right to play against white Philadelphia baseball teams.
On Election Day in October 1871, the mood was intense in Philadelphia. Skirmishes had erupted as whites tried to suppress black voters from the polls through violence and intimidation. Catto was innocently walking to his poll station to practice his American duty when he was accosted by Frank Kelly, who didn't want Catto to vote. A fight broke out between the two, and Kelly fired three shots.  One bullet entered Catto's heart, killing him instantly. Since Catto was also armed with a revolver, the jury could not decide if Frank Kelly was responsible, and therefore he was never convicted. Even though the murder occurred in broad daylight and there were witnesses, who were both white and black, the all-white jury acquitted Kelly.
Even today, African Americans are under severe threat of voter suppression. Just recently in the Georgia primaries, predominantly African American neighborhoods experienced broken voting machines, long lines and the experience of being turned away from the polls. This prompted Missouri Representative Claire McCaskill to ask,
"Four hours to vote? In a primary? Machines down, people being turned away, some locations with no machines? This is a three alarm fire for democracy."
The very system that Octavius Catto fought against in the mid-19th Century is still threatening Americans to this day. 
To honor the man appropriately called the "19th Century Martin Luther King", Mayor Jim Kenney announced on June 10, 2016, that a new sculpture to commemorate Catto and other leaders would be erected outside Philadelphia City Hall:
"I think Malcolm X was right when he was quoted as saying, I'm paraphrasing, that the deeds of Black people in this country have been systematically removed, the pages have been ripped out of the history books on purpose...if you can't respect people for what they've contributed to the common society, then you can't respect people who are living here today. If you don't know … about the African American contribution to Philadelphia or the United States, then you can't mutually appreciate how everybody contributed."
The statue of Octavius Catto, which sits on the South side of Philadelphia City Hall, is the only statue of an African American in our city at the moment. While many statues that remind us of America's troubled past are being razed, Octavius Catto stands defiantly in front of City Hall as a memorial and reminder of the work that we have yet to do.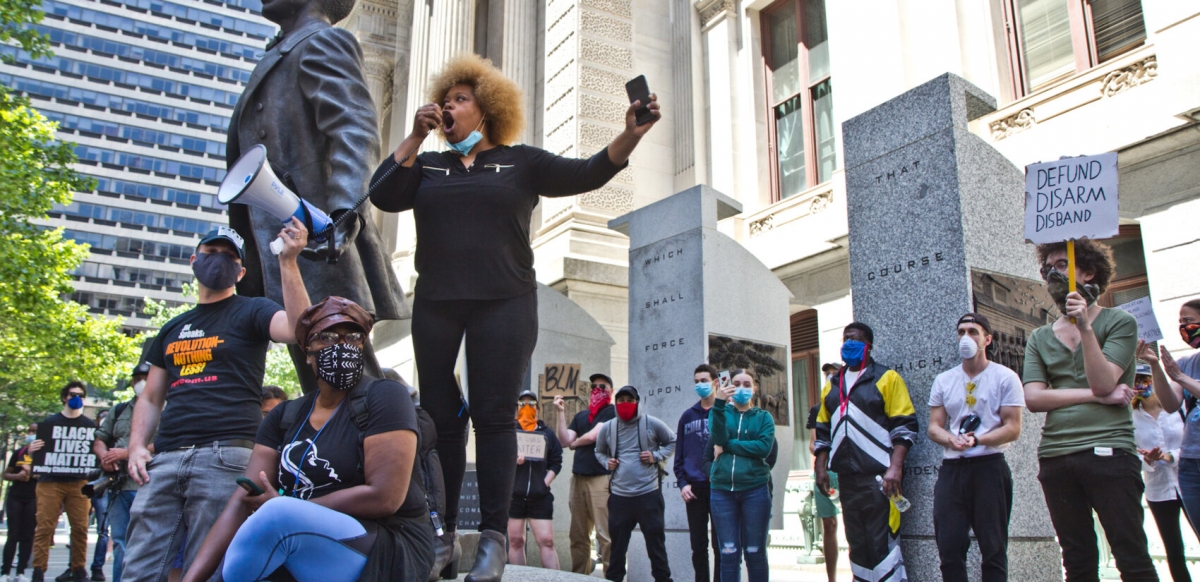 As Black Lives Matter protests swept across the nation following the murder of George Floyd by a police officer in May of 2020, the statue of the slain Cvil Rights leader in Philadelphia became a stage for a new generation of Civil Rights leaders.
"We shall never rest at ease, but will agitate and work, by our means and by our influence, in court and out of court, asking aid of the press, calling upon Christians to vindicate their Christianity, and the members of the law to assert the principles of the profession by granting us justice and right, until these invidious and unjust usages shall have ceased."

– Octavius Catto